Moving Message by Selena Gomez: Every Life is Worth It
by Graceful Chic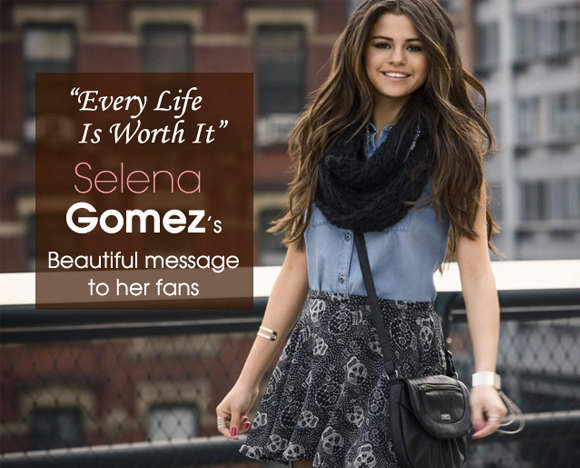 It is so beautiful when celebrities use their status to bring life and encouragement. "God puts us in situations that are so unexplainably difficult for a reason. There is someone in the world feeling so much, just like you.' These are some of the profound words shared by singer and actress, Selena Gomez on Instagram last Thursday. She was reaching out to her depressed fan to remind her that "Every life is worth it.'
Gomez, 22, is one of the leading voices against depression and suicide. She took to Instagram to share this message of encouragement with her 24 million followers:
"By me following you is not me saying it's ok to think these thoughts," she wrote. "It's not me saying 'hey you said sad things, so I'm going to follow you to make you feel better'. God puts us in situations that are so unexplainably difficult for a reason. There is someone in the world feeling so much, just like you."
She went on to say,
"People everyday feel so many emotions they wish they could turn it off, that's not why we are here. We are here for relationships, for people just like us who feel worthless. Your purpose is to share, help, encourage. Remember that. Please. Before you think of taking your life, think of all the [lives] you could save. I love you. More importantly there is a God that will love more than I ever could."
Well said Ms Gomez! Thank you!
Moving Message by Selena Gomez: Every Life is Worth It