By Erica Cho
Nail design has become a true art form. With DIY pros embellishing their fingertips with anything from gems to "caviar" (micro beads), it can seem a little daunting to embark on your own journey to make your nails stand out.
Have no fear! Magnetic nail polish is here!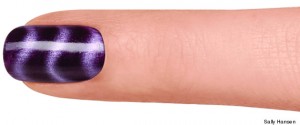 This holographic look is the result of iron fillings in the nail polish being moved by a magnet while the polish is drying.  No complicated kit is necessary.  All you need is the nail polish and the magnet which is usually included with the polish.
There are several brands that offer magnetic nail polish colors.  We picked up Sally Hansen's Magnetic Nail Polish for $9.99 at our local drug store.
Sally Hansen's line comes in a range of 8 beautiful colors: Ionic Indigo, Red-y Response, Kinetic Copper, Silver Elements, Golden Conduct, Electric Emerald, Graphite Gravity, Polar Purple.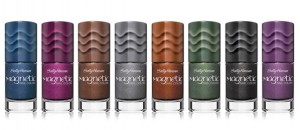 We chose Polar Purple even though all the colors looked fantastic.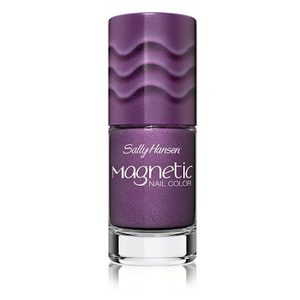 Sally Hansen built their magnet into the cap, which you see once you undo the plastic wrapping.  After applying one coat on all of your nails, you then apply a generous second coat on one nail.  You take the cap and flip it upside down so that the magnet is facing toward your nail.
Hold the magnet as close to the nail as possible without making contact with it for about 15 seconds.  Do this for each individual nail, making sure to polish each nail only right before using the magnet.  You want the polish to be wet enough so that the magnetic forces can pull the iron particles into a sharp design.  Finish with a topcoat, and you've got yourself some 3D nail effects!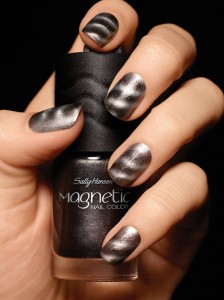 I thought that the Sally Hansen Magnetic Nail Color was very easy to use, and at around $10 for the polish and magnet, you can't go wrong.  Other companies charge close to $10 just for the nail polish and $15 or more for the magnet.  With the small time and financial commitment, you get nails that impress!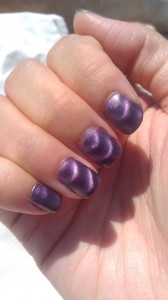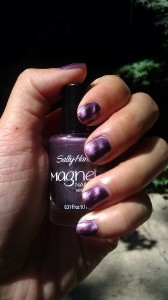 Sally Hansen has magnets that create a wavy design, but many other brands offer various other signature designs hidden in the magnets.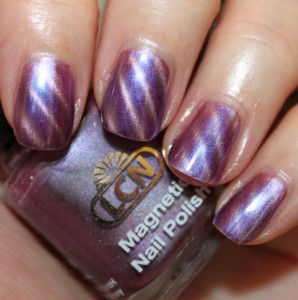 LCN Magnetic Nail Polish in Fuchsia Attraction, $9.90 for polish, $15.90 for magnet at store.lcnusa.com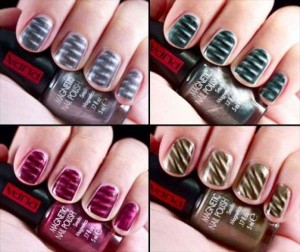 Pupa Magnetic Nail Art Kit, $18 at www.ebeauty.ca
Here are some tips that I've learned from my Magnetic Nail Polish experience:
* Since the second coat is what gets "magnetized", you can use any nail polish for the first coat. This will help your magnetic nail polish go a long way!
* Keeping still while you "magnetize" your polish is key! It will result in a very clear design.
* Find the perfect consistency for your second coat. A layer that is very thin dries up too fast for the iron particles to move into a design.  A coat that is too thick will tend to leave a blur of a design as it dries.
* Use a fast drying top coat to seal in your beautiful designs.  Avoid too many strokes, as it may alter the design.
Two thumbs up for Magnetic Nail Polish!  You get a hang of it quickly, and there is no pressure to have perfect, identical designs on each nail.  Magnetic Nails embrace the unique look of each individual nail.  So go on and have fun. Your 3D nails will be catching people's eyes in no time!