By Erica Cho
Does any of the following apply to you?
You're horrible at doing your own nails. My left hand is apparently USELESS when it comes to putting on nail polish. You love nail designs, but there is no way you are going to take the time or effort to draw on each nail. You hate waiting for your nail polish to dry. Impatience always leads to smudges and cursing for me. You appreciate nail color that will last up to ten days.
So either you are totally a fan of Sally Hansen Salon Effects Nail Polish Strips, or you just haven't tried them yet (silly girl)!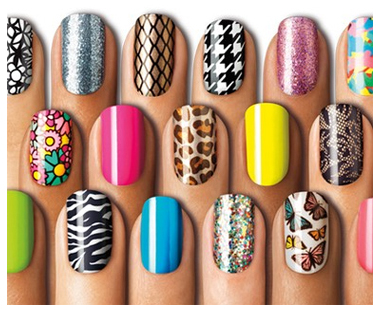 These nail strips are made from real nail polish and come off easily with nail polish remover! (Although, as always with glitter polish, you may just have to put more elbow grease into it.  Hey, arm workout!)
It's not difficult to get pretty results. You just peel the backing off both sides of the nail strip and slap it on. Then you just rub off the remaining part of the strip with the pink side of the file and voila!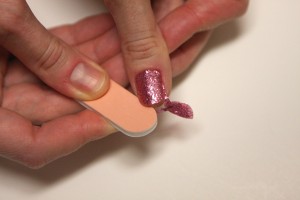 If I made it sound super simple, it's because it really is. These strips are super forgiving.  You can easily pull and stretch the strip to cover your nail and rub off any extra hanging material.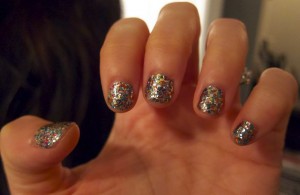 I'm wearing Frock Star here. I have small nails and like to keep them super short.  I am including photos of Salon Effects on longer nails that have more real estate to truly showcase the amazing designs.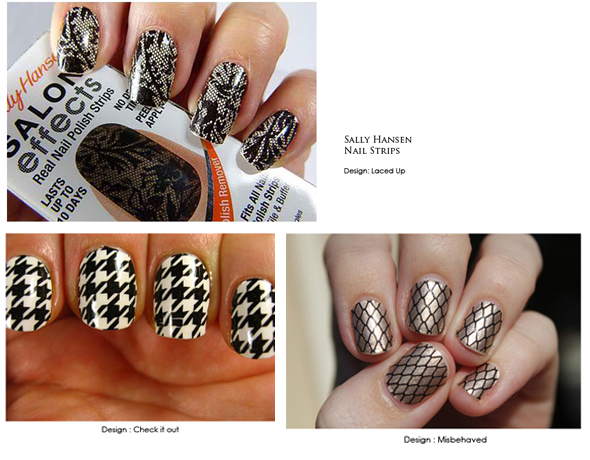 There are many more designs so be sure to check them out for yourself. A little kit including 16 nail strips of varying sizes, cuticle stick, and file runs about $10.  When you do try them out, be sure to note these tips:
*If you have smaller/shorter nails, you can probably use half the set by cutting the strips. Try to use what you can before you open the second vacuum sealed set.  Once the seal is broken, it's best to use the strips right away.  If the nail strips are exposed to air for too long, they will no longer stick.
*Rubbing the strip with your fingers onto your nails creates warmth that seems to make them adhere better.  The warmth also helps stretch the strip to perfectly fit the curves of your nails.
*Always make sure to take off both sides of the backing on the strips. People tend to forget to take the clear backing off.
*Keep your nails away from water for a couple of hours. Washing hands gently should be fine, but shampooing your hair right away may lead to them coming off. They seem to stay on better after they have had time to "settle" on your nails.
Have fun feeling like you have DIY nails!!