By Erica Cho
Dry shampoo is a waterless method of cleaning your hair that works by absorbing oil/dirt and freshening up your tresses with a fragrant scent.  It usually comes in two forms: loose powder or spray.  Most of the popular dry shampoos on the market come in a spray can. Below is the review of four dry shampoos.
For most of my life, I dutifully washed my hair every single day. I felt so fresh from my habit of daily shampooing, imagining all the dirt and grime accumulated on my scalp getting flushed down the shower drain to oblivion.  Mind you, I didn't even have oily hair.  Yet, getting my lather on psychologically uplifted me to sparkling, pristine levels of cleanliness.
Fast forward to last year, when I warmed up to the foreign idea of washing one's hair only three to four times a week.  In my adult life, I had gotten adventurous with regard to my hair.  I went through several color treatments and experienced a couple of insane roller coaster rides between straight and curly perms. The end result was dry, processed hair. 
I had read that the longer, thicker, and more processed the hair, the longer it can go between washes.  The oils from the scalp don't travel down the hair shaft as quickly, so the hair tends to be more dry and requires less frequent shampooing. Also, over-washing can cause hair color to fade and dry hair out, leading to breakage and extra damage.  Although I had the research to reassure me that it was indeed ok to let a day or two go without a washing, I still felt paranoid about greasy locks and hair odor.  My worries subsided when dry shampoo became my best friend.  I road tested some of the top dry shampoos for review after day-old washed hair and a strenuous work out.  Here are my findings: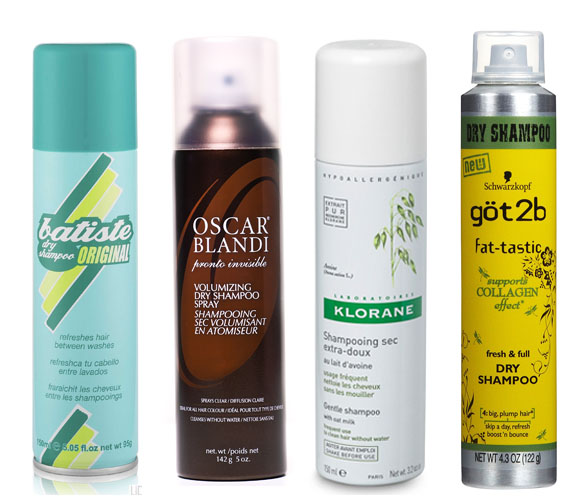 1. Klorane Extra Gentle Dry Shampoo with Oat Extract
 $15.25 at Amazon
Despite the hefty price tag, this is my favorite dry shampoo.  It uses a lot of healthy ingredients, including natural polysaccharides and oat extract.  It is super gentle, which is great for anyone with sensitive skin.  Compared to other dry shampoos, Klorane has a light, pleasant scent and leaves little to no white residue.  In the rare occurrence of seeing residue upon spraying, it was easily brushed away with all of the impurities along with it, leaving me with soft, clean hair.
2. Oscar Blandi Pronto Invisible Volumizing Dry Shampoo Spray

 
$11.00 Sephora
A common complaint with dry shampoos is the white residue it may leave behind.  This dry shampoo sprays on clear, which makes it a great option for any hair color! The ingredients will make you smile, too. Vitamin E and wheat proteins strengthen and protect the hair shaft while the gentle starches absorb excess oil and product build-up.  However, I would recommend this dry shampoo for people with normal to dry hair. Based on many reviews, people with oily hair didn't seem to fare well with this product.  The gentle ingredients didn't prove to be strong enough to combat the grease, and instead, weighed the hair down with more of an oily look. I personally loved the results of using this dry shampoo on my normal hair type. The lemon smell was fantastic. I didn't have to deal with getting any white residue out of my black hair.  Overall, it did an impressive job of freshening and volumizing my hair.
3. Batiste Dry Shampoo
$5.99 at Ulta.com
This dry shampoo does the trick, and at usually less than $8 a pop, the price is right!  It comes in several scents, including Original, Fresh, Tropical, and Blush.  I used Original and enjoyed the pleasant lemon scent.  The fragrance was more heavy and chemical-like than the Oscar Blandi dry shampoo.  The pressure in the can is pretty strong so it is easy to end up with a lot of the product in your hair.  When I sprayed it on, there was a high level of white residue. I looked like I used white Halloween hair paint spray! However, do not be alarmed.  After leaving Batiste in for a few moments and brushing my hair, most of the residue disappeared. A bit of massaging may be needed to really get all the white out.  Batiste seems to be a favorite among people with oily hair, as the product quickly and effectively absorbs oil.  I would definitely recommend Batiste for anyone who wants a budget-friendly option that   works well!
4. Got 2b Fat-tastic Fresh & Full Dry Shampoo
$5.99 at drugstore.com
I was very excited to try this dry shampoo, as it was awarded for being the most valuable product and one of the best dry shampoos. I happily followed the instructions to use short bursts of the spray and was horrified to see huge flakes attached to my strands.  The residue was very opaque, and even with all the brushing out and patting, the entire surface of my hair still ended up looking chalky.  This dry shampoo advertises its volumizing power.  With the stiffness the dry shampoo left behind, I can attest to having more volume.  I was not a fan of its strong perfume fragrance.  As for its value, the size of the can (it was the biggest dry shampoo I have ever seen) does not reflect a long term of usage.  Many reviews online lamented about emptying out after less than five uses.  I'm not able to comment on this.  I gave up on this dry shampoo after a couple of trial runs and ending up with gray hair.  Although I had initially fallen in love with the packaging and its accolades, I will pass on this product during my next shopping trip.