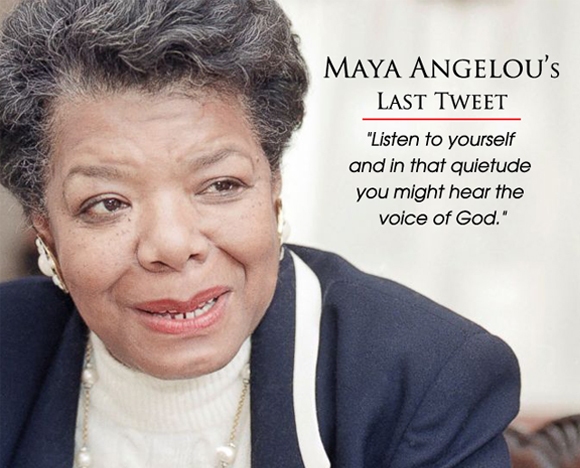 Maya Angelou, the renowned poet, author, and a civil rights activists, died this morning. She was 86 years old.  She was one of the most celebrated American poets who taught us the power of  words including this lovely quote- "Look where we've all come from … coming out of darkness, moving toward the light,…It is a long journey, but a sweet one, bittersweet".  Our prayers go to her family.
We love this account of her life story by the washingtonpost.com
It was her story of personal transformation in "I Know Why the Caged Bird Sings" that launched Ms. Angelou's career and brought her wide recognition as a symbol of strength overcoming struggle. "I Know Why the Caged Bird Sings" focused on growing up in her grandmother's care in segregated Stamps, Ark., and on her rape by her mother's boyfriend at age 7, "a breaking and entering when even the senses are torn apart."
After she spoke her attacker's name, he was found kicked to death in a lot behind a slaughterhouse. Convinced that her voice had the power to kill, she fell nearly silent for nearly five years. She spoke only to her beloved older brother, Bailey. "I had to stop talking," she wrote. "I walked into rooms where people were laughing, their voices hitting the walls like stones, and I simply stood still — in the midst of a riot of sound. After a minute or two, silence would rush into the room from its hiding place because I had eaten up all the sounds."
She spent the next several years bouncing between jobs, scraping by first as a streetcar conductor and cook who read the Russians — Dostoevsky, Turgenev, Chekhov — in her free time. She said she also fell in love with a man who worked as a pimp, which led her to prostitution and then a stint as a madam. Ever more desperate, she sold stolen clothes and flirted with drugs until a friend of hers, a heroin addict, forced her to watch him shoot up. "He slouched, nodding, his mouth open and the saliva sliding down his chin as slowly as the blood had flowed down his arm," she wrote in "Gather Together in My Name" (1974), the second volume of her autobiography. It was a turning point — the underworld revealed. "I had walked the precipice and seen it all; and at the critical moment, one man's generosity pushed me safely away from the edge."
Ms. Angelou gradually moved into nightclub dancing and from there began a career in the arts that spanned more than 60 years. She sang cabaret and calypso, danced with Alvin Ailey, acted on Broadway, directed for film and television and wrote more than 30 books, including poetry, essays and, responding to the public's appetite for her life story, six autobiographies. She won three Grammy Awards for spoken-word recordings of her poetry and prose and was invited by President-elect Bill Clinton to read an original poem at his first inauguration in 1993, making her only the second poet in history, after Robert Frost, to be so honored. Her poem, "On the Pulse of Morning," spoke of a hope that the country's diverse people would find new unity after chapters in American history of oppression and division. "Lift up your eyes upon/The day breaking for you," she said as the nation watched. "Give birth again/To the dream." In 2011, President Barack Obama presented her with the Presidential Medal of Freedom, the nation's highest civilian honor. Enduringly popular, "I Know Why the Caged Bird Sings" has been translated into 17 languages, sold more than one million copies and still appears on high school and college reading lists.
None of her poetry or prose brought the same acclaim as "I Know Why the Caged Bird Sings," but critics praised her ability to weave street talk with literary references and the rhythm of church hymns. But in some sense, Ms. Angelou existed in a realm untouched by criticism. She developed a devoted group of readers who adored her and were drawn to her poems, which featured accessible rhymes and themes of cultivating love, conquering injustice and speaking out of silence. "You may write me down in history/With your bitter, twisted lies," reads a poem in her 1978 collection, "And Still I Rise." "You may trod me in the very dirt/But still, like dust, I'll rise."
In 2002, she lent her name and verse to a line of Hallmark greeting cards, table runners and other products. "I want my work read," she told The Washington Post at the time. Her ability to reach a mass audience, including people who didn't consider themselves poetry readers, set her apart. A fixture on the lecture circuit and popular guest on Oprah Winfrey's talk show, her personal story became a platform for her message of renewal and hope. "If God put the rainbows right in the clouds themselves, each one of us in the direst and dullest and most dreaded and dreary moments can see a possibility of hope," she said in a speech at a conference at Weber State University in 1997. "Each one of us has the chance to be a rainbow in somebody's cloud."
Also see washingtonpost.com
Celebrating The Life of Maya Angelou