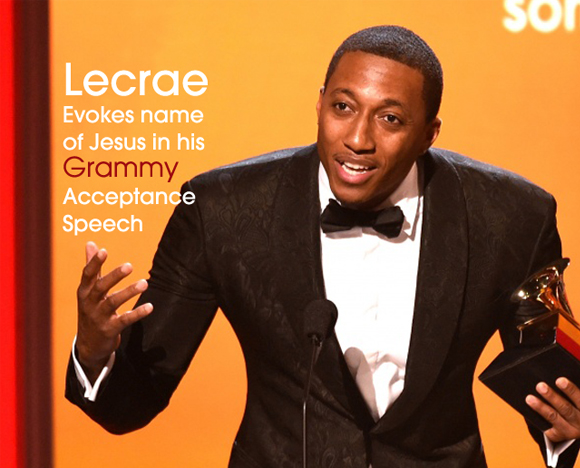 The Christian Rapper won his 2nd Grammy on Sunday's 2015 Award Show. The award was for the Best Contemporary Christian Song /Performance for his song "Messengers." He seized the moment to declare the name of Jesus to the audience filled with celebrities:
"You can't celebrate gifts without celebrating the giver of all gifts, so I want to celebrate Jesus."
Lecrae, a Texas native who now lives in Atlanta, brought his mother as his date to the star-studded event. He was nominated for 3 awards, which included his first nomination in the rap category where he was up against his friend Kendrick Lamar, Drake, Eminem and Childish Gambino. This was a big deal for him because he would like to be recognized as a mainstream rapper instead of being known as a Christian artist.
On the related news, Kendrick Lamar, on whom we reported last week also won 2 Grammys. Last year, many were disappointed that he took home nothing after being nominated in 6 categories for his widely successful 'good kid, m.A.A.d. city' album .
Congratulations all around!
You may also like this Lecrae first Christian rapper to perform on The Tonight Show
And this Is Kendrick Lamar Christian
Lecrae Praise Jesus in his Grammy Acceptance Speech