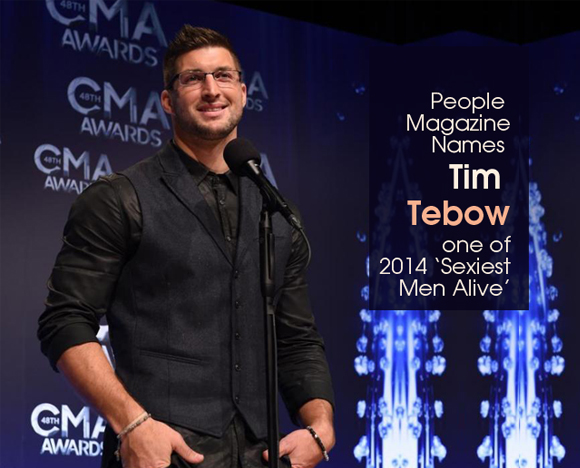 'Sexiest Man Alive' is not the first thing that comes to mind when you think Tim Tebow. While he is good looking, the famous former NFL quarter back is mostly known for his faith, virtue, humility and great character. PEOPLE Magazine took a notice and named the 6'3 athlete and TV commentator among 2014 Sexiest Men Alive category.
The list of 11 men includes Chris Hemsworth, 31; Chris Pratt, 35; Jamie Dornan, 32; Michael Strahan, 42; Matt Bomer, 31; Ki Hong Lee, 28; Blake Shelton, 38; Bradley Cooper, 39; Eddie Redmayne, 32; and Scott Foley, 42,
Tebow was surprised by the honor. "I don't go through life trying to be sexy; I go through life trying to help others," Tebow told PEOPLE. "Of course I want to look nice and have a good appearance,"  He stated. "But more than the outer shell, I want people to want to be around me for my heart. To me, it's especially important to have a heart for kids who are hurting. Being able to make a difference is something that people should love, and that's something that's sexy about people."
They you have it. Tim Tebow is one of the Sexiest Men Alive! You can see more on the report at people.com.

People Names Tim Tebow One Of 2014 Sexiest Men Alive