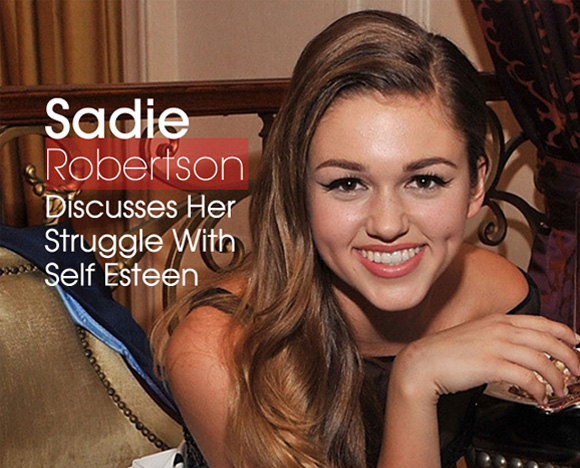 Struggling with esteem issues and jealousy? You are not alone. The young starlet Sadie Robertson 17,  joined a long list of celebrities who confessed their battle with feelings of inadequacy. Robertson however, finds her strength from God and scriptures; and her message: Just be you and live Original. She conveyed the message via a video on her Facebook page.
She begins by describing herself, "I am 5′ 7", I weigh 122 pounds, I wear a size 26 in jeans — a small or a medium top … I wear a size two in a dress, and I eat all the time," she said. "I'm not toned. I don't have abs."
She goes on to confess that , "I struggle with jealousy and I struggle with comparing myself to other people, I struggle with worry and I'm really hard on myself. I'm just like any other girl: I look in the mirror and I pick out the flaw … I have a hard time when it comes to people not liking me," she confessed.
She says she started preaching about confidence mainly because I struggled with confidence herself.
"I wanted my message to be live original because that what I want to see in the world," she told her fans directly. "The point is don't look at somebody and say that's what I want to be, because in reality if you're seeking self-approval or human approval you're never going to reach your goal. You can only reach it by God. You can only be the best you, you can be."
In the end, the reality show star said that there will always be people who are taller, tanner, skinnier, etc., but that there is absolutely nothing good that has ever come from being jealous of others.
"You're never going to be content with you are unless you allow God to come in," she concluded. "I'm not saying that's what you have to believe but I'm saying that's the best option I've ever found. Humans have never given me a better comfort zone than what God can give me."
See Robertson's video here
Sadie Robertson Encouraging Message about Self Esteem