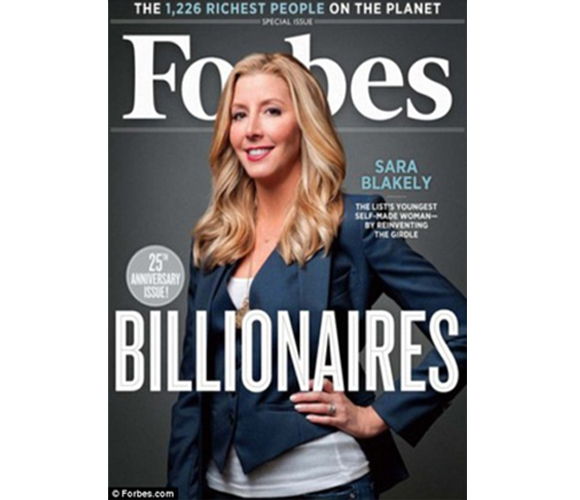 By Lynette Lewis
I love the story of Sara Blakely, how she invented and overcame a dozen "no thanks" moments on the road of inventing Spanx. The airport TV's were showing an interview with her on CNN Saturday.
If you think the American dream is dead, just meet Sara Blakely. She's never taken a business class in her life, or even worked in her industry. But she's no accidental entrepreneur. The tenacious Sara Blakely took $5,000 in savings and transformed it into a $500 million dollar-a-year company called Spanx…and she revolutionized women's undergarments in the process.

In 2012, Forbes named the Spanx founder and inventor the world's youngest, self-made female billionaire. With Oprah Winfrey's endorsement, 20,000 pairs of Spanx were sold in less than a day. Spanx can now be found in over 50 countries worldwide, but Blakely's story is quintessentially American.

She owns 100 percent of her company, has no outside investors, and has never spent a penny on advertising. As with many inventions, it all began as a solution to a nagging problem.
I find Sara's story so riveting. She's an all-American blonde beauty in a girl-next-door sort of way, with eyes that sparkle and guts that show success borne of effort and try.
Listening to all the "no thanks" moments and slammed-door-letdowns she describes is encouraging. Who of us hasn't felt like such a fool at times. I'm sure she wondered who could possibly need "footless control-top undergarments" anyway. Evidently millions.
She refused to let go of her panty-that-doesn't show, holding on to her day job selling fax machines while selling the dream forward every moment she could. With little money to invest she did the work herself via online research, avoiding high attorney's fees and making incremental progress.  She developed packaging from her own gut sense and from anecdotal stories about Kodak and others.
We all look with awe upon self-made stories like hers, but I find in her journey the elements required for doing every dream. One idea may make it bigger than another, but you and I can and must apply similar activities if we ever plan to see our dreams succeed.
Passion launches. Vision grows. Tenacity nurtures. Guts gain. Frustration keeps moving, and perseverance prevails.
Sarah's story may be unique, but isn't uniquely possible for others who will likewise work hard and believe.
___________________________________________________________________
Lynette Lewis is an author, business consultant and an inspiring speaker. Her popular book, Climbing the Ladder in Stilettos, has been published in several languages receiving recognition from numerous sources including The Wall Street Journal, The New York Post, and The Dallas Morning News.  www.lynettelewis.com
Sara Blakely Makes The List of Youngest Billionaires