An openly Christian Kevin Durant gave a moving acceptance speech when he received his first NBA MVP award. His mother who was in the audience became a center of attention. With Mother's day around the corner, the speech turned out to be a wonderful tribute to his mother and all the mom's out there. Here are some of the words:
"Single parent with two boys by the time you were 21 years old," Durant said while fighting through tears. "Everybody told us we weren't supposed to be here. We moved from apartment to apartment by ourselves. One of the best memories I had was when we moved into our first apartment. No bed, no furniture, and we just all sat in a room and just hugged each other. We thought we'd made it."
Durant said his mother was always there to keep him on track, despite tough times.
"You made us believe," Durant said in his speech. "Kept us off the street. Put clothes on our backs, food on the table. When you didn't eat, you made sure we ate. You went to sleep hungry. You sacrificed for us. You're the real MVP."
Pratt, 46, was in the audience during the speech, dabbing her tears after her son's touching words. She has remained a constant presence in his life and often can be seen in the crowd at Oklahoma City games.
"I expected him to mention me, but I didn't know it would be to that magnitude," Pratt told TODAY. "That day I got over 150 texts from friends and family. I was just really overwhelmed. I was really surprised by all of it. It was just a pleasant surprise. He just really kind of messed me up with that one."
You can read more at today.com, usatoday.com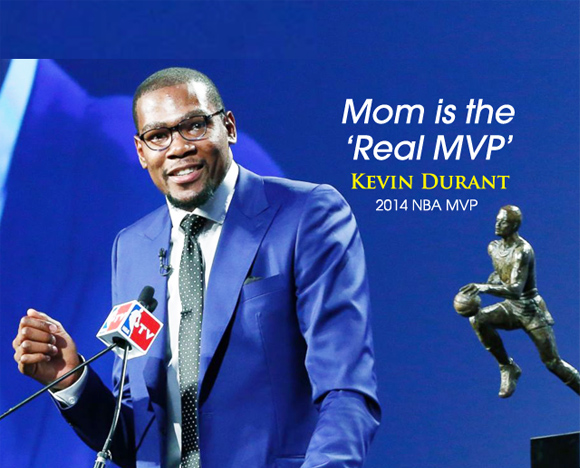 Tearful MVP Kevin Durant Gives a Moving Tribute to His Mother