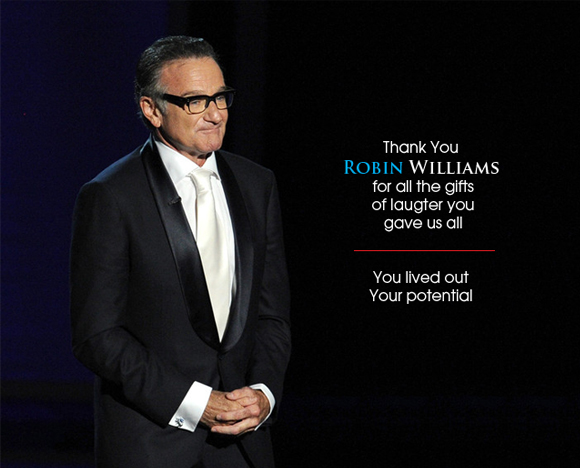 We may never know how much Robin Williams still had in his tank, but we know one thing, he never stop giving of his talents, right up till his last day. For that we are genuinely grateful.
One of our main mantra's at Graceful Chic is to encourage people to live up to their full God-given potentials. To go after their dreams and to experience the joy of leaving out their true potential. Robin Williams is one shining example of the life lived to the full. Myles Munroe once wrote, "You must decide if you are going to rob the world or bless it with the rich, valuable, potent, untapped resources locked away within you."
A giant in his own right, Williams' reach and touch stretched over generations. Besides the movies and stand-up comedy materials that we will continue to enjoy for many years, Williams left four completed films that will be released posthumously: "Night at the Museum 3,"  "Merry Friggin' Christmas,"  "Boulevard," and  "Absolutely Anything."
While our condolences and prayers go to the Williams' family, the overriding sentiment at this time is 'What a life fully lived!' He was funny, generous, hard working, humble and an awesome person. He never robbed us of himself. We say farewell Robin Williams, and thank you for all the gifts of laughter you gave us all the years!
Thanks Robin Williams For Living LIfe to God Given Potential