The Bible says "A man's gift makes room for him and brings him before great men." Following the world cup 2014 we learned  about the inspiring story that resonates so much with this word.
Leonel Andres "Leo" Messi, the Argentinian soccer powerhouse, was not supposed to be a soccer player. He wasn't supposed to even reach five feet tall due to a genetic hormone deficiency that is a mild form of dwarfism.
Today Leo Messi is known as the best player on the planet. Last Sunday, he came close to soccer immortality. Winning the world cup would have put him in the group of the soccer elite such as Pele and Maradona. But his team and Messi had to settle for second place, thanks to team Germany, the deserving champs of World Cup 2014.
Even after receiving the Golden Ball award, which makes him the best player of this world cup tournament for leading his national team to the final, it was clear that he could not be consoled. The loss in the final was still too disappointing to appreciate any personal accolade.
Messi receives the 2014 World Cup Golden Ball Award
His football story begins around the age of 10. He was diagnosed with the growth deficiency syndrome which means he would only grow to be a little man unless he found treatment. The treatment was expensive.  Estimates range between $900 and $1,500 per month in medical costs that his family couldn't' afford. His father Jorge was a factory worker, his mother Celia was a part-time cleaner.
Messi had one thing going for him. He had talent and it certainly made room for him. He was a dazzling soccer player. Even at the age of 9 or 10, people would gather around to watch him play. They would throw coins and pennies towards him. The local team Newell's Old Boys was impressed and it offered to pay for his treatment if he joined. They still couldn't cover all the costs. It wasn't long before cavalry arrived. The Barcelona team sporting director at that time, came to know about it. Messi was given a chance for a trial for the Barcelona junior team. A contract was made, his medical expenses would be covered by the club and Messi had to leave his home town of Rosario, Argentina and move to Spain.
Messi Hold 4 Fifa Best Player of the year awards
Till this day Messi still plays for Barcelona. The 27 year old is now 5'7 foot, which is still shorter than many other players. But his game is the one of a giant:
1. He is the 4 time winner of Fifa (World's) Best Player of the year , the only player to achieve this feat.
2. He has won six Spanish league titles
3. He has three (European) Champions League titles
4. In 2012 he set a new world record for scoring 91 goals in one season. The previous record was 85 goals by Gerd Muller for Bayern Munich and Germany in 1972.
5. In 2008, he won an Olympic Gold Medal with the Argentina Olympic football team. The list goes on.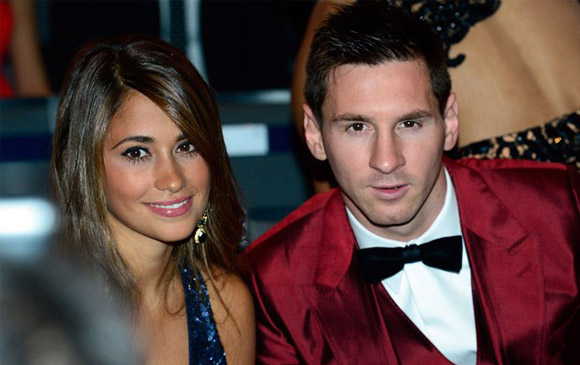 His wife Antonella Roccuzzo and mother to his son Thiago Messi
Other Messi fun facts
Messi's first contract with Barcelona was detailed out on a paper napkin! FC Barcelona sporting director Carles Rexach was so impressed with Messi's skills that he wanted to make a contract immediately and there was no paper available at that time. He was only 11 years old.
He supports a number of charities through his Leo Messi Foundation. He also works for people suffering from Fragile X Syndrome (a disease related to autism). He is also a a goodwill ambassador for UNICEF.
When it come to hobbies, Messi does not like to go outside and socialize much. His most favorite past time include sleeping, eating, and PlayStation. He tried watching the TV shows "Lost" and "Prison Break" but left them midway as he felt the story is too perplexing. Now that he is a father, he loves taking care of his son Thiago and spending time with him.
If it wasn't for his gift in soccer, Messi story would be very different today. The talent was so visible that at the age of 10 football clubs would go to any length to acquire his services.  He has one more shot at winning the world cup. He will be a veteran player of 31 years then. Even if he doesn't get to lift the Cup, he is still viewed as the best. He may have not won the world cup like Pele and Maradona, he may not be as flamboyant and charismatic as his current rival Cristiano Ronaldo, but the titles and accomplishments on the field makes him the greatest to play the game in many people's books.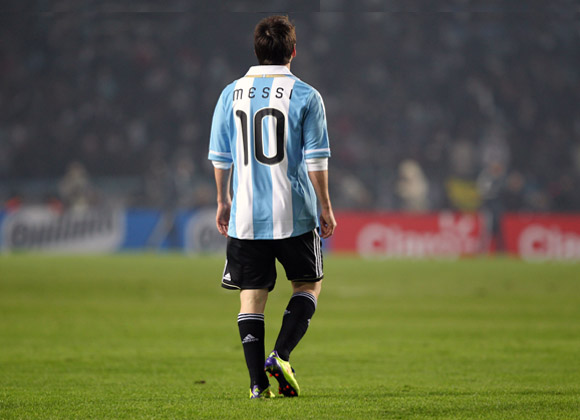 The Inspiring Story of Leo Messi