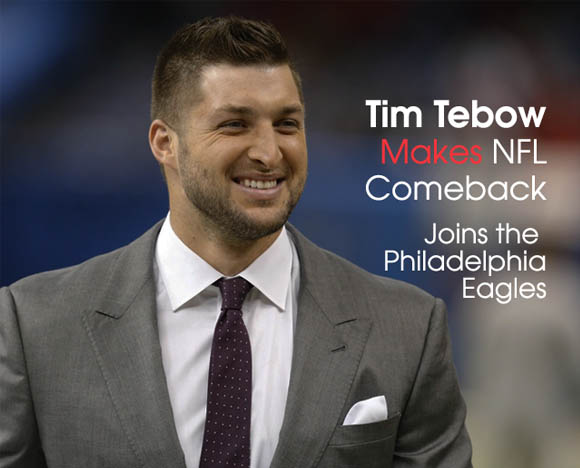 They that wait upon the Lord shall renew their strength; they shall mount up with wings as eagles. (Isa 40:31). Tim Tebow is witnessing just that today. After waiting on the Lord for over 2 years, he is finally realizing his life dream of returning to NFL. And yes, he will be 'mounting up his wings as an eagle' in a Philadelphia Eagles jersey.
Various news reports including USAToday and New York Times are confirming that Tebow is going to the City of Brother Love. He will be joining the Philadelphia Eagles as one of the quarterbacks. He is expected to sign a one year contract this Monday.
Tebow hasn't played in the NFL since 2012 with the New York Jets. He was released by the New England Patriots before the 2013 season and spent last year working in television as an analyst for the SEC Network and ESPN.
Despite being out of the league, the 27-year-old Tebow remained one of the most popular players around. He has a legion of fans who follow him because of his strong Christian beliefs.
The former Heisman Trophy winner led Florida to two national titles and was a first-round pick by Denver in 2010. He started 16 games during two seasons with the Broncos, including a playoff victory over Pittsburgh in January 2012.
Tim Tebow Makes An NFL Comeback