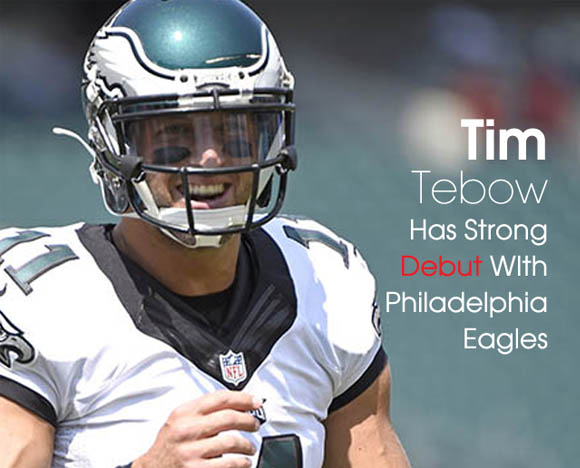 Tim Tebow made his return to the NFL on Sunday, playing quarterback for the Philadelphia Eagleas in their preseason opener against the Indiana Colts.
He received a standing ovation from fans as he took the field for the first time. Tebow had to wave his arms for the crowd to quiet down. Eagles fans were cheering loudly for him, chanting his name the second time, and it was disrupting him calling out signals
"I was thankful," Tebow said, laughing. "But I was also like, 'They [the Eagles offensive players] won't be able to hear me! We'll have to go [to a] silent [count].' It's very humbling. It definitely means a lot."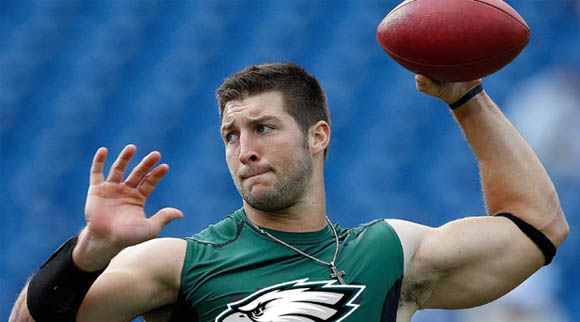 Tebow threw for 69 yards and ran for a touchdown. He found his way into the hearts of Eagles fans, receiving a standing ovation midway through the game's third quarter when he came out onto the field.
According to SRN News, the Eagles signed Tebow to compete with Matt Barkley for the No. 3 spot behind Sam Bradford and Mark Sanchez. Barkley was 12 of 20 for 192 yards and one interception. Tebow completed 6 of 12 passes and was sacked twice.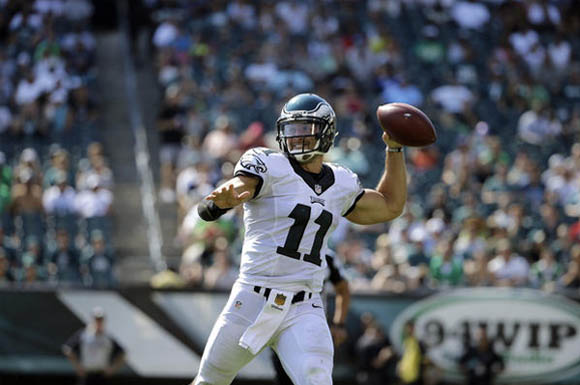 Many fans follow Tebow because of his outspoken Christian faith. Speaking to a reporter after Sunday's win, Tebow said that the opportunity to play in the NFL again was "a blessing and it's something I'm very thankful for."
Tebow is also involved in living out his faith in humanitarian work. The Tebow Cure Hospital in the Philippines, dedicated to treating children from low-income families who suffer from an array of medical conditions, recently treated its 100th patient since opening in December 2014. 
Other reports : espn.com and ChristianHeadlines.com
Tim Tebow Receives Standing Ovation at Debut in Phillya