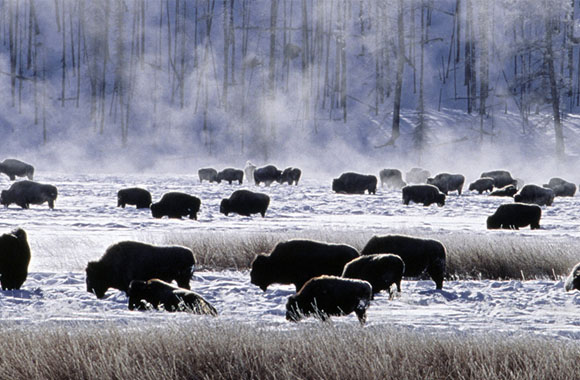 Breathtaking Nature At Our Doorstep
By Yen Shing
The unrivaled beauty of North America's National Parks has inspired generations of artists, conservationists and explorers – among them the artist George Caitlin, author and Sierra Club founder John Muir, and nature photographer Ansel Adams. The idea behind national parks was first conceived in the mid-1800's, when a small group of environmentalists and state leaders began to advocate the preservation of North America's wild spaces for all people. In 1872, President Ulysses S. Grant made Yellowstone the United States' (and the world's) first official national park. More parks soon followed and today, a total of 59 protected areas in 27 states have been designated as national parks.
Every park has a unique and unforgettable experience to offer, and changing seasons reveal new marvels to park visitors. To help you plan your next visit, here are the 10 most visited National Parks in 2012 as reviewed by travel.nationalgeographic.com. For more detailed information about the parks including maps, hours and fees, visit the National Park Service's website.
1. Great Smoky Mountains
The nation's busiest park, Great Smoky Mountains draws more than nine million visitors a year, twice the number of any other national park. It's located in Tennessee and North Carolina. The park preserves the world's best examples of deciduous forest and a matchless variety of plants and animals.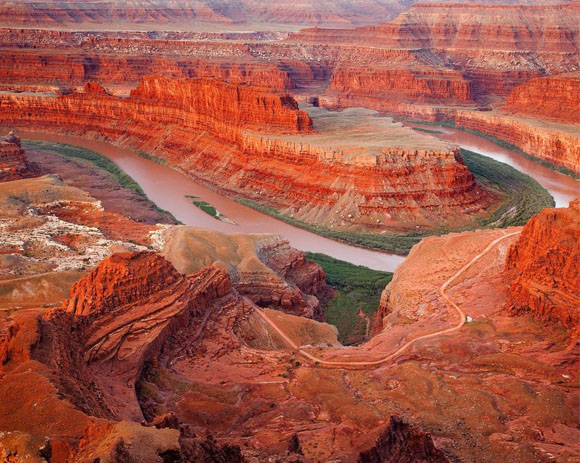 2. Grand Canyon
Nearly five million people travel to Arizona's Grand Canyon each year. Ninety percent of travelers first see the canyon from the South Rim, but crowds can be avoided by hiking the park's many trails or driving to the cool evergreen forests of the North Rim.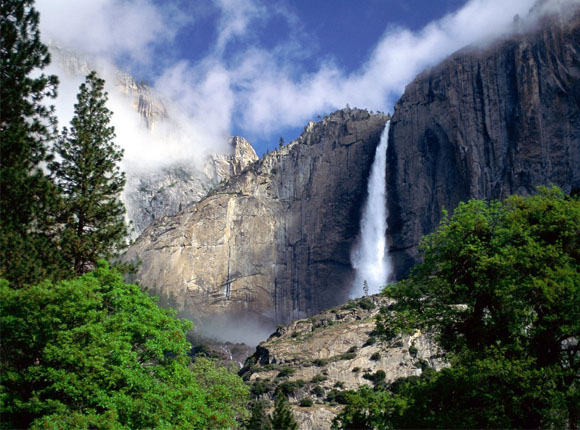 3. Yosemite
In addition to spectacular waterfalls, California's Yosemite National Park boasts deep valleys, ancient sequoias, and hundreds of animal species. Yosemite is also a UNESCO World Heritage site.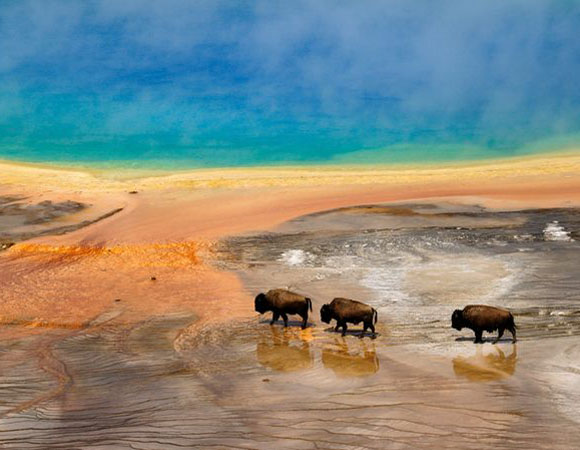 4. Yellowstone
Yellowstone National Park is home to the iconic bison, elk, bighorn sheep, grizzly bears, and other Rocky Mountain fauna. Located in Wyoming, Idaho, and Montana, the park has more geysers and hot springs than anywhere else on Earth.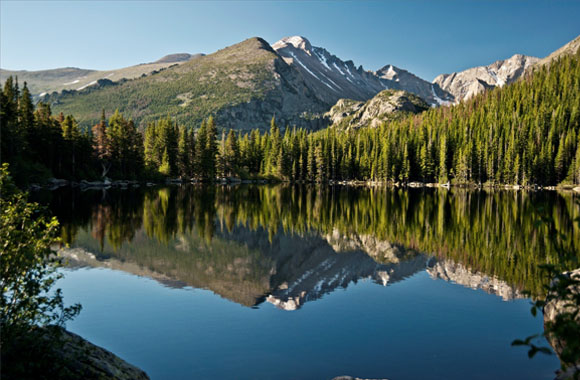 5. Rocky Mountain
Sweeping vistas are a main attraction at Rocky Mountain National Park in Colorado. The park contains 150 lakes and 450 miles of streams, plus ecosystems ranging from wetlands to pine forests to montane areas to alpine tundra. A wide variety of animals inhabit the park, including beaver, elk, and bighorn sheep, as well as many bird species.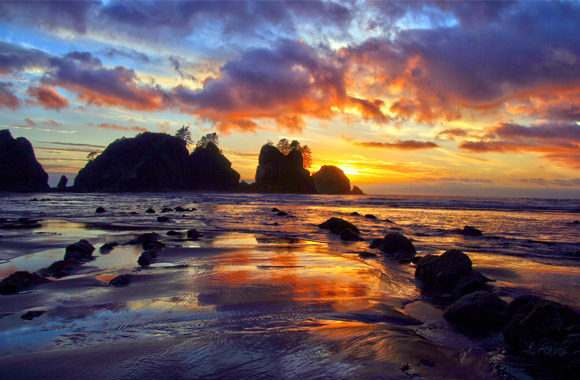 6. Olympic
Olympic National Park in Washington State encompasses 1,441 square miles of the Olympic Peninsula. Because of the park's relatively unspoiled condition and outstanding scenery, UNESCO has declared it both an international biosphere reserve and a World Heritage site. Rock outcroppings called sea stacks are home to birds and other animals on the Pacific shore. The shore is one of three distinct ecosystems within the park.
7. Grand Teton
Autumn brings vibrant color to the valleys in Wyoming's Grand Teton National Park. Though visitors can enjoy the park year-round, September and October bring pleasant days, brisk nights, fewer crowds, and a better chance of seeing elk than in summer. Unencumbered by foothills, the regal and imposing peaks of the Teton Range make one of the boldest geologic statements in the Rockies.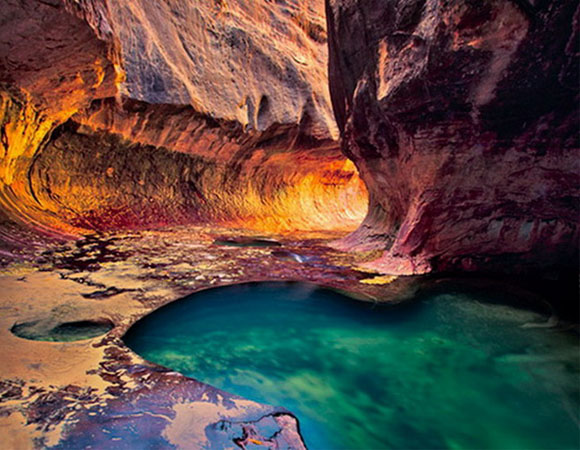 8. Zion
Rising in Utah's high plateau country, the Virgin River carves its way through Zion Canyon to the desert below. The park's striking vertical topography—rock towers, sandstone canyons, and sharp cliffs—attracts 2.5 million visitors a year. Established in 1919, Zion has more than 100 miles of wilderness trails crisscrossing the backcountry.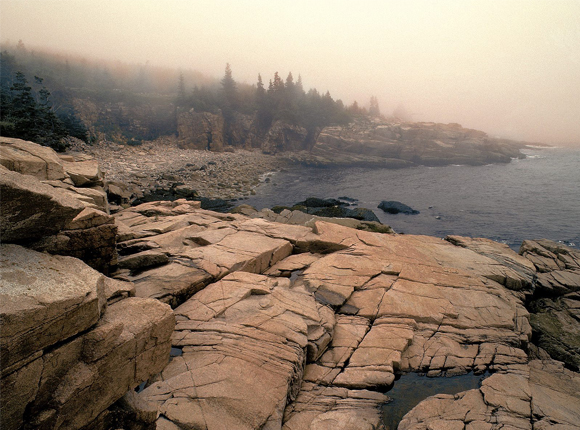 9. Acadia
Sea and mountain meet at Acadia National Park in Maine. Most of the park is on Mount Desert Island, a patchwork of parkland, private property, and seaside villages. The park has more than 120 miles of hiking trails, which range from easy strolls along the ocean to steep climbs up Cadillac and other mountains.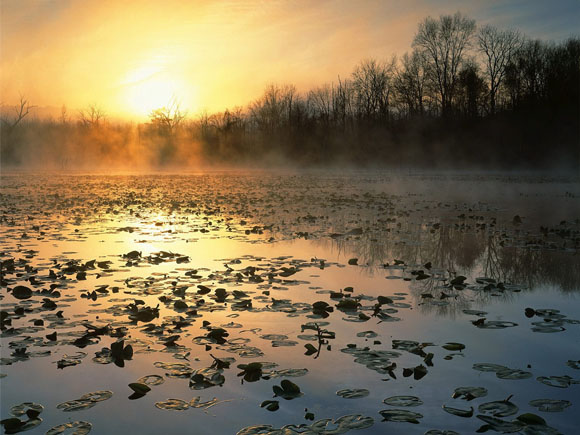 10. Cuyahoga Valley
Although Brandywine Falls draws most of the tourists to Ohio's Cuyahoga Valley National Park, less crowded Blue Hen Falls offers an oasis in the middle of a heavily forested valley. Established in 2000, the park features marshes with abundant wildlife, vistas of tree-covered hills, and secluded trails (including the popular Towpath Trail) through rugged gorges.