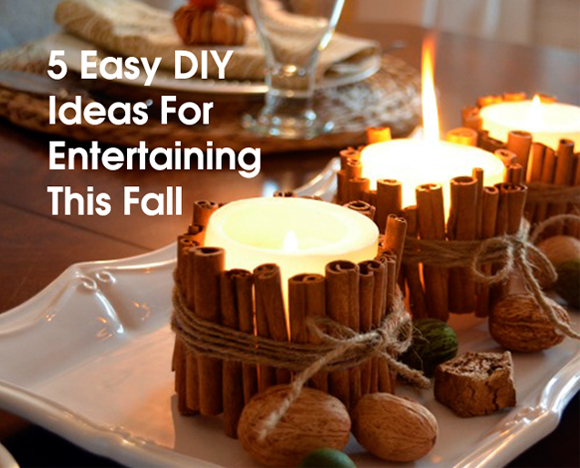 By Samantha Davis
There's just something special about fall that makes it the ideal season for entertaining and  making memories. Whether you're spending time at home with your family or inviting friends over for pumpkin carving, here are some ideas to help you soak in this great season and be an incredible host while you're at it. People will start to wonder what your secret is. We got your back, girl. Here are 5 easy DIYs for entertaining this Fall: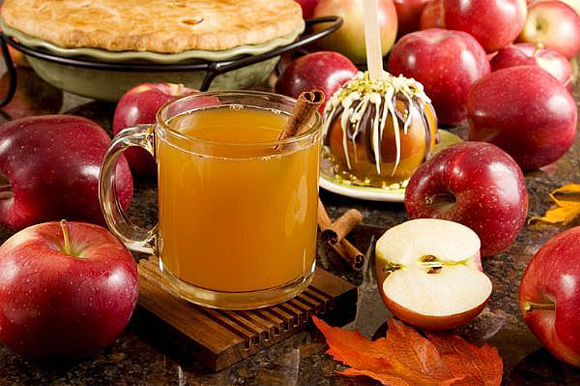 1. Keep Apple Cider on Hand
Treat your family and drop-in guests to a glass of cider at a moment's notice! Keeping a few containers of spiced apple cider in the fridge is a cost effective, easy way to enjoy the season. Pick up a few containers at your local grocery store, farmers market, orchard, or make for yourself! For an extra special treat, bring cider to a boil in a large pot and throw in cinnamon sticks, star anise, and citrus slices in any combination. Ladle the steaming cider to your guests in glass or ceramic mugs and prepare for the "mmm"s.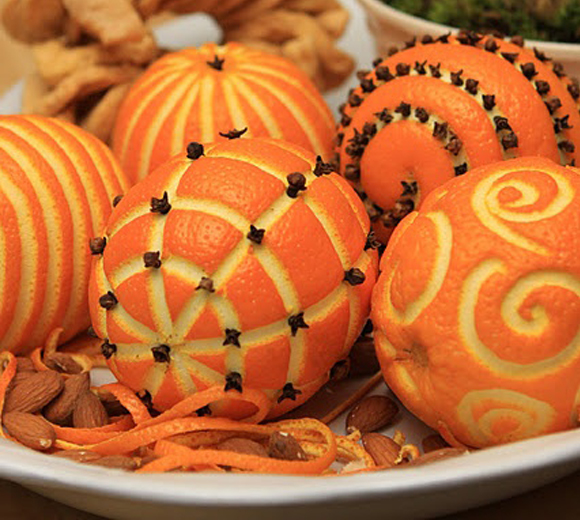 2. Decorate with Clove Oranges
This one is easy to do with kids and makes for a beautiful, fragrant display for your kitchen counter. Any type or size of citrus will work; we like oranges and nectarines. Using cloves, available in a jar wherever you buy spices, pierce the small spices into the skin of the unpeeled orange starting from the top and progressing in a line to the bottom. Repeat around the orange like rays and see how over time the citrus and spices blend to make a lovely fall scent in your home! For creative thinkers, you can try any pattern you like! You can even make mini jack-o-lanterns this way!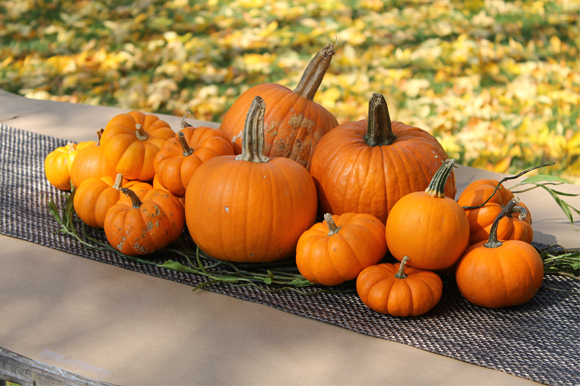 3. Create a Pumpkin Arrangement
We all know how beautiful carved jack-o-lanterns are when lit up on the front porch or in the window. But pumpkins and gourds can be just as beautiful (and longer lasting) without being cut, as a seasonal arrangement inside your home. Collect gourds and pumpkins of varying sizes, shapes, and colors and arrange in your entryway to greet guests or on your dining table as a centerpiece. While you can purchase them outside your grocery store, don't forget to try local markets, orchards, or fairs. As a rule of thumb, go for football-sized pumpkins or smaller if it's on a table, and save the basketball-sized pumpkins for the ground. Brung in leaves from outside to tie it all together.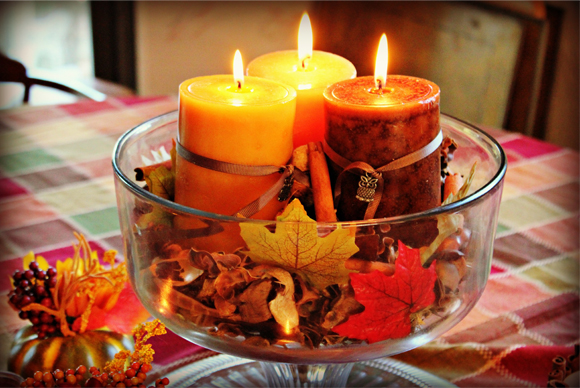 4. Light Fall Scented Candles
Nothing beats candlelit ambiance when you're hosting or winding down from a long day. The warm glow of scented candles around your abode will certainly induce warm fall memories. Our favorite scented candles this season include Leaves from Bath & Body Works and Pumpkin Pie from Ashland, available at Michael's Craft Stores.
5. Boil Cinnamon to Scent Your Space
Chances are you haven't tried this kitchen secret and chances are you will be an avid fan once you do. Place one or two cinnamon sticks in a pot of water and let simmer for 30 minutes before guests arrive (or, you know, just for you). Just this one ingredient will fill your home with that glorious scent of freshly baked apple pie without all the fuss. You can thank us later.
We hope you enjoy these easy, no-mess tips and tricks to turn your space into a fall haven for you and your loved ones.
5 Easy DIY Ideas For Entertaining This Fall