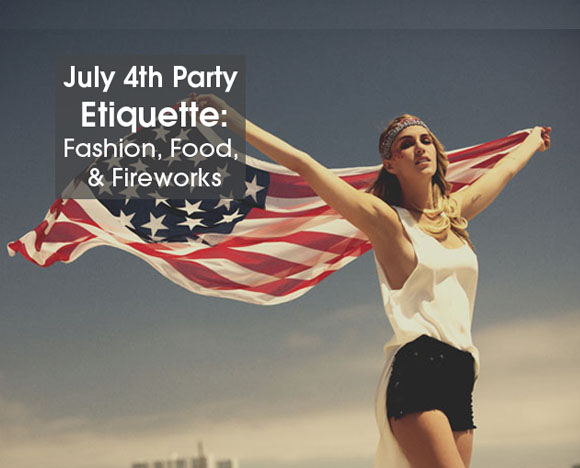 By Rachel Greene
While the Fourth of July BBQ tends to be the most casual of all parties—engagement, holiday, dinner and birthday varieties all come with a more formal set of rules—it still amounts to a ton of work for the host which means you still need to be on your best behavior. You already have your invitation but have so many questions. Don't freak out. We have you covered. Before you start texting everyone you know, read our July 4th how-to and get ahead of the game
1. Should I bring something?
Yes. And then bring something else, whether it's a snack or a different party necessity like soda, chips, charcoal, ice, a cooler, games, paper ware or cheesy decor.
2. If I have a question, can I text the host?
One thing your lovely, welcoming host does not need on top of making sure the place is clean and that there's enough food and that they look decent and that everyone is having fun and being paid attention is to answer text messages like, "what are you wearing i can't decide!" or "is everyone really coming at 7:30?." If you really need to know what to wear, text another guest instead. (or read #5 for our July 4 fashion tips) The only things you should be bugging your host with on the day of the party are expressions of your delight upon being invited and asking if they need more stuff (see #1).
3. What are festive foods to bring to a fourth of July BBQ?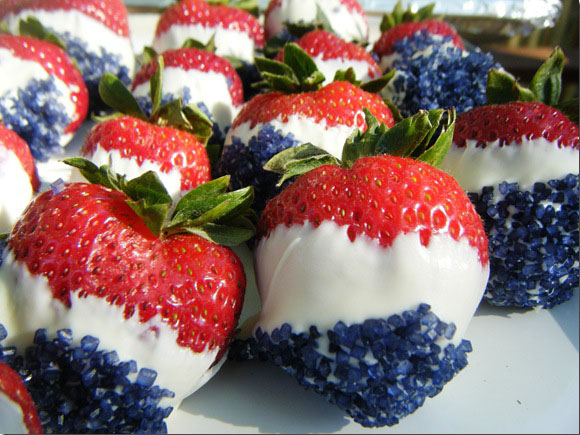 Patriotic Strawberries- All you do is melt some white chocolate chips in a bowl in the microwave, dip the fresh (washed) strawberries in the melted chocolate, wait til it dries, and then roll them in blue sugar! Super easy and SO cute.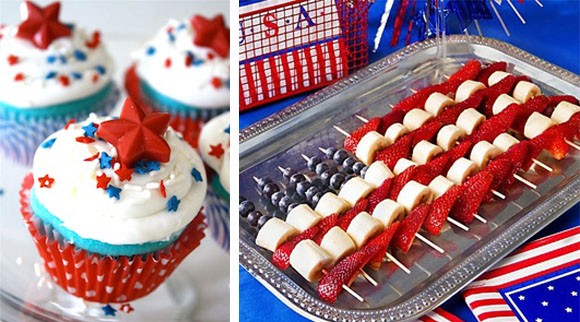 Red, White, And Blue Cupcakes with Candy Star Toppers- Recipe at skiptomylou.org/-cupcakes
Fruit Flags- These are so easy too. Cup up a few bananas and strawberries, add some blueberries, use the photo as a guide, and slide them onto some grill skewers. Voila! God bless America!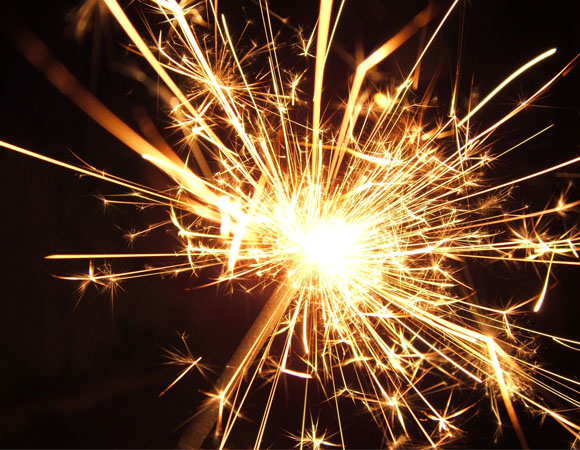 4.  Can I bring fireworks?
Ok. So this a question the host must answer. I would say that sparklers are always welcome. Certain laws may prohibit fireworks so asking the host if fireworks are allowed is suggested.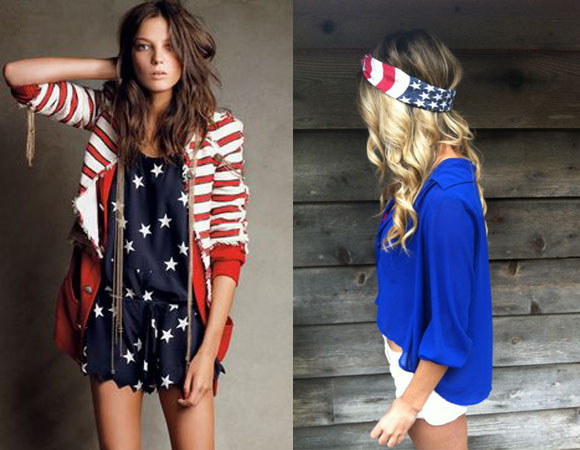 5. What should I wear?
The fourth of July is a casual holiday. Unless your host has mentioned the party will be a little more formal, you can assume that any of the following suggestions will be welcomed: Jean shorts are a BBQ staple and come in a variety of lengths for every woman. Bring a swimsuit just in case there is a pool. You can wear it under your clothes as well. A casual sundress will keep you cool plus feminine. Flip flops, sandals, or wedges. No stilettos! You don't want to ruin the host's backyard. Have you been waiting to wearing your American flag shorts? Don't wait any longer. The fourth of July is the perfect time to be festive and you can totally get away with it. Your nails can be a walking image of American pride if you want… Anything goes!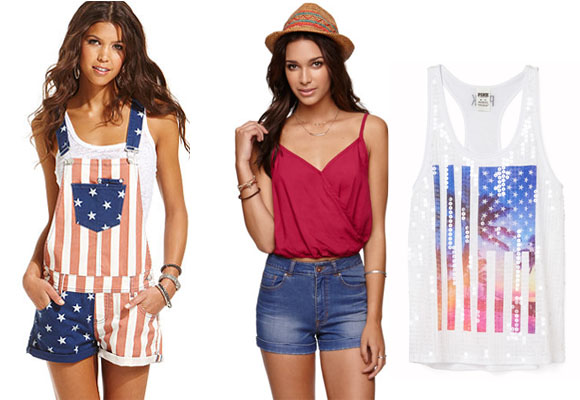 American Rag Flag Overalls, $59.00, macys.com    Bullhead Denim Co Festival Blue Mom Shorts, $39.95, pacsun.com   Victoria's Secret racerback tank, $34.95, victoriassecret.com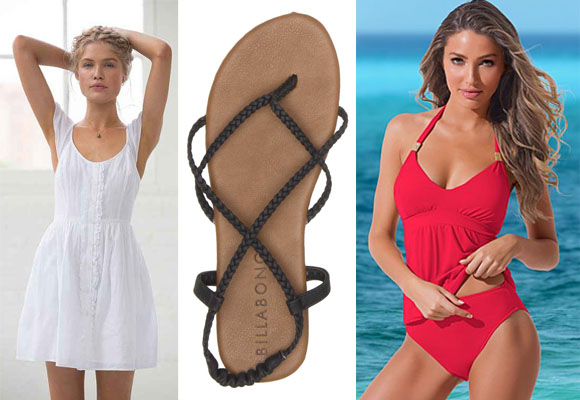 Band Of Gypsies Flutter-Sleeve Button-Down Dress, $59.00, urbanoutfitters.com    Billabong Sandal, $29.00, billabong.com     Venus Tankini, $51.00, venus.com
July 4th Party Etiquette