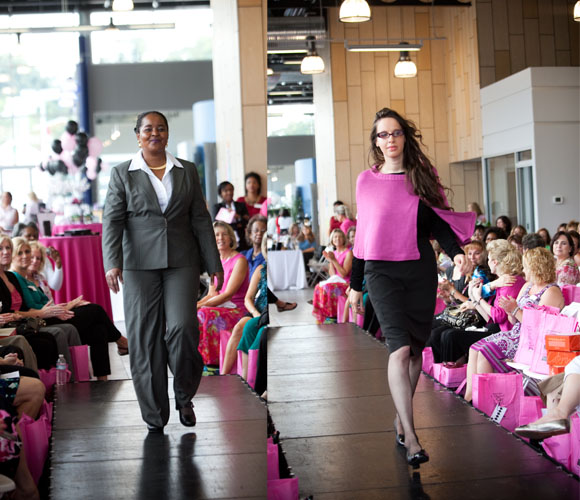 By Erica Cho
Jeanette Kendall, is one good example of combining philanthropy, fashion and confidence building. Jeanette and her organization, Success in Style, provide appropriate business attire, practical fashion advice and interview counseling to women in crisis who are seeking employment. One of their objectives is to "build esteem so their client radiates the professionalism and confidence necessary to gain employment and build a career".
Ms Kendall, a mother of nine and an FIT alumna, founded Success In Style (SIS) 10 years ago with her business partner, Patti Francomarco. The two women owned a fashion consulting business called Elegance In Style and decided to use their talent for a good cause. Last year, SIS celebrated 10 years in business. Graceful Chic had the wonderful opportunity to chat with Jeannette about her charity work and how she balances it all.
Graceful Chic: Jeannette, you didn't immediately work in the non-profit world. What is your background?
Jeanette Kendall:  I graduated from FIT and got a job as an assistant designer. I worked on 7th Avenue. It was really eye opening and fun. After I met my husband and got married, I moved with him to Washington DC. I had to kind of recraft my trade because there wasn't really a fashion industry close enough to me to take advantage of…so I did some custom fashion design and consulting. I did a lot more consulting after I started having children because when you are designing, you need a designated place and having pins and needles, feathers, and silks, that's very difficult with children. I kind of wound that part of my career up and continued with fashion consulting.
GC: And you actually started your own business in consulting, correct?
JK: Yes, two colleagues of mine and myself began an actual fashion consulting business called Elegance in Style that went national,. We gave seminars on how to understand your personal style and how to bascically become your own fashion consultant. We realized it wasn't cost effective to fly all around the country and we brought it down to a local level and refashioned ourselves (no pun intended!) to appeal to smaller groups. They would be smaller seminars and party sales approach- hav eit in peopole's living rooms. We called them clinics.  One of the clinics requested from corporations focused on guiding employees on understanding the dress code and proper attire.
We would always ask the ladies to bring a sampling of their clothes. After going through the criteria individually, we would find out what was flattering and how we would get more mileage out of their wardrobe. What we found was that most women would pinpoint the few pieces that were good for their body type but then wouldn't know what to do with the rest of the clothes that didn't work for them.  The situation reflected a very common problem: We have a vast amount of clothes that we don't need. A light bulb went off.
GC:  A very ah-ha moment for you!
JK: Absolutely. At our fingertips, we have this unending resource that we could put to use for the population that we aren't serving; that's the nonpaying clients who cannot pay, the poor and disadvantaged.  We looked into Dress for Success in NY(another organization that offers professional clothing and career development) and we thought that there's nothing like that here. Originally, we thought about doing a program that would mail clothes there. But we realized that it really wouldn't be cost effective so we dropped that idea .We could provide men and women in crises with a business wardrobe, fashion advice, and interview counseling. We immediately started appealing to various non-profit agencies that help the poor and asked if  this service would be helpful for them.
The response was tremendous. So we thought, "Let's do it!" We started a clothing drive out of my basement. We went to Jenny Craig to see if people who had lost weight could give us their cast-offs. Local community centers started doing clothing drives for us.  And that just got things going. We also joined a few networking groups. So before I knew it, my entire basement was full of clothes.
We put every bit of energy into this new project, and it grew little by little. People started writing about us. We were previously turned down for grant money, but after proving that we were here to stay (90% of non-profits go under in the first year), we received money to expand our offices. So we started Success in Style in August 2001 under the umbrella of Elegance in Style  and incorporated in January 2002. We ended up retiring Elegance in Style and have been focusing entirely on Success in Style since then.
GC: So Success in Style has been a success! Can you tell us about the other services your charity offers?
JK: In 2008, we opened up a boutique named Charity's Closet. We had a lot of clothes that we couldn't use for our clients for a professional environment. We would receive these wonderful donations but they would be too casual or something inappropriate for an office job such as an evening gown.    This resale boutique became an instant success because we sell everything for $5! This store  allowed us to get closer to our goal of being self-sufficient as a non-profit organization. It allowed us to expand our Style in Success services to male clients. Charity's Closet gives opportunities for people who have little means to buy clothes and for anyone who just loves a good deal!
Salon for Success was the brainchild of Charity's Closet volunteer and high school student Hannah Roth. It was her Girl Scout Gold Award project, and her idea was to complete the polished look that Success in Style gave clients by having expert stylists provide free hairstyling on site.
GC: If people want to get involved, how would they become a volunteer?
JK: If you go to our website, there is a link that goes directly to my email.  There is a teen application and an adult application.  We get a little more information from the adults since they tend to stay long-term. It's all mostly on-the-job training. It's a lot of fun. The teen volunteers receive hours for their work. We also offer adult volunteers a chance to pick up a free item from Charity's Closet after every shift.
We have a yearly fundraiser that love our volunteers to be a part of called Pink Bag Lunch. We decided to do something a little different that would be a good fit for our small organization. Instead of fancy, expensive dinners scheduled in the evening after a full day of work, we have a fabulous event with a bag lunch during the day.  The highlight of our event is having our clients model the donated clothes to show the work we do and share the amazing stories of success. We are very respectful of our clients. We don't embarrass anyone; it is a celebration for everyone. There are exciting prizes, and everyone gets a pink tote. Our volunteers all wear pink and have a great time.
GC: Can you share some stories of success through the work of Success in Style?
JK: I n general, what you see is pretty extraordinary. I stressed that our office space had to be beautiful.  Even when we only had a tiny, donated space, it had to look nice.. When people walk in, they sort of have this relief because a vast majority of men and women who have been offered services don't feel like they are being treated in a humane way. Just the volume of people that are served in these social service offices prevents any personalization. It's very institutional. It's like, "Next! Next!" and most of the offices are not beautiful. So when they come to us, the environment makes them feel at ease. Initially, they probably  thought, "Oh, these people have clothes for us, but it's some big clothing bank where I'm going to have to dig through bags.' And then they see our wonderful set up.
After we dress them, they look really polished. It's amazing! Frequently, they're crying. They look in the mirror and perhaps haven't seen this person in a long time. Or perhaps they had never seen the potential.
One woman came from an abused situation. She had just made the split. She decided that she didn't want her children to have a negative relationship that she did . She wanted to be a good example for them. She needed certification to become a teacher. She was in a program at college for single parents, and they referred her to us and we got her suited up for this job. And she got the job with the first interview!
Another male client was undergoing cancer treatment and had just gotten the green light to have a job.  He was at a multi-service center. He had one organization find a house, another to get on food stamps, etc.. He was a single dad. When he came to us, he was smaller because all the treatments that he had. He was so proud when he left. He had suits that fit him gorgeously, like he just stepped out of a GQ magazine. It was like his last stop in services and would be done. And he knew it.  He was ready for his new life to start.
After they get their wardrobe, they don't return for a follow-up. We do have a feedback page in which there is a questionnaire about how they liked our services, how their job interview went, and a comment section. About 50% of our clients respond on the page, and of that, there is an 80% success rate for clients getting a job. A very frequent comment from clients on the page is, "I didn't think someone like you helped someone like me."
GC: You have 9 children, ages 9-27. and you still manage to run these successful programs.. How do you do it all?
It's amazing what you can fit in when you work it in. I'm a night owl. I'm a workaholic. I fit in a lot. Everybody has to know their skills. Mine is utilizing time and space really well. It's one of the gifts I have. I'm grateful for it.
You also have to depend on a lot of people who know more than yourself. Who give you  opinions. Also, because a personality like mine likes to do things impulsively so it's good to have people around who will say maybe you should wait on that, scale back a bit, finish this project first and then start. I do it all the time. I have 5 ideas of what I want to do right now. It's really knowing yourself well and putting your family first. Looking outside the box and being incredibly grateful to those who help you. Because obviously, I don't run the charities by myself. I have really generous volunteers, my husband is extremely supportive, and my kids fill n the blanks for me.
Meet Jeannette Kendall the Fashion Philanthropist