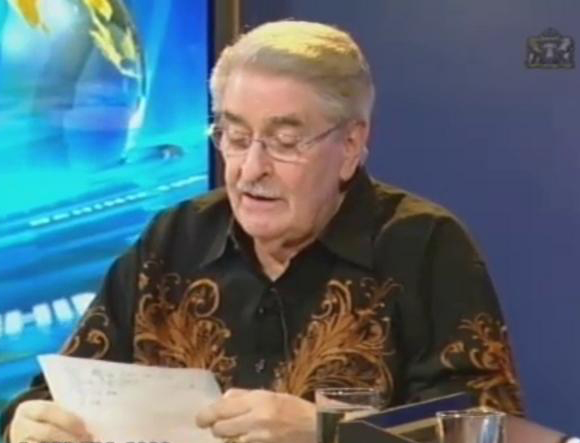 By cbn.com
Paul Crouch, co-founder of the popular Trinity Broadcasting Network, has passed away at age 79.
Crouch's grandson, Brandon, tweeted earlier Saturday, "Today, my grandfather, #PaulCrouchSr went home to be with Jesus in heaven. Thank you for your prayers…"
TBN's Facebook page announced, "Dr Paul F. Crouch passed into the presence of the Lord on November 30, 2013. We are grateful for the life of this amazing servant of God."
Another note on the page said Crouch passed away at 2:32 a.m. Crouch had suffered for more than a decade with chronic heart problems.
The televangelist was hospitalized for congestive heart failure two years ago and received a pacemaker last year. He went back into the hospital last month and for awhile needed a ventilator to help him breathe. But he had returned home early in November amid reports he was doing better.
TBN's Facebook page has been filling with words of condolence and memories throughout the day.
Preacher Arthur Blessitt, most well-known for carrying a large cross through many nations of the world, wrote, "I have been close friends with Paul and Jan since 1976. He was a true man of God and through TBN led millions to Jesus."
"Let's all pray for his wife Jan and all the family. His focus was always +jesus. Tears pour from my eyes," he continued. "I'll miss my friend but there is joy in heaven where millions of people are thanking him for sharing Jesus with them."
Crouch and his wife, Jan, founded TBN in 1973, and the next year purchased the network's first station, KTBN-TV 40 in Southern California. It grew to become the most watched faith network in the country and the seventh largest owner of broadcast TV stations.
According to Crouch's bio on the TBN website, the network also reaches every major continent. It has 84 satellite channels and more than 18,000 TV and cable affiliates. He celebrated 40 years of TBN ministry this year.
In recent years, Crouch's son Matthew took over day-to-day operations of TBN while Paul Crouch, Jr. left for The Word Network, the world's largest African-American religious network.
Paul Crouch Sr. was born to Assemblies of God missionaries in St. Joseph, Mo., March 30, 1934. Crouch graduated from the Central Bible Institute and Seminary in Springfield, Mo., in 1955 with a degree in theology. He met wife, Jan, in 1957. His full biography can be found here.
For more info visit cbn.com
TBN Founder Paul Crouch Dies at Age 79