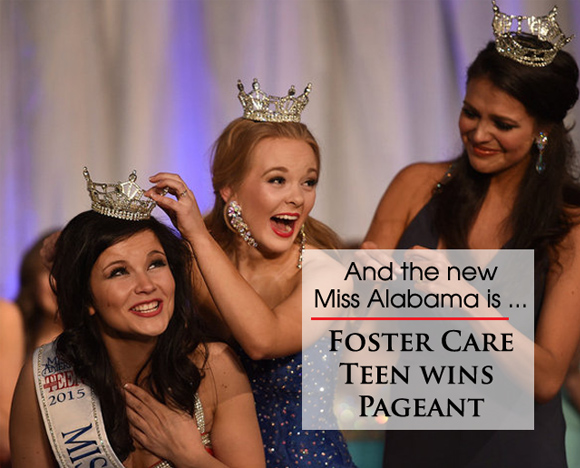 By Sarah Padbury / WORLD News Services
A high school foster youth pulled off a surprise win at Miss Alabama's Outstanding Teen Pageant earlier this month. She not only won her first-ever pageant, but preparations for the event led her to a family who decided to take her in.
Kaitlynn Campbell, 17, attends Hayden High School in the small town of Hayden, Ala., located 30 miles north of Birmingham. Karron Standridge, a guidance counselor at the school, received a pamphlet about the pageant and felt led to give it to Campbell after the teenager received a standing ovation when she sang "Heaven Was Needing a Hero" at a school assembly. Standridge coordinated a community campaign to help Campbell get ready for the event.
"I call it 'Team Hayden.'" Standridge told AL.com. "It was a team effort to get her there."
At that time, Campbell had already been in foster care for eight months, moving between a group home and foster homes. Campbell's social worker helped Standridge solicit and organize area donations, including money to pay the competition's various fees, borrowed formal gowns, make-up and manicures, photo sessions, and pageant preparation tips.
Campbell competed against 41 other young women from across the state. Five judges scored them on talent, evening wear, a private interview and onstage question, lifestyle and fitness, and scholastic achievement, according to AL.com. The popular state contest awarded Campbell the title of Miss Alabama's Outstanding Teen 2015. In addition, she received $5,000 cash and the offer of a four-year, full tuition scholarship at her choice of five universities: University of Alabama, Auburn University, Troy University, the University of Montevello, and Jacksonville State University.
Campbell will advocate a platform focused on child abuse and neglect as she prepares to compete for Miss America's Outstanding Teen.
"This isn't about being a beauty queen," Shelly Roach, a stylist who helped Campbell fix a botched hair coloring job, told AL.com. "She has lived her platform for many years."
But Campbell doesn't want people to feel sorry for her, and views her story as one of success rather than sadness.
"It hasn't been easy, but it has been so worth it," Campbell told AL.com. "Things have fallen together perfectly, God has just been in this whole journey. … I'm excited to able to represent the state of Alabama and to be the voice for the kids that are going through hard times."
Campbell's "hard times" may be less difficult soon as she recently found what she needed most: a permanent home. Shelly Roach felt drawn to Campbell while helping her with her hair. Roach asked her husband, Bryan, if they could consider taking her in.
"After I met Kaitlynn, I saw what [Shelly] saw and an opportunity to help this young woman," Bryan Roach told AL.com. "After a period of prayer, we felt like we were led to do it.
With her new foster parents cheering her on, Campbell told AL.com she is looking forward to using her new position to encourage teens who are going through tough times.
"I want to give other kids the courage to overcome any type of adversity that they're facing … because it is not easy being a teenager," Campbell said. "I know that first-hand."
Courtesy: WORLD News Service
Teen in Foster Care Wins Miss Alabama Pageant