By Yen Shing
Perhaps it's the extra hours of daylight beckoning us to come out and play. Maybe it's our bunched up muscles de-stressing in the sultry heat. Or perhaps it's just the spirit of summer break and everyone else in the office traipsing off to Bora Bora and Corsica. Whatever "it" is, summer is surely the season of wanderlust and travelbugs. With space constraints and airport security waiting to throw out that precious 5 oz. serum you paid for with your left kidney, vacation packing is no piece of cake. Which is why we've compiled a list of essentials for your upcoming Summer Vacation. (For those heading to the North or South Pole, trekking the Annapurna or camping in Patagonia, we're still working on your packing list but you're probably way ahead of us :))
A. Dress for the Sun: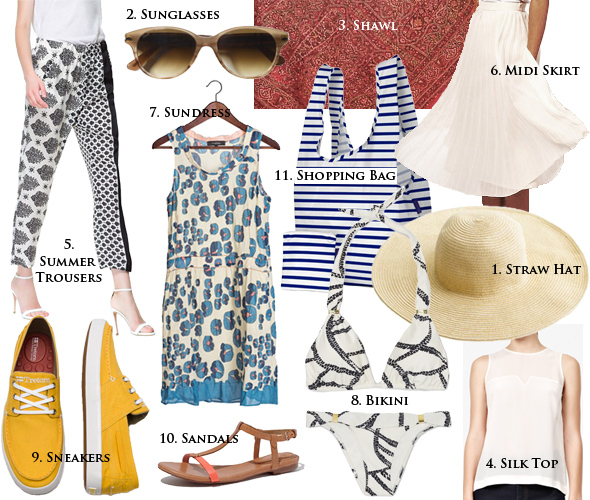 For lazy beach days, exploring ancient ruins or shopping at the souq, these versatile pieces will help you stay cool and chic in the summer heat.
1. A foldable wide-brimmed straw hat can be neatly tucked away in your luggage ($34.50; Summer Straw Hat; j.crew.com)
2. Sunglasses ($220.00; Persol Cat-Eye Sunglasses; clubmonaco.com)
3. An over-sized shawl will keep you warm on the plane and double as a beach cover-up or even a wraparound skirt ($72; Kani Shawl Wrap; heritagetradinginternational.com)
4. Simple silk tops transition seamlessly from day to night. They can be dressed up or down and paired with virtually any bottom ($88; Prism Silk Block Sleeveless Top; usa.frenchconnection.com)
5. Pack a pair of lightweight trousers in cotton, silk or polyester. They're comfortable in the heat yet polished enough for a night out ($40; Combination Printed Palazzo Pants; usa.frenchconnection.com)
6. Neither too long nor too short, the midi skirt is another mix-and-matchable piece ($48; Midi Skirt with Pleats; asos.com)
7. Always bring your favorite sundress… ($213; Cotelac Bloom Cloque Dress; cotelac.us)
8. … and a few pairs of bikini! ($96/piece; ViX Bia Top & Bottom; clubmonaco.com)
9/10. And we know you're not gonna bring just one pair of shoes. Board the plane with a pair of Tretorns – great for clambering around ruins and trails, and pack a pair of wear-with-everything strappy sandals ($65; Tretorn Otto Canvas; us.tretorn.com… $88; The Sonny Sandal in Lizardstamp; madewell.com)
11. Need extra space to bring home souvenirs? Baggu is the answer. It folds into a flat 7"x7" pouch, and opens up into a huge 18" wide x 33" high x 9" deep tote! ($12; Big Baggu; baggu.com)
B. Bath and Beauty:
1. If your favorite products don't come in travel-size versions, grab a TSA-approved refillable kit like this one from Sea to Summit ($14; Sea to Summit Travelling Light; basegear.com)
2. Or pamper yourself with this well-priced travel set from Bvlgari ($30; Bvlgari Au The Vert Travel Set; amazon.com)
3. Don't forget your sunscreen! For tips on the best sunscreens, read our article: Respect Your Skin (The Art of Sunscreen). Honest Sunscreen has the perfect 3 oz travel-size tube ($14; Honest Sunscreen SPF 30; honest.com)
C. Survival kit:
Finally, don't leave home without…
Passport, chargers, travel adapter, reading material, travel guide, granola bars, and your trusty travel first aid kit. Bon voyage!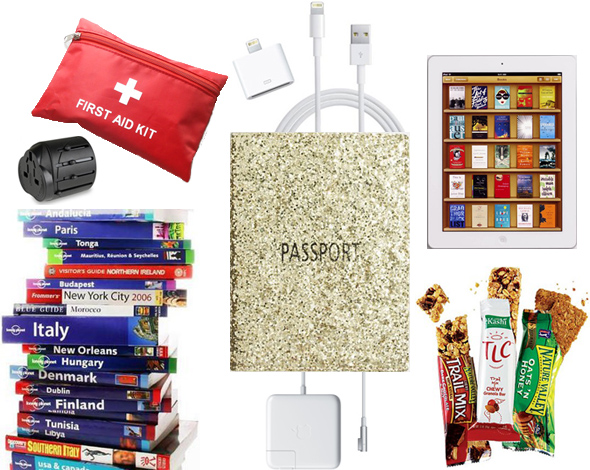 What's In Your Vacation Getaway Bag?