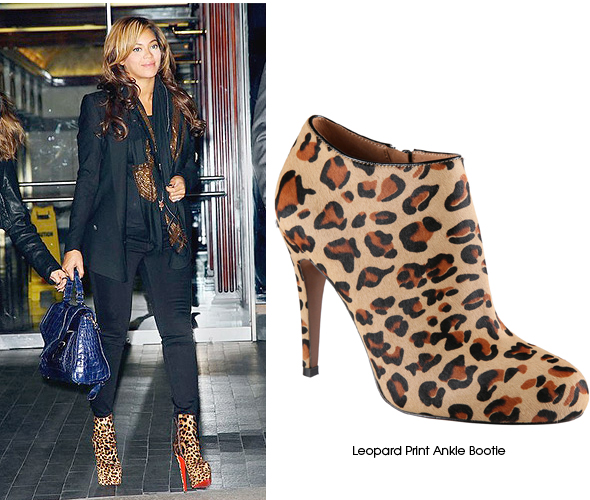 By Jessica Sleiman
Beyonce rocks this all-black outfit with her navy leather purse and leopard print boots
One thing that  never goes out of style is animal print. Handbags, shoes, belts, scarves, jackets – whatever you're looking for, it can be found in animal print.. Although one might not feel comfortable wearing animal print, it's the perfect way to bring an all-black outfit to life, as Beyonce does so well.
Try this alternative from Aldo!
Leopard Print Ankle Bootie: $84.98; aldoshoes.com
On the other hand, if you feel like you might be wearing too much color, leopard print heels are also the best match for a solid or flashy colored dress. I've always admired Blake Lively's conservative but sexy style and she has never failed to impress me with her unique way of blending colors and prints.
As if this orange tight-fitting dress wasn't lively enough, Blake spices up this outfit even more with her Louboutin heels.
Steal Blake's look by choosing a pair of these rather over a classic pair of pumps. However you wear them, they'll definitely make a statement!
Leopard Print Pumps: $64.98; aldoshoes.com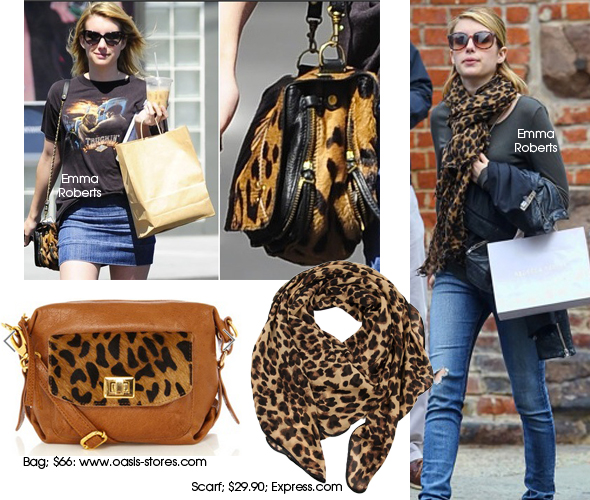 Emma Roberts executes animal print perfectly through her accessories. Seen in a leopard print scarf on numerous occasions, it's a great pop for any outfit. Another way to add visual interest is to choose a handbag in your favorite print.
Try this infinity scarf from express. It's budget worthy and easy to wear. Use this cross body bag for a slight accent.
Scarf; $29.90; express.com
Bag; $66: oasis-stores.com