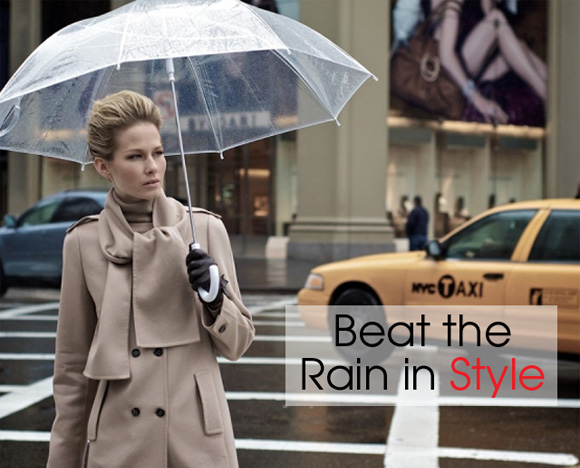 By Arriel Ginter
Is rain in your forecast? Spring season brings rain to a lot of places. You still have to make it to work, take the kids to school, or do various errands. To beat the weather, we've gathered a few items to help keep you dry and brighten up your outfit.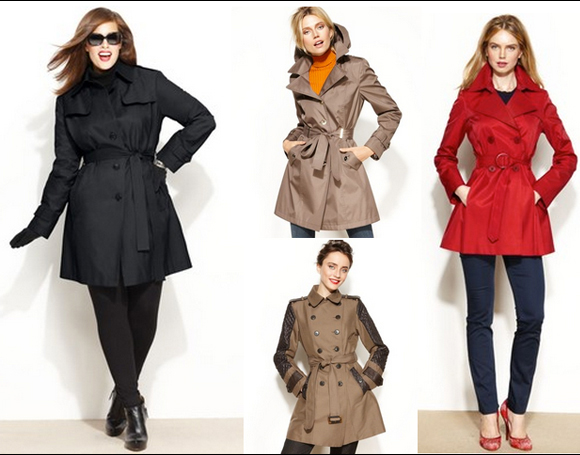 Raincoats are great investments for those residing in areas prone to rain. There are many styles available and we suggest opting for those that fit your body type. The hemline of your coat will proportion your body visually. Taller figures can manage longer coats, while petite figures are best flattered in mid-thigh styles. Promote curves by wearing a coat with a belt, while boxy and looser shape jackets suit slim shapes. Have fun with your choice, pick your favorite color or this season's red for a pop in your fall wardrobe!
Raincoats:
DKNY Raincoat; $200; MACYS.COM
Calvin Klein Raincoat; $100; MACYS.COM
Jones New York Raincoat; $200; MACYS.COM
Via Spiga Raincoat; $200; MACYS.COM
Need some sunshine in your fall? Grab a pair of rainboots that fulfill your hearts desire. Bright, printed, or high fashion we think rainboots are a great accessory for infusing personality into a bleak day.
Rain Boots:
Blue Rain Boots; $42; ALLSOLE.COM
Classic Dot Rain Boot; $65; ALLSOLE.COM
Quilted Rain Boot; $75; AMAZON.COM
Animal Print Rain Boot; $45; TOPSHOP.COM
Floral Rain Boot; $64; ALLSOLE.COM
Umbrellas- tricky but a necessity. What makes a good umbrella? Graceful Chic loves something that can easily travel, but provides good coverage. How much rainfall you encounter will determine the size you need. Like rain boots, umbrellas only fit into personal taste, but have to be functional. If you love quirky, ModCloth has great options!
Umbrellas:
Singing in the Rain Umbrella; $65; AHALIFE.COM
Rain Daisy Umbrella; $30; MODCLOTH.COM
Rain A long Umbrella; $30; MODCLOTH.COM
Rainy Day Tips
1. Pack Plastic!
Carrying a spare plastic bag (grocery) and ziplock bags are smart choices for rainy days. Grocery bags can be used to keep handbags or other larger objects from getting wet, while ziplocks come in handy for phones and smaller objects.
2. Carry Wipes!
Make-up is usually the first casualty of rain. To remove runs and smudges, keep a travel pack of make-up wipes with you. Convenient and handy, using make-up wipes is the easiest way to fix any rain hiccups.
3. Be Aware!
All smart phones now have easy access to a variety of weather apps. Install and download one on your phone to always be prepared. Weather apps allow for you to avoid rain and give you a heads up on what to expect.
Chic Rain Gear This Spring By Arriel Ginter
Cover image: tumbrlumet