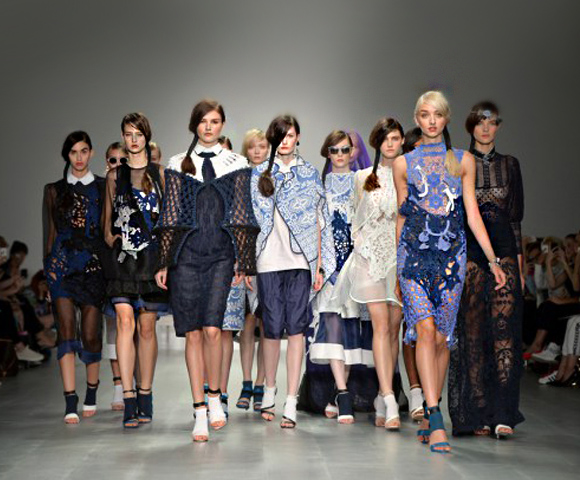 By Samantha Davis
After Tuesday's conclusion of London Fashion Week, the votes are in! After reviewing the 252 UK and international designers both upcoming and emerging and 58 catwalk shows, here are some of our favorite trends from the Spring/Summer 2015 shows. You can peruse the below to pick your look for the office! …Or maybe just use the below for entertainment and inspiration.
Crazy, Color Wonderful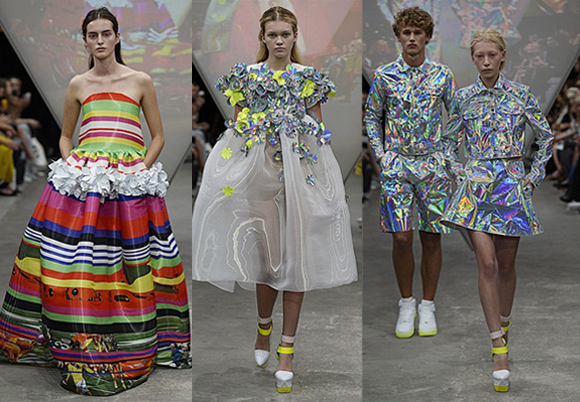 With chunky neon-strapped heels, mirrored pvc, and acid green accents covering bodices and eyelids alike, you'd think you were passing through Candyland. While this no-holds-barred approach to high intensity colors and reflective metallics may be less likely to transition into your daily wardrobe, this funhouse look definitely reminds us that fashion should be enjoyed.
Black Ground Florals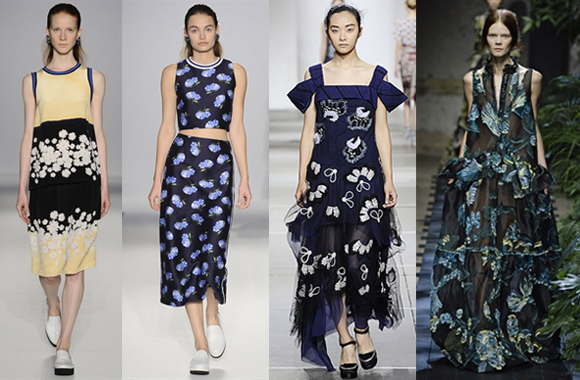 Ditzy pale pink florals no more! This season, designers laid graphic floral shapes over midnight, black, and the darkest of greens for a deep, romantic look. Splashing across the body in prints, embroidery, and mixed materials, these florals made bold statements and were anything but delicate. Cheers to fierce femininity!
Pastel Sunrise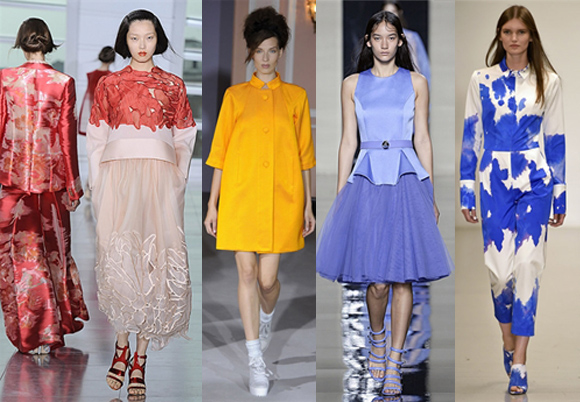 Imagine a sunrise over a Vegas sky – now you have the color palette for Spring/Summer 2015. Cornflower blue, orange cream, and pale flamingo pinks walked the catwalks this week. Sophisticated and soft, these colors both wow the eye while still holding in some softness. We can't wait to wear these colors.
Soft, Yet Structured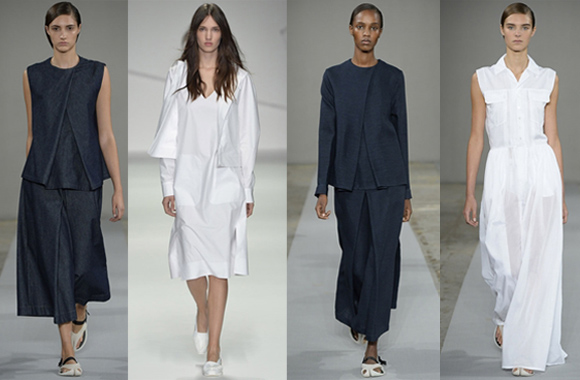 Who says you can't have both smart structure and soft comfort? These simple, stream–lined monochromatic looks show that just a few carefully chosen details (a fold here, a pocket there) can bring smartness to even the most casual and comfortable of looks. Perhaps it's the future of business casual?
Optic Black & White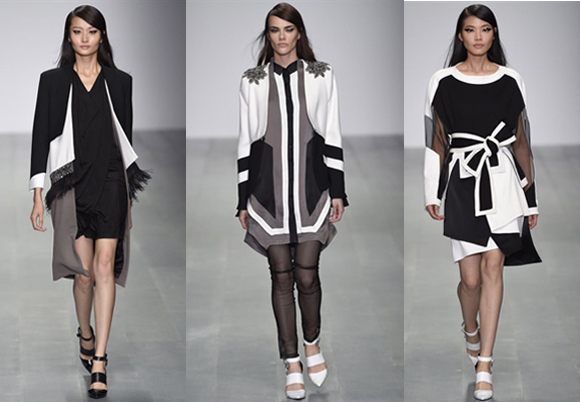 Our favorite and most wearable trend of all, black and white looks showed up all over the runways in their usual high contrast pow. Not only did designers color block, they also material blocked, using the season's ever popular transparent fabrics to add an extra layer of interesting depth and texture. Perfect for the office or when you want to look smashing at your next soiree.
While London packs their shows into five fashion-filled days versus New York's eight, the Brits certainly know how to woo us with their spectacle of colorful, multi-textured designs worthy of writing home about. Or, at least forwarding to your girlfriends with your favorite look.
Now that New York and London Fashion Weeks are behind us, editors, bloggers, and stylists have jet set to Milan and Paris Fashion Weeks, respectively. To watch brief highlights from every day at London Fashion Week, get your fix here.
Photos courtesy of http://www.londonfashionweek.co.uk/.
Five Trends At London Fashion Week Spring 2015