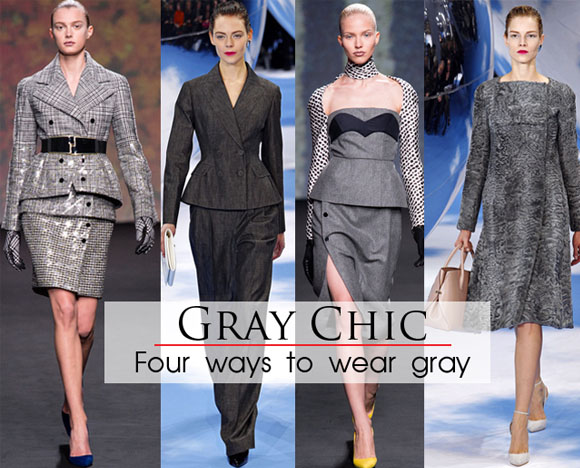 By Arriel Ginter
Fall is famous for bringing out neutrals. Trending this season is gray. Brought out in masculine fabrics, outerwear, and accessories — major designer collections call for translation of the shade into your fall wardrobe. Not keen on the color or how to wear it? Here's our tips on how to add gray for different styles.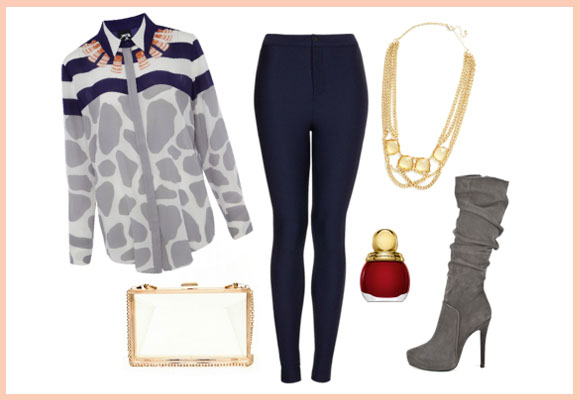 Glam Chic
Do you cherish your high heels and fashion forward styles? Then check out this great blouse and thigh high gray boots. Accented with gray animal print, the blouse paired with navy trousers and statement necklace is the perfect way to infiltrate gray glamorously into your fall wardrobe.
Blouse; $565; LIBERTY.CO.UK
Trousers; $64; TOPSHOP.COM
Necklace; $25; MODCLOTH.COM
Clutch; $99; DJPREMIUM.COM
Dior Red Nail Polish; $26; BLOOMINGDALES.COM
Boots; $152; HEELS.COM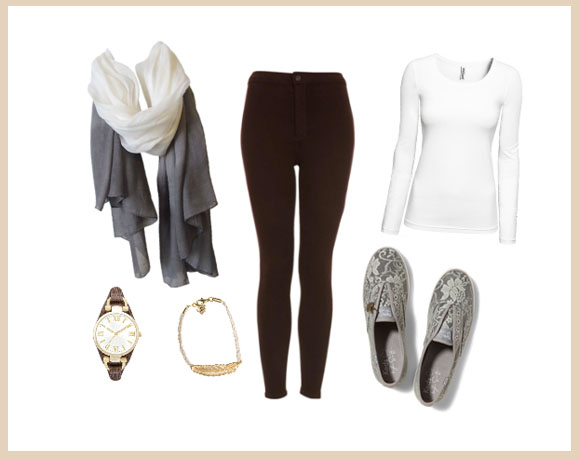 Casual Chic
Are you a jeans and sneakers gal? Then you'll love Taylor Swift's gray lace KEDS. Comfy and simple, pairing with a gray scarf, white long sleeve tee, and aubergine jeans completes a casual chic outfit.
Scarf; $85; COUTURECANDY.COM
Top; $13; HM.COM
Jeans; $65; TOPSHOP.COM
Keds; $55; KEDS.COM
Watch; $14.99; JCPENNEY.COM
Bracelet; $17; SWELL.COM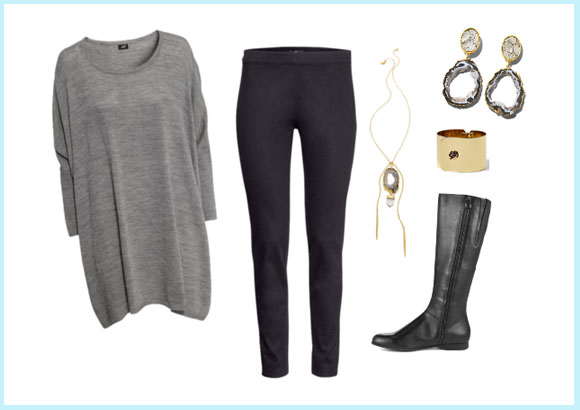 Boho Chic
Do you love fringe, jewelry stacking, and flowing fabrics? Then Boho Chic is right up your alley. To implement gray with your style this season, grab an oversized gray knit tee, leggings, and riding boots. The jewelry details create the look, beautiful and elegant we suggest investing in geode pieces.
Sweater; $24; HM.COM
Leggings; $13; HM.COM
Earrings; $328; HENRIBENDEL.COM
Necklace; $265; SHOPBOP.COM
Cuff; $45; BANANAREPUBLIC.GAP.COM
Boots; $153; HEELS.COM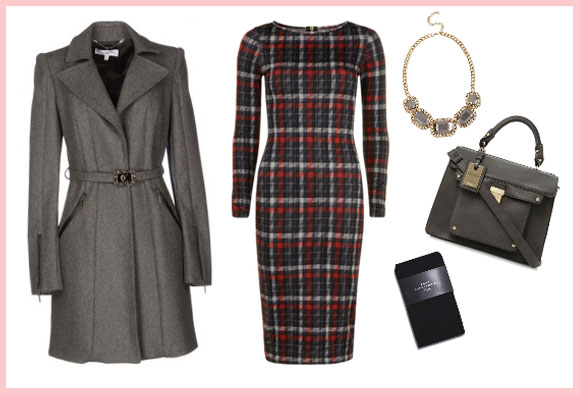 Classic Chic
Adore the styles of the 50s and 40s? One of the most feminine ways to dress, lady-like style is instant classic chic. One of the easiest ways to get the classic look is by investing in a sheath dress. Conservative, but stylish purchasing one with gray accents is perfect.  To define the outfit we love a tailored trench.
Trench; $325;  YOOX.COM
Dress; $45; DOROTHYPERKINS.COM
Necklace; $21; NEWLOOK.COM
Satchel; $110; DEBENHAMS.COM
Tights; $20; ZARA.COM
Four Chic Ways to Wear Gray