#####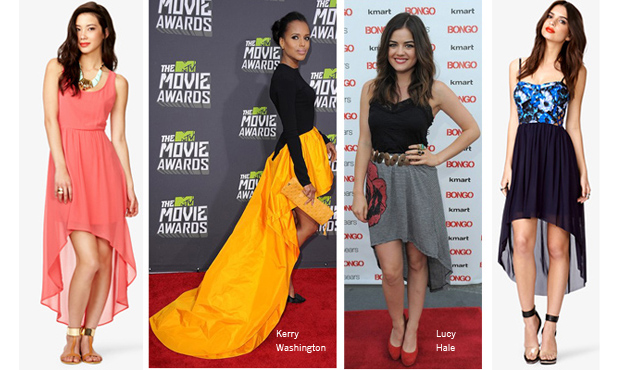 By Jessica Sleiman
Nothing is more feminine than wearing skirts or dresses on a beautiful day out or a special event. If you're looking for a conservative look besides the standard pencil skirt, a fun option is a high low dress or skirt. Celebrities such as Selena Gomez show us how high low dresses and skirts could be worn on and off the red carpet, as she is conscious of her hair, makeup, and accessories to create each unique look. She shows us how to rock a strapless high low dress and look glamorous! Kerry Washington and Victoria Justice opted for higher necklines, but still look absolutely gorgeous and classy. Lucy Hale went for a simpler but still chic look, in her black and white striped skirt, black tank top, and red pumps to match the large rose design on her skirt.
High low dresses and skirts are popular because they go great with heels or flats; provide enough back coverage while still giving us a chance to show off our shoes from the front; and can be dressed up or down!
#####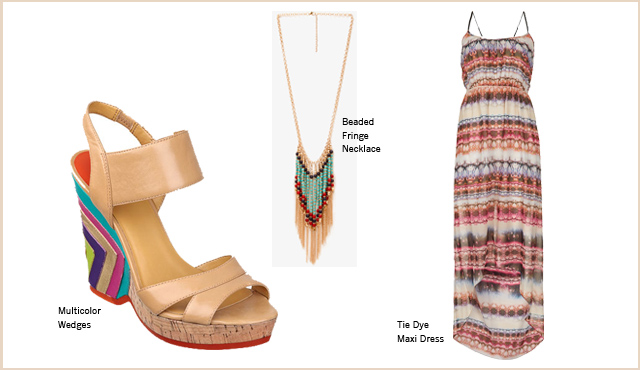 If you're looking for a funkier, more colorful look, get a tie dye dress, we love this one from TopShop.  Pair it with multicolor wedges and a beaded necklace for a complete outfit! The great thing about these dresses is that you can carry a clutch, shoulder, or crossbody purse, depending on the occasion and what you're in the mood for. Anything goes!
Products:
Tie Dye Maxi Dress; $118; Topshop; us.topshop.com
Beaded Fringe Necklace; $10.80; Forever 21; forever21.com
Multicolor Wedges; $109; Nine West; ninewest.com
#####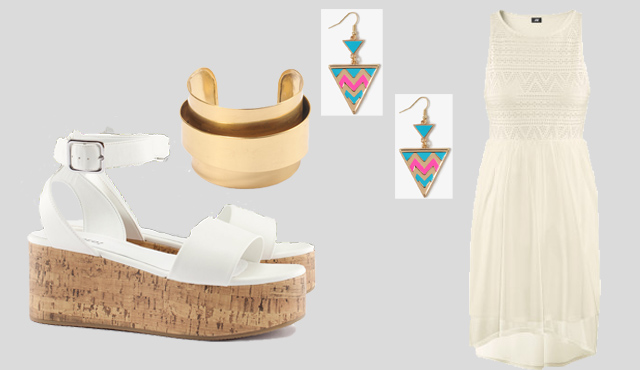 If you would rather not go for an extreme high low dress, H&M has a great sleeveless white dress with a cute pattern on the bodice that adds more texture to the dress. Of course, with white pieces there are endless possibilities to mix and match. You could keep it simple with white sandals or pair it with multicolor wedges as well I chose a pair of pink, blue, and gold triangle earrings to go with the triangular design on the bodice. These beautiful earrings and a layered cuff from Forever 21 are a great way to accessorize this piece.
Products:
#####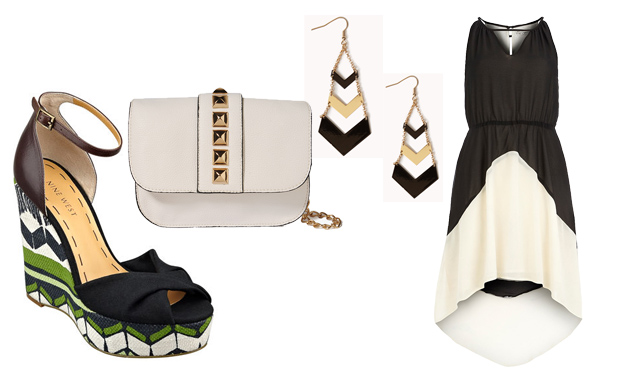 Looking for a classier, high neck dress? With Dorothy Perkins' stunning black and cream high low dress, you really can't go wrong. You can find the cutest peep toe patterned wedges at Nine West; the mix of black, brown, green, white, and navy makes these heels very versatile. Accessorize this outfit with black and gold colorblocked earrings and the layered cuff  from Forever 21.
Products:
#####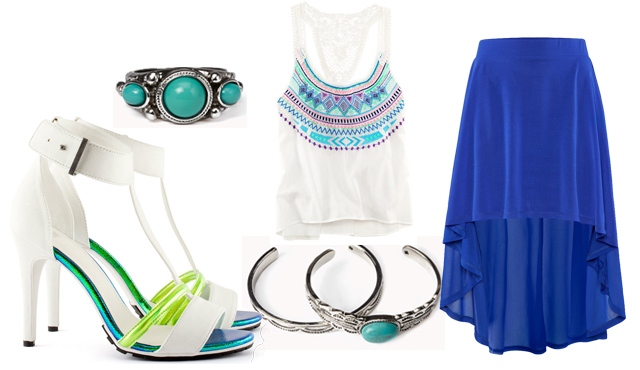 If Bohemian Chic is your style, opt for this blue high-low skirt and printed racer back. Add a pair of matching sandals, a stone cuff and ring set, and you've got the perfect date night outfit for under $100!
Products: