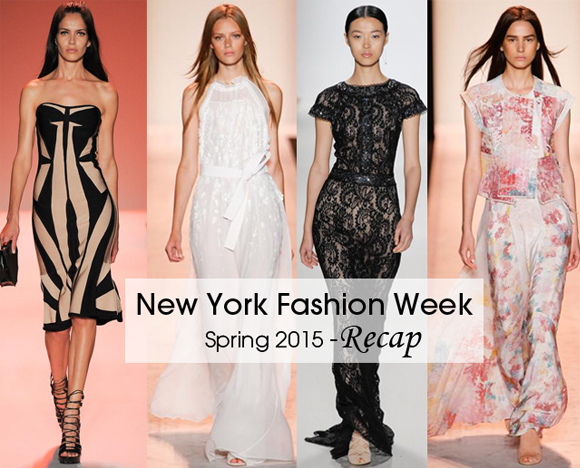 By Arriel Campbell
Filled with pastels, bright hues, and much more –  next Spring is sure to be filled with a lot of fashion options.  Missed the shows? Here some of our favorite collections from each day.
New York City hosted the first part of fashion month from September 4th to September 11th.  One of the top events for fashion lovers and the industry, designers gathered their creativity, passions, and ideas to debut their Spring 2015 collections, setting the stage for next year's trends.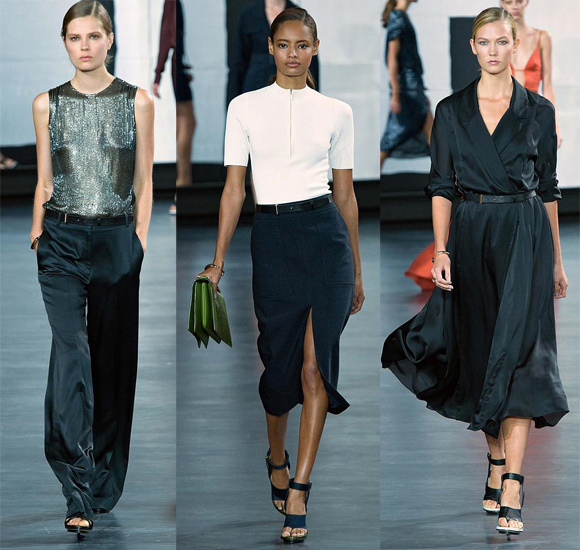 Who: Jason Wu
What: Perhaps one of American women's' favorite designers, Jason Wu produces clothing women want to wear season after season. His Spring collection was no different, a bit demure he focused with colors of navy, army green, and other soft neutrals.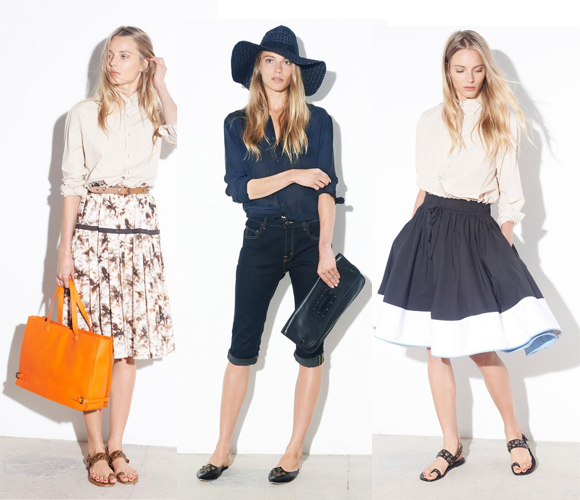 Who: Tomas Maier
What:  Tomas Maier, head designer for Bottega Veneta, presented his second collection from his self-titled line. Sticking to his vision, Maier presented simply chic pieces that can easily be translated into a fashionable woman's wardrobe. Even better, his clothing is reasonably priced – offering high quality design to the masses.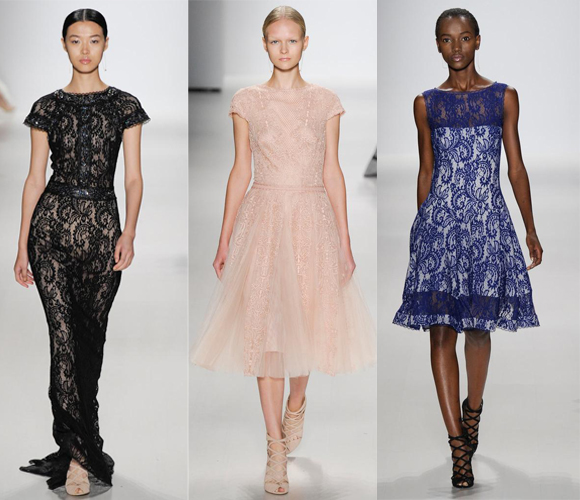 Who: Tadashi Shoji
What: Reported by style.com, Tadashi Shoji's Spring collection was inspired by Venice. Seen in the lace patterns and romantic dress silhouettes, the clothes revealed his inspiration.  It also balanced classic spring colors by featuring pastels, navy, and royal blues.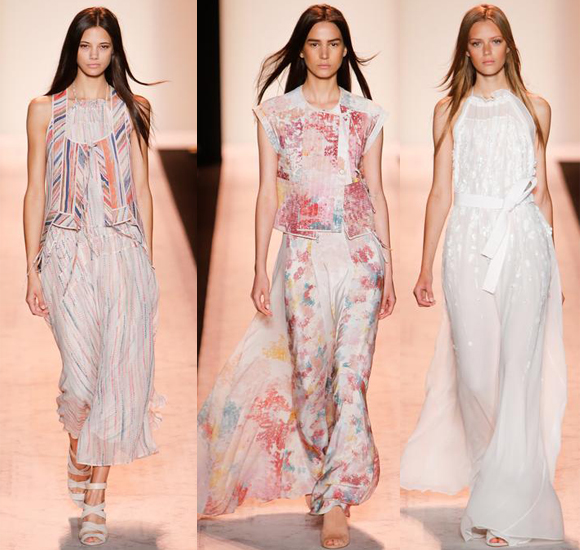 Who: BCBG Max Azria
What: Muted florals, obi-belts, and layers of light fabrics combined to create the relaxed bohemian look of BCBG Max Azria's Spring 2015 collection.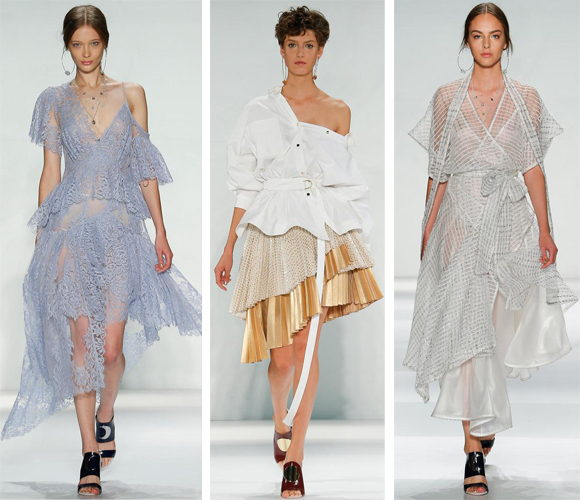 Who: Zimmermann
What: Soft, but edgy the clothes presented for the Spring 2015 collection presented the perfect blend of femininity with a fashion edge. Sheer pastel fabric cut into dramatic flowing silhouettes made the collection, while structured military jackets can easily be translated into everyday outfits.
Who: Kate Spade
What: Quirky, yet chic Kate Spade offers real women a way to creatively expressly themselves through everyday basics. Worn as separates or as a complete look – the pieces shown at New York fashion week were fun and interchangeable.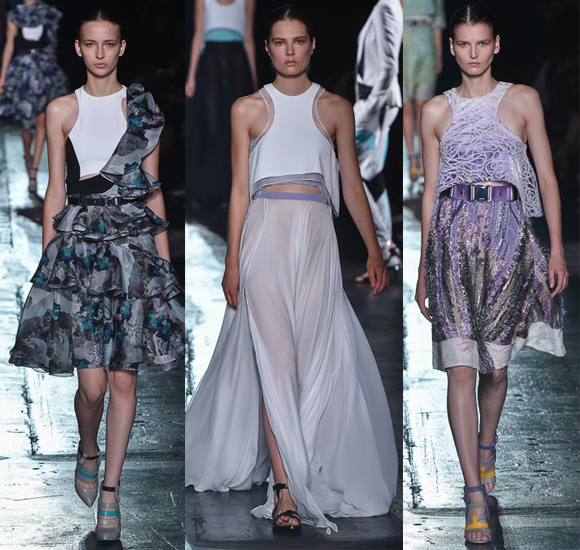 Who:Prabal Gurung
What: Mostly BLANK, Prabal Gurung's spring 2015 debut featured many dresses and skirts. The various lengths give us insight in what to expect in shapes next year.  Our favorite, mountain landscapes with twisting clouds and oceans, print was a standout among all the patterns and prints shown.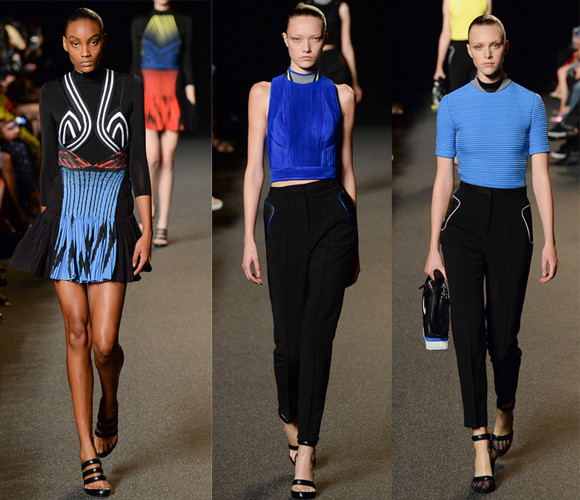 Who: Alexander Wang
What: Bright colors, intricate patterns and sneakers … Yes, sneakers! Partnering with Nike, Alexander Wang dove into his favorite footwear trend with debuting sneakers for as the wow factor for the spring 2015 show. We love the use of black and bright hues, be on the lookout for this to reappear next year.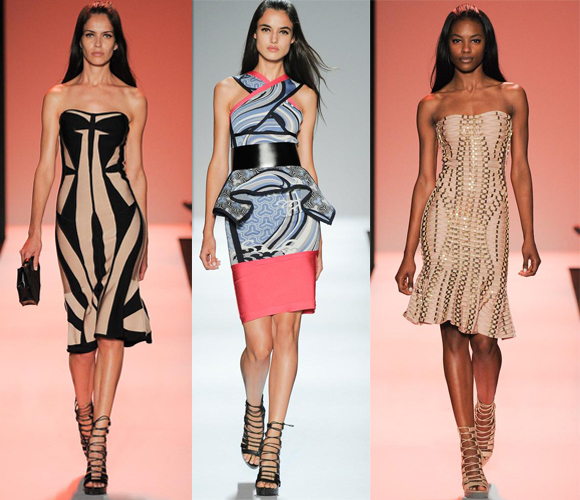 Who: Herve Leger
What: Max Azria presented a refreshing collection for the Spring 2015 designs. Usually a bit risqué, this collection was more refined. Featuring obi belts, the famous weaved patterns, and beautifully executed hardware details we can't wait to see what celebrities pick these beautiful styles for red carpet events.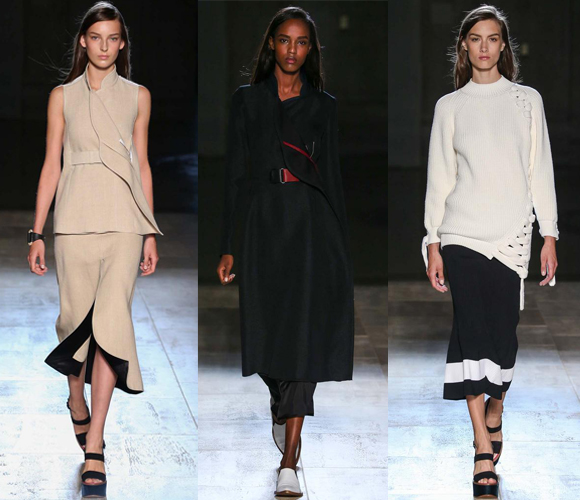 Who: Victoria Beckham
What: Victoria Beckham shocked us this week, in a good way. Known for fitted above the knee dresses, this season the majority of the looks shown presented hemlines that stopped at the ankle or mid-calf. More modest and sophisticated, the collection themed on military influences. Even Victoria herself was spotted in a deep-green midi-skirt.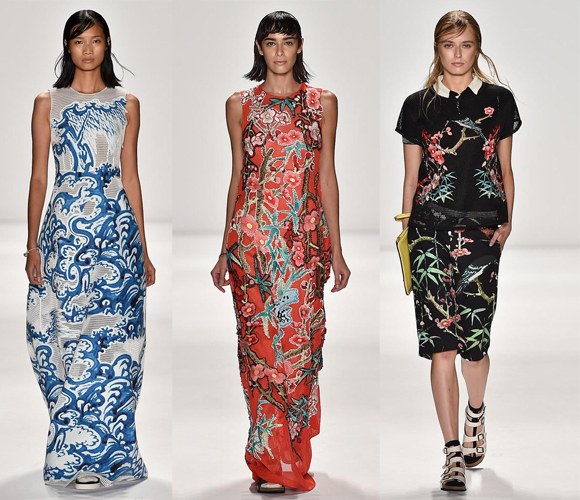 Who: Vivienne Tam
What: Reported by style.com, Vivienne Tam was inspired by a trip to Beijing's Forbidden City. Using literal and whimsical translation, her pieces use bright vibrant colors that are great for spring.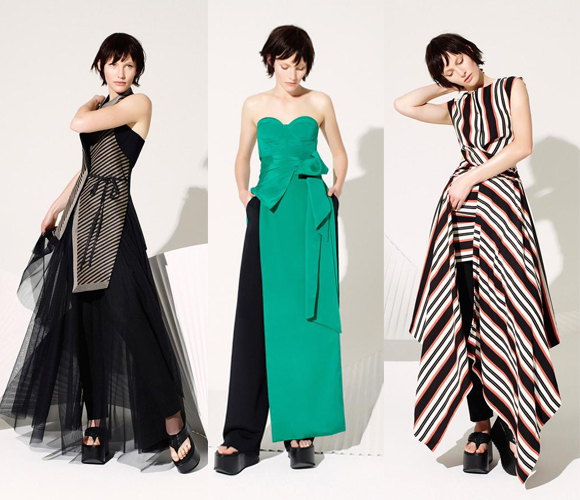 Who: Sass & Bide
What: Another collection inspired by the world around us – Sass & Bide's new designers led with bold colors, prints, and silhouettes with tribal influence.  Not first nor the last, the continued use of global prints guarantees it as a trend next year.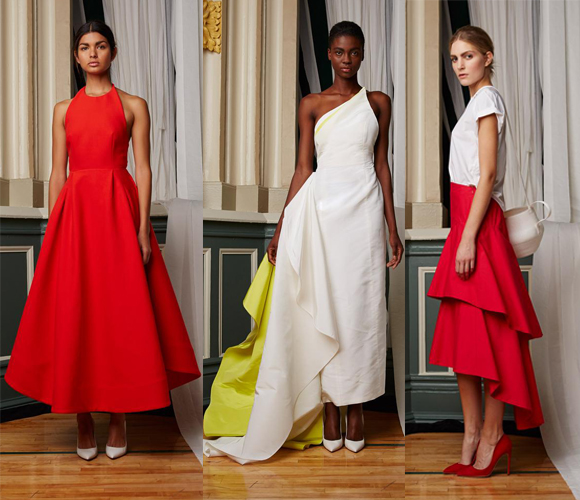 Who: Roise Assoulin
What: Giving us a bit of fashion fantasy, Rosie Assoulin's Spring 2015 collection was beautiful. Structured, tailored, and fun – the clothing construction was very unique. Primary colors popped while neutral separates balanced the collection.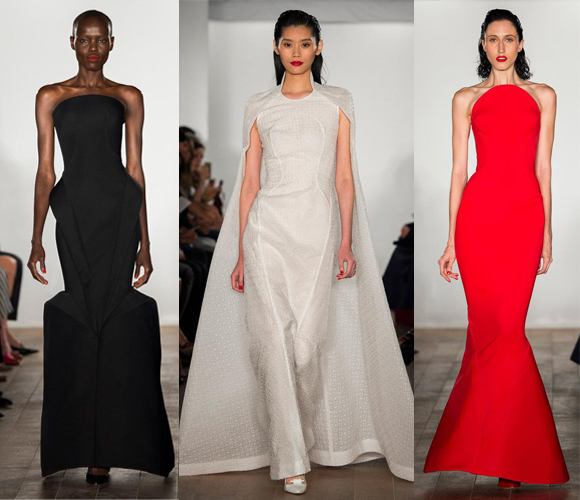 Who: Zac Posen
What: Black. White. Red. A very easy color scheme, the simple pallette left room for Zac Posen to focus on the tailoring and details of the pieces. Gorgeous, his simplicity did not result in an uninteresting Spring show, but one of sophistication.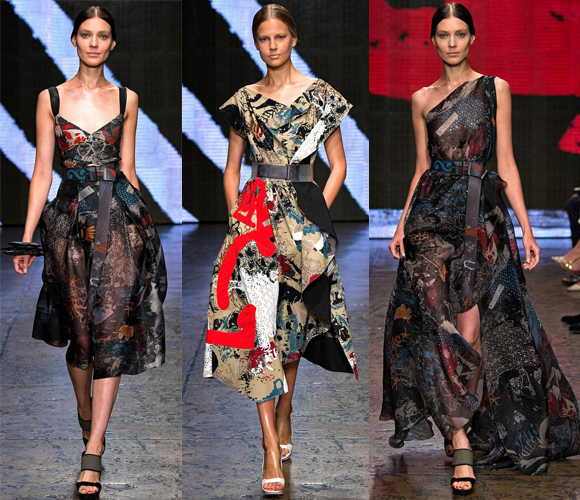 Who: Donna Karan
What: Inspired by art, Donna Karan gave us various prints and a lot of volume. Presenting over 40 looks for Spring, the line indicates prints artistic prints are a definite for Spring.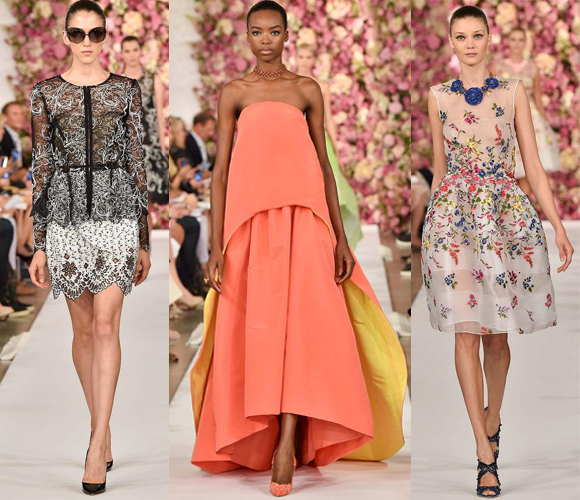 Who: Oscar de la Renta
What: Oscar de la Renta is known for his ability to make clothing that women just want to wear. This collection is no different, featuring soft pastels and vintage styles the designer knows how to capture a woman's fashion heart.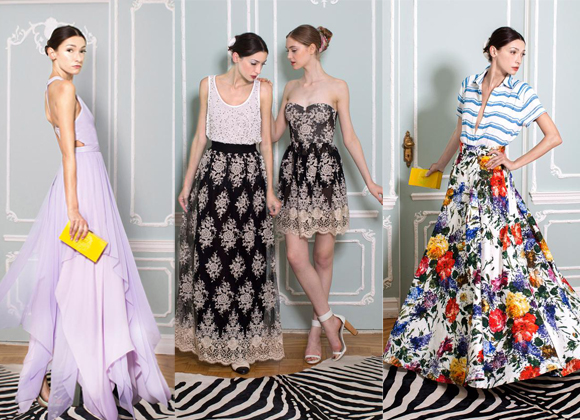 Who: Alice + Olivia
What: Do you remember the days you played dress up in your mom's closet? Full of wonder, you tried all the pieces on and usually twirled until your heart couldn't take anymore. Those memories, are brought to our senses when viewing Alice + Olivia's Spring 2015 collection. Simply chic and beautiful, the pieces play into our fashion imagination.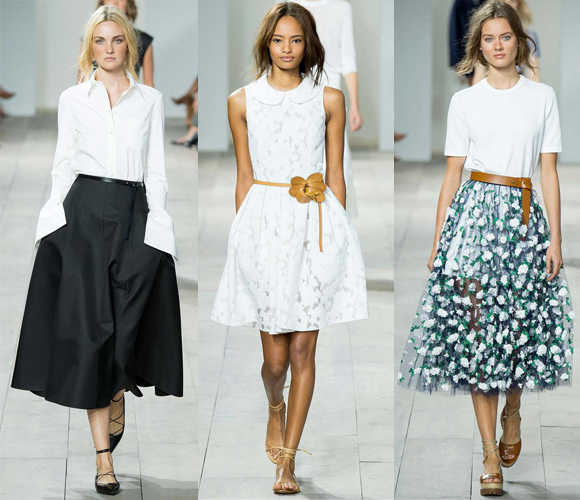 Who: Michael Kors
What: Another great American sportswear clothing designer – Michael Kors knows how to deliver vast cohesive collections. Easily translated into an everyday wardrobe, the collection has mass appeal due to each piece being able to be a separate or worn together with other items.
All Images Courtesy of Style.com
New York Fashion Week Recaptest