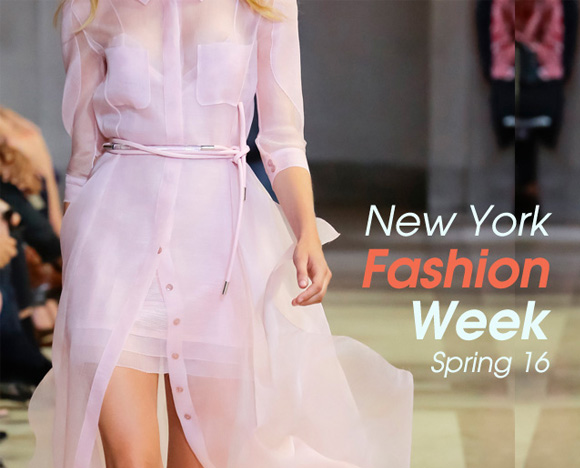 By Jo Ellison, FT.com
It was the season that designers gave back to the city. It started with Riccardo Tisci, who opened the week with a Manhattan debut for Givenchy and a sartorial paean to love, loss and family. The show was co-devised with Marina Abramovic and staged before the twin beams of light that annually light the sky on September 11. His was a broad, all-encompassing message of goodwill to all men, dressed up in couture corsetry and lingerie lace.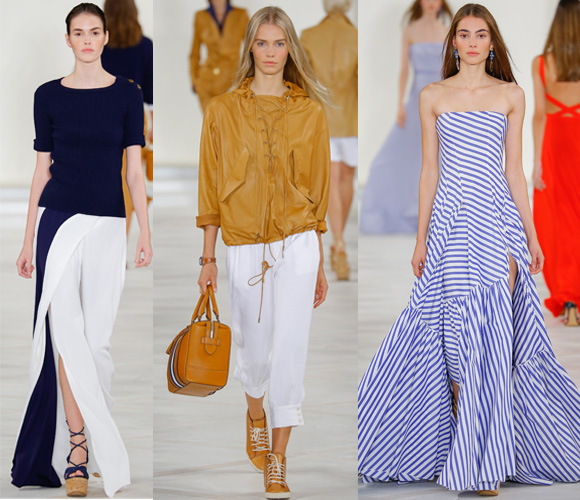 Ralph Lauren
Others were more specific. To celebrate his 10th year in business, Alexander Wang offered 10 reissued pieces from previous collections to raise funds for Do Something, a non-profit organisation dedicated to empowering youth. It was a potent homecoming for the designer, who will make his grand finale for the Paris-based Balenciaga early next month. Prabal Gurung introduced his SS16 collection with 30 Buddhist monks, who chanted a prayer of gratitude for the world's help during the earthquake in Gurung's native Nepal in April. Phillip Lim's 10th-anniversary show invites came with an appeal to "stop and smell the flowers".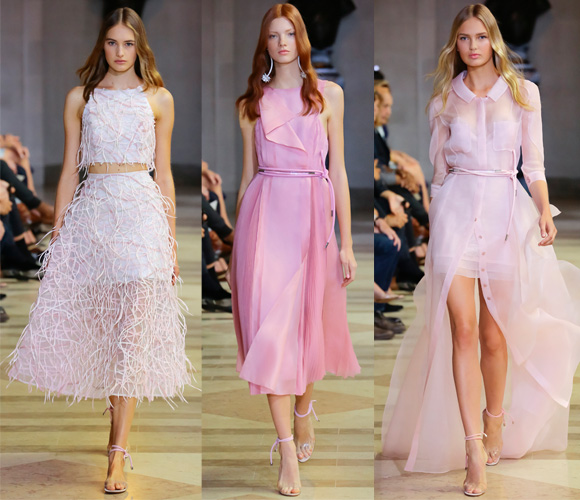 Carolina Herrera
Meanwhile the American brand Coach staged its first ready-to-wear show, having previously done presentations, in a prairie-grassed glass box on the High Line. The location underlined the brand's ongoing relationship with the pedestrian garden on which it hosts an annual summer party, whose ticket price is put towards the walkway's upkeep. And at DKNY, the city's native sons and the house's incoming designers Dao-Yi Chow and Maxwell Osborne (better known as Public School) dedicated their inaugural show to their own "backyard". Social responsibility and philanthropic "journeys" were central to the week's event.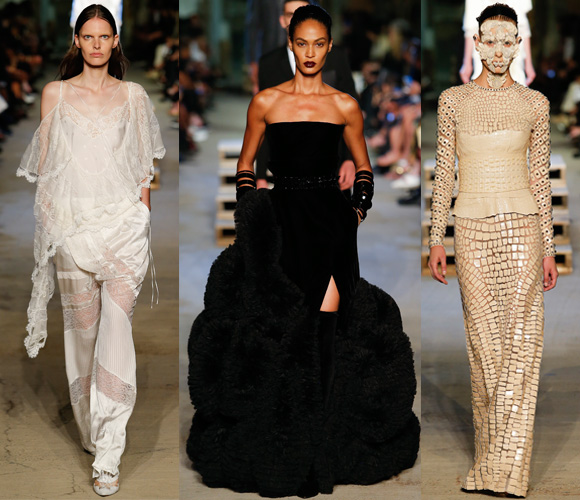 Givenchy
New York was all about giving. I only wish some designers had given more attention to the clothes. Consistently the most commercial and safest of the schedules, this season was especially lacking in verve. Collections were easy on the eye, but seldom arresting.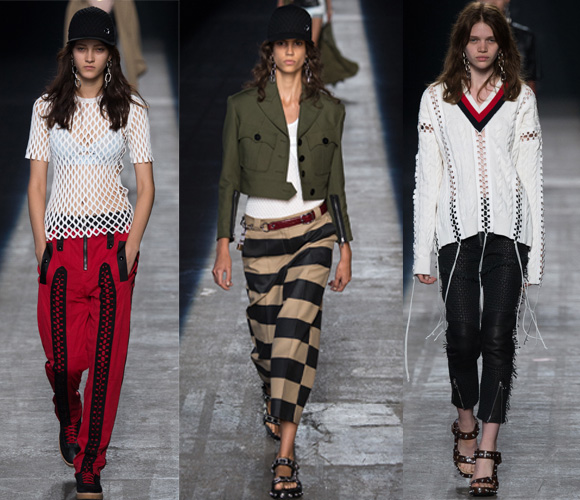 Alexander Wang
At the week's start, rumours were circulating that designer Phoebe Philo may be leaving Céline. The shockwaves will be seismic if she does; that so many of her ideas and silhouettes were revisited in New York was testimony both to her commercial influence but also to the label's diaspora. Many former Céline studio designers are now elsewhere, and this was an interesting place in which to unpick the threads that bind.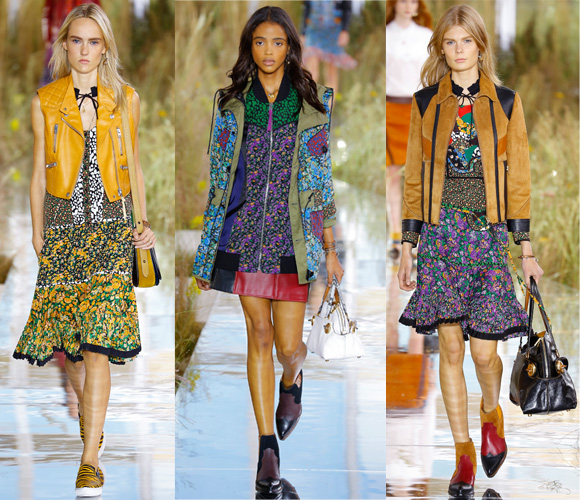 Coach
While Givenchy was exquisite, and the clothes as epic as the message expansive, most of the stronger shows selfishly ignored any notion of spiritual nourishment and just focused on great design. OK, fine, Proenza Shouler describe its sensual ruffled-knit dresses as "soulful", but the love and attention here had been lavished on technique and fabric; and the results were deeply alluring. At Rodarte, the Mulleavy sisters found real spirit in a love-song to a 1970s-era, sequin-spun Stevie Nicks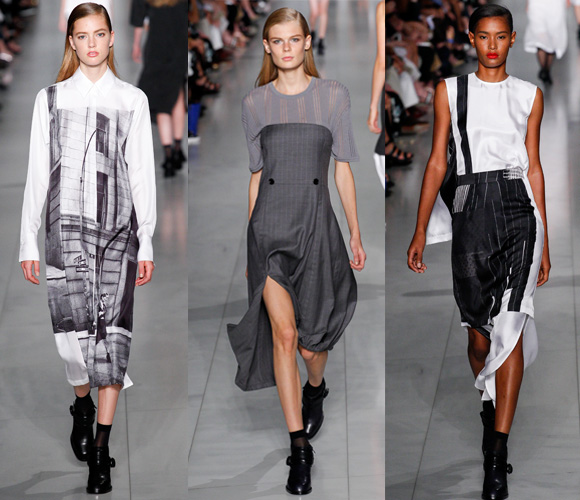 DKNY
Elsewhere, Ralph Lauren's French Tricolore-colored collection was a masterful exercise in fluid, flattering tailoring, simple shirting and immaculate navy knits while, at Calvin Klein, Francisco Costa explored new territory with a blousy floral print and a homage to 1930s original bombshell Jean Harlow. His long-line, silky, chain-embellished slips were teamed with mannish jackets that drew on the "lusty warmth of the morning after".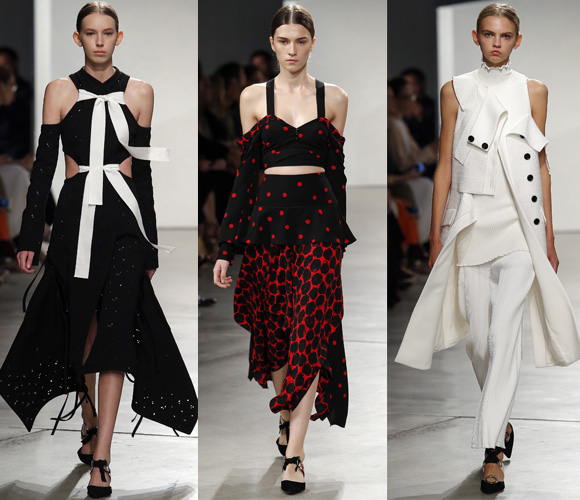 Proenza Schouler
One of a number of gentle seductions, Costa also nailed the trend for straps, seen trailing down catwalks everywhere from Michael Kors to Public School, and offered an interesting proposition to the much explored language of masculine/feminine style.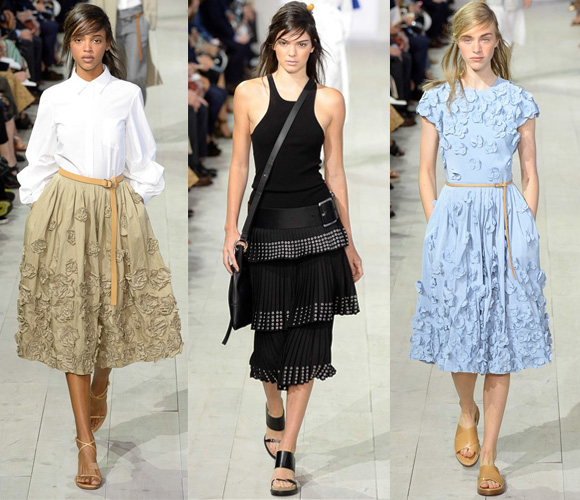 Michael Kors
It was a good season also for the Park Avenue set. Carolina Herrera scored a coup in persuading the Frick museum to allow her to stage her show in its marble-floored Garden Room, and it was delicious to see the 76-year-old designer's rose-themed collection away from the gloomy Lincoln Centre, where she has traditionally shown. What better accessory for a petal-soft, sheer, organza shirtdress than Whistler's "Symphony in Flesh Color and Pink"?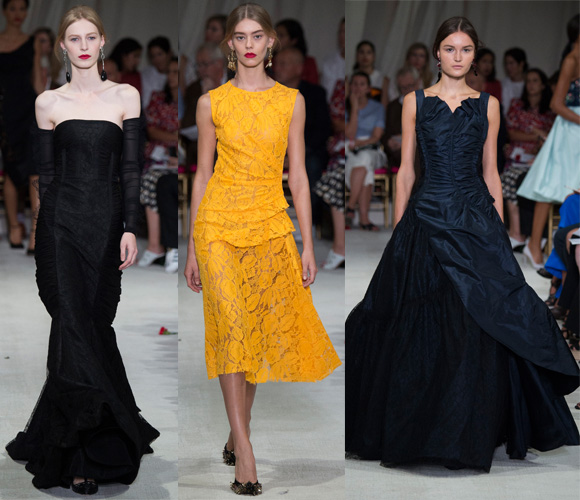 Oscar de la Renta
And Peter Copping had a powerful second season at Oscar de la Renta, where he drew on Spanish themes (inspired by his predecessor's "passions" and a visit to the Hispanic Society of Harlem) to deliver carnation-strewn prints, bullfighter scarlets and a score of beautiful gowns. Model Julia Nobis (an absolute catwalk favourite and about to complete a medical degree) scored one of the most gorgeous looks of the week when she stepped out in Copping's black chiffon-and-lace mermaid gown with glove-like black chiffon sleeves and I had a
proper moment before a billowing aqua ball gown with black grosgrain bows.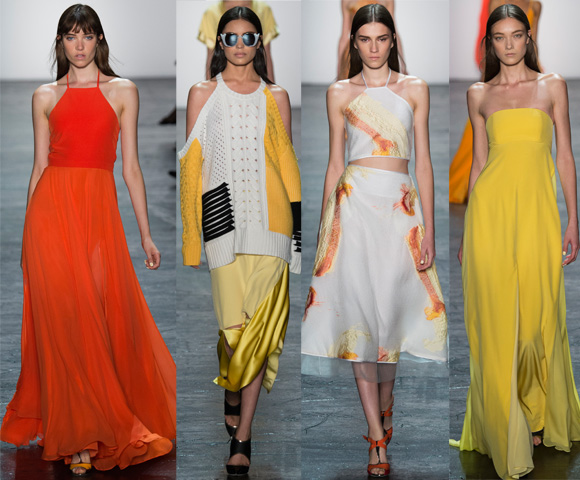 Prabal Gurung
Copping wasn't supporting any major cause with his collection but his show notes included credits for each member of the de la Renta atelier — an unusual gesture in an industry obsessed with status and the supremacy of a single creative voice. In a very noisy week of giving, it's a sweet irony perhaps that Copping's quiet tribute to his team was one of the most generous acts of all.
For all of Jo Ellison's reports from the New York shows, go to our fashion weeks page on the FT web app, or visit our New York Collection Women SS16 fashion weeks hub on FT.com
Photos courtesy of  vogue.com
New York Fashion Week Spring 2016 Sneak Peaks