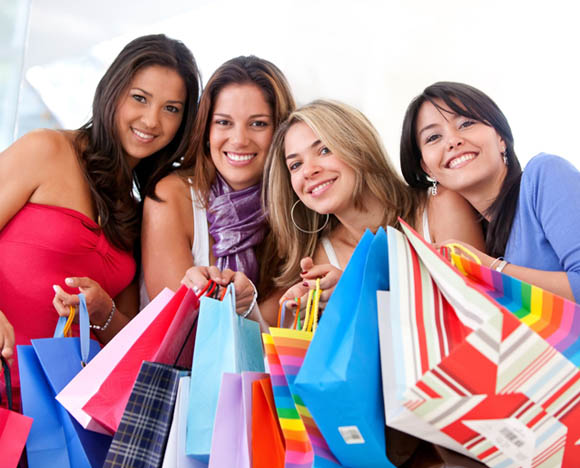 By Arriel Ginter
It's the most wonderful time of the year, to shop! Retailers, designers, and consumers look forward to the year's biggest occasion: the end of the year sales events.
In this economy, the task of improving one's wardrobe and sticking to a budget may seem daunting. But fear not! Here's a fashion secret retailers and designers alike would hate to divulge: buy out of season staple pieces. Using this as a foundation for shopping is not only strategic, but crucial. Each season designers across the world create new collections, keeping their own image current, this trickles down to inspire department stores, boutiques, and clothing retailers to update their own inventory.
Back Stock
So what are the stores to do with the back stock of pieces from the season before? Sell of course, and at low prices. In particular, Fall/Winter staples can be found at steals once the New Year sales events are in full swing. Shopping trips during this time can result in a fabulous affordable style update.
There are three essential keys while shopping during the sales:
1. Buy staples, not trends. Think classic, to buy jeggings even though they're only four dollars, may not be the wisest choice in the attire renewal process.
2. Stick to personal taste. If the piece will sit in the closet unworn with slashed price tags attached, it loses the deal appeal.
3. Flattery will get you everywhere. Choose sale items that only flatter the body.
Staples
Now for the important part: what to buy. Determining the difference between classic and later fashion tragic is quite simple. During the January and February sales, stores will have a plethora of great Fall/Winter pieces to stock up on. The best investments can be found in coats. Trenches, pea coats, blazers, or leather; you name it it's on sale. While choosing a coat, keep in mind neutrals. Black, the staple of all staples, isn't your only option. Camel, gray, cream, and even deep reds are colors that are sure to be seen on the runway again.
Shoes
Women, we love their shoes, and boots are a must have. Even for those in the Southern states where temperatures aren't as forgiving, boots can be an amazing transition item for fall. Again like with coats, stick to neutrals. An electric blue bootie is cute and fun for its moment in fashion time, but black, camel, gray, and brown are made to last. Remember to choose boots to compliment body shape. Taller women can pull off an ankle or mid-calf boot without appearing short while shorter women look best in the knee high cut. And a little heel never hurts! Flat boots are great – not to mention comfortable – but a heel will elongate and slim the figure.
Accessories
Accessories like purses, jewelry, and tights are also good to keep an eye out for. Typically things like tights will be marked down almost 75 percent to prepare for the spring season. Tights have been seen year after year and can really make an outfit – not to mention provide that extra warmth for the chilly winter air. Jewelry picks will stem from personal taste and keeping in mind the principle of choosing classic. Purses may be harder to distinguish if they will be in style next year. Stick to neutral color palettes and even animal prints as you can always spot a leopard every season. Perfect winter hats, scarves, and gloves too will be at a great price range.
If In Doubt, Dress it up!
New Year's Eve usually presents an outfit dilemma for most women. Shopping during the sales the year prior can save aggravation! Dresses from the most elegant to cute and casual can be found all over the retail world. When picking a dress for the next year, keep vintage as a focus. Every fall one designer will choose from the '40s, '50s, and '60s as inspiration. These eras are filled with timeless silhouettes. If in doubt, dress it up. Being told you were the best dressed at a party is never a bad thing.
Try It On
Now the most important tip of all: try on! While these huge sales are occurring, a strict refund/return policy is normally in place. There isn't a point in purchasing items that will not fit or compliment in the long run. So the best solution is to always try on before purchasing. These sales will create a retail battle ground of sorts. Lines and crowds are sure to be there, so patience is a virtue. If baring the crowds is not appealing, online shopping may be the best option. Online spending is tricky though. Since the clothing or shoes will not be available to try on, sticking to stores only shopped at before is very important. Retailers all cut their pieces differently. A size six at one store could be a four at the next. Before making any online purchases, check the return policy. Great online shopping sites will offer free return shipping, but this is not always typical.
So now armed with tips and a game plan, sale shopping should be a breeze. Remember sticking to neutrals, personal taste, and only pieces that flatter are essential. And for one last final word of advice: while trying the pieces on visualize the outfit in 5 or 10 years. Looking back at a photo of it, will it still be as loved? No one wants to be a fashion victim!
Shopping Holidays Clearance Sales