By Arriel Ginter
If you love violet or hues of purply-pinks, 2014 is your year!
Radiant Orchid, will be taking over 2014 according to Pantone. Replacing Emerald, the saturated color can easily be incorporated through fashion, beauty, and home items.
"While the 2013 color of the year Emerald, served as a symbol of growth, renewal and prosperity, Radiant Orchid reaches across the color wheel to intrigue the eye and spark the imagination," said Leatrice Eiseman, executive director of the Pantone Color Institute®. "An invitation to innovation, Radiant Orchid encourages expanded creativity and originality, which is increasingly valued in today's society."
"An enchanting harmony of fuchsia, purple and pink undertones, Radiant Orchid inspires confidence and emanates great joy, love and health. It is a captivating purple, one that draws you in with its beguiling charm."
Here are a just a few ways to introduce the color. Tell us – will you be infusing this flower inspired shade into 2014?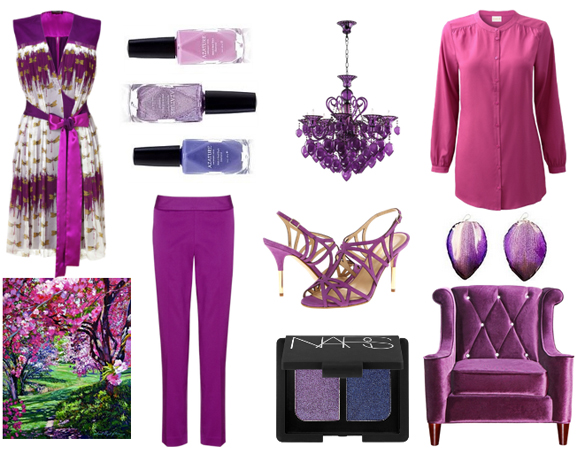 Dress; $725; STYLEBOP.COM
Nail Polish, $30 (each), HSN.COM
Chandelier; $2,188; LAMPSPLUS.COM
Top; $40; JOHNLEWIS.COM
Wall Art; $119; LAMPSPLUS.COM
Trousers; $44; JOHNLEWIS.COM
Sandals; $198; COUTURE.ZAPPOS.COM
Earrings; $25; ORCHIDTREASURES.COM.AU
Eyeshadow; $34; SEPHORA.COM
Chair; $670; LAMPSPLUS.COM
The Color of 2014: Radiant Orchid