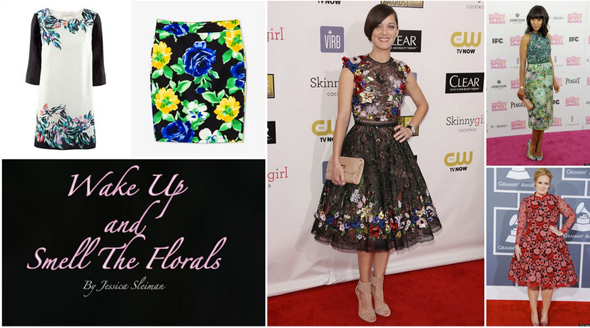 By Jessica Sleiman
Why wait for April showers to bring May flowers when you can start wearing them now? It's almost time to put away our winter clothes and start bringing out some color in our wardrobe, which flowers can always help us do. This spring, you'll be seeing flowers everywhere – literally. Flower prints were all over the runway at New York Fashion Week and have already been showing up in every store. You can see that all kinds of floral prints were blooming on the runway in several different color combinations. They are the perfect way to color up an entire outfit without overdoing it.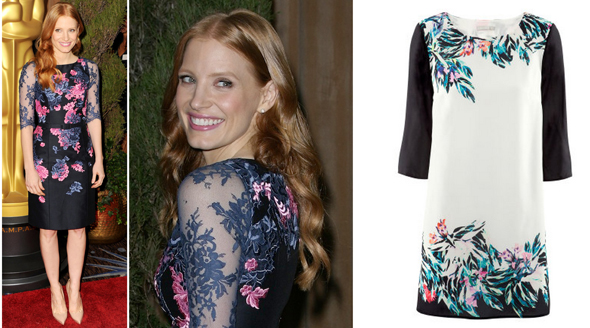 Get The Look!
The beautiful Jessica Chastain gracefully pulls off floral prints while promoting her latest movie, Zero Dark Thirty, in New York. The large roses in this white and pink elegant dress blend together so well and add just enough color to balance out her white skin and gorgeous red hair. At the Oscars nomination luncheon, she once again chose to go with a floral Erdem dress with a blue and pink embroidery and navy lace for the sleeves. The colors perfectly overlap each other, and if the pink floral design wasn't enough, the lace gives this dress even more of a feminine feel. Her simple cream-colored pointed pumps were a great way to complete both of her looks, and her light pink lipstick adds the perfect finishing touch to these classy and very feminine dresses.
Floral print dresses can be found everywhere! If you're looking for Jessica Chastain's conservative, yet still attractive look, check out this white H&M dress with black ¾-length sleeves and an artistic floral design on the top and bottom. The beautiful and subtle floral design on this dress makes it the perfect dress for a date night or a nice family gathering.
Floral Print Dress: $34.95; hm.com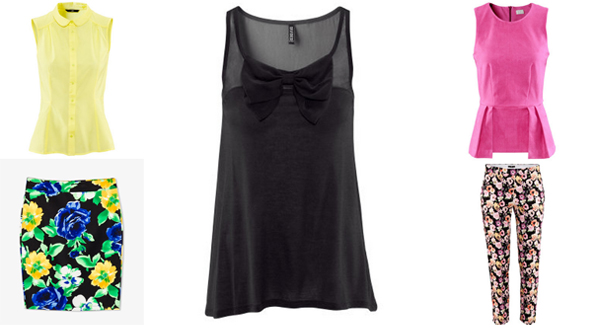 Floral Print Alternatives
If you'd rather go for pants, get these floral pants from H&M, which are a great deal at $24.95. The flowers add lots of color on a black background, which makes these pants easy to match with several tops. A pink peplum top from H&M to give these pants an edgier and even more colorful look. If you're looking for more simple, try the soft jersey top in black. Dress up these pants with simple black pumps and a black clutch.
Another clothing item you can dress up or down is a pencil skirt. You can wear it for work, a lunch date, or a fun night out with your friends. In this wonderful blue, yellow, and white floral print, you can definitely create a beautiful outfit for day or nighttime wear. Match a black top, such as a soft jersey top with a bow, or a yellow blouse. Add a pair of blue or black peep-toe heels to complete this very girly outfit.
Floral Print Pencil Skirt: $13.80; forever21.com
Floral Pants: $24.95; hm.com
Pink Peplum Top: $39.95; hm.com
Black Top with Bow: $17.95; hm.com
Yellow Sleeveless Blouse: $12.95; hm.com