By Arriel Ginter
Spring is almost here. The invitations for bridal showers and weddings are stacking up, while bikini season looms in the horizon. Diets and working out seem to be less important as the year progresses and lives seem to get more hectic. January and your New Years Resolution are a distant memory.
Shake it off!
It's time to get back in gear! Graceful Chic has come up with three different outfits inspired by different workout routines to revitalize your healthy habits!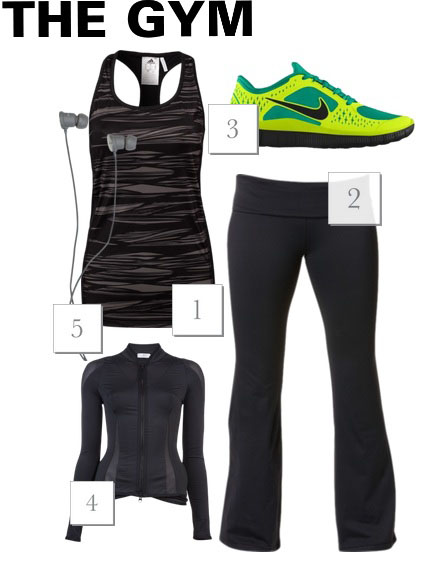 The Gym
For the gym goer stretch pants, a breathable tank top, and zippered workout jacket are the best pairings. Providing full coverage, the jacket regulates body temperature in air-conditioned gyms. Work out sneakers come in a variety of styles, colors, and purposes. Choose the ones that fit your style and workout needs. Finally, don't forget the music! Listening to upbeat music helps to keep up the momentum of your workout.
1.Loose Tank; $74; Adidas; www.nelly.com
2.Stretch Pants; $78; Roxy; www.roxy.com
3.Running Sneaker; $140; Nike; www.nike.com
4.Workout Jacket; $160; Stella McCartney; www.farfetch.com
5.Headphones!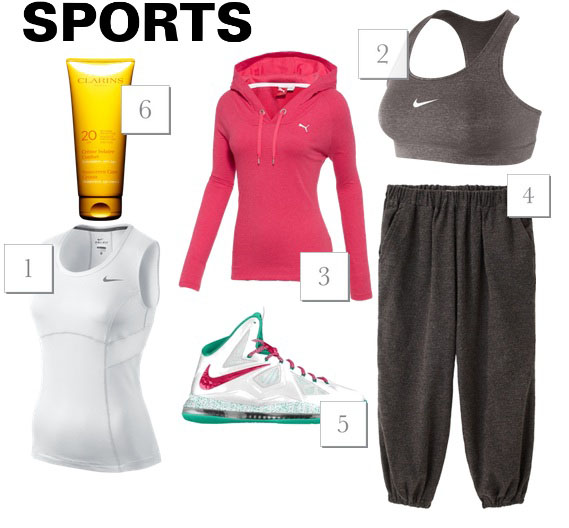 Sports
The sports player should grab a pair of elastic sweat pants and shirt, tank top, and sports bra. The most important thing for those who play sports is support. We suggest investing in a quality sports bra and tank top for maximum athletic performance. If you play outdoor sports, sun protection is a priority. A lightweight sweatshirt is a smart option, while sunscreen is a necessity. Last but not least: make sure your sneakers match your athletic goals.  Sneakers should not be an impulse buy—ask questions!
1. Tank Top; $40 ;Nike; www.nike.com
2. Sports Bra; $30; Nike; www.nike.com
3. Sweatshirt; $21; Puma; www.puma.com
4. Sweat Pants; $37.50; La Graconne; www.lagarconne.com
5.  Basketball Sneaker; $240; Nike; www.nike.com
6. Sunscreen; $38; Clarins; www.cusp.com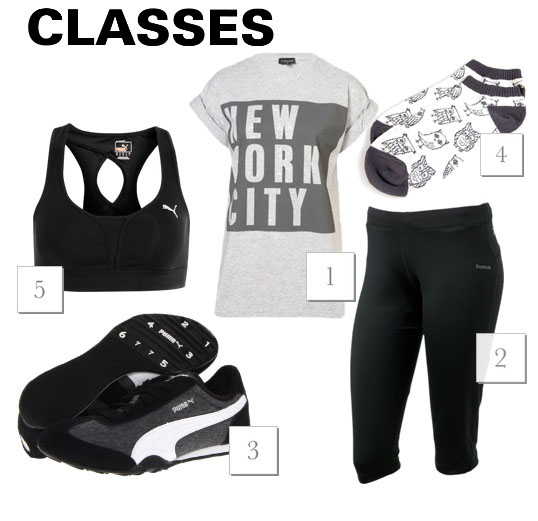 Classes
Today, a major part of fitness for women is taking an exercise class.  Dance classes, like Zumba, are new and creating thousands of fans, while others like aerobics and Pilates are popular classics. For these types of work  outs we suggest spandex capris, a loose t shirt, and of course the proper sports bra. A loose tee is perfect for the class goer as it provides coverage and freedom of movement. Some classes require no shoes, so wearing a bright pair of socks is funky and fun.
1. Top; $32; Topshop; www.nordstrom.com
2. Capris; $38.25; Reebok; www.kohls.com
3. Sneakers; $55.99; Puma; www.zappos.com
4. Socks; $1.50; Forever21; www.forever21.com
5. Sports bra; $34.37; Puma; www.mywardrobe.com