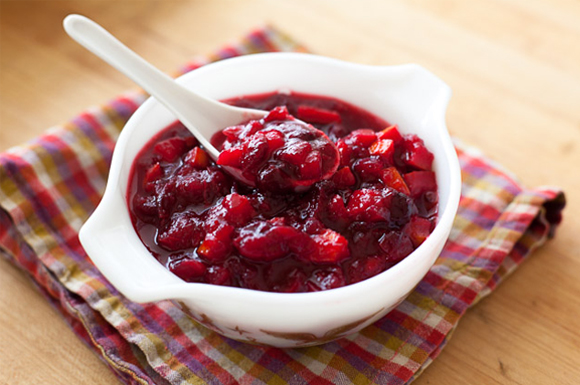 Ingredients
2 cups cranberry juice
1 (6-ounce) bag sweetened dried cranberries
1 cinnamon stick, broken in half
1 cup sugar
2 Gala apples, peeled, cored and diced
2 teaspoons corn starch
Directions
In a medium saucepan over medium heat, add the cranberry juice, cranberries, cinnamon and sugar. Bring to a boil and let cook for 5 minutes. Add the apples and cook, stirring occasionally, until the cranberries have softened and apples are tender, about 5 minutes.
Remove 8 ounces of the liquid to a small bowl and whisk in the cornstarch. Slowly add the cornstarch-juice mixture (slurry) to the cranberry mixture, stirring constantly. Cook for an additional 5 minutes.
Remove from heat and pour into a serving bowl. Refrigerate until thickened, about 30 minutes. Remove the cinnamon sticks and serve.
Click Here for Thanksgiving Recipes
Read more at: http://www.foodnetwork.com/recipes/aaron-mccargo-jr/cinnamon-apple-cranberry-sauce-recipe/index.html?oc=linkback
Cinnamon Apple Cranberry Sauce Recipe