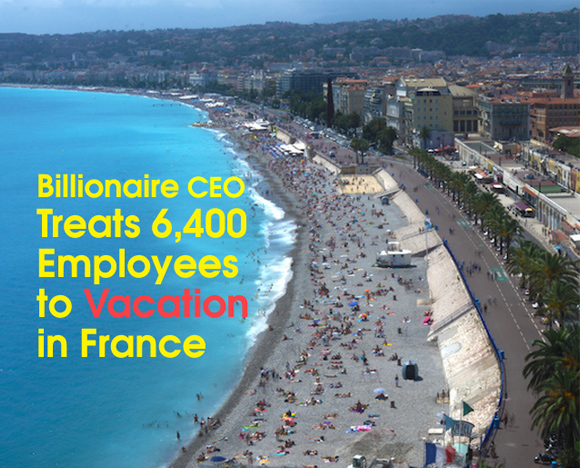 It's always nice to be acknowledged for hard work at the office.
Being rewarded with a company-wide trip to France is even nicer.
In honor of the company's 20th anniversary, about 6,400 employees of Chinese conglomerate Tiens Group were treated to an all expenses paid vacation by Chief Executive Officer Li Jinyuan.
The tour group — the largest to visit the country — was given a private tour of the Louvre museum and a private shopping session at luxury department store Galeries Lafayette during their four-day trip, reported French news agency Agence France-Presse.
Jinyuan has a net worth of about $5.8 billion.
After two days in Paris, the group headed down to the southern resort town of Nice on Friday, where they also broke a Guinness World Record for forming the largest human sentence.
All staff members lined up on the waterfront, Promenade des Anglais, to spell out the phrase "Tiens' dream is nice in the Côte d'Azur" that was visible from above.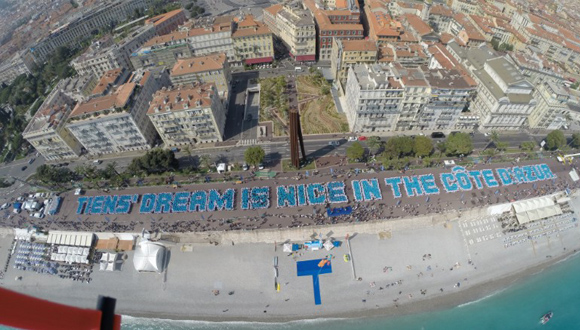 According to local media, the company booked 4,760 rooms in 79 hotels between Cannes and Monaco, and 146 tour buses.
"We have mobilized public services as well as tourism professionals, hotels, restaurants, shops and designer brands," Christian Mantel, head of the French tourism development agency told AFP.
It's estimated that the group will spend $15 million during their visit added Mantel, and France is seen to reap up to $20 million in total economic benefits.
Billionaire CEO Treats 6,400 Employees to Vacation in France
Sources: CNN and GoodNewsNetwork