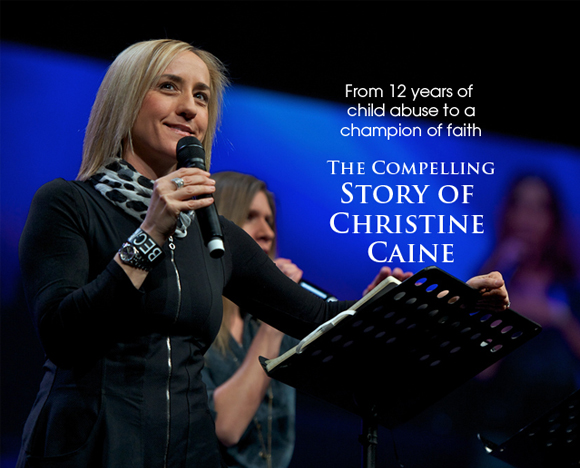 I was sexually abused by several men in my life at a very young age. I tried to tell somebody that could have intervened, but 40 years ago in Australia, the word abuse didn't even exist. Nobody talked about that stuff. You walked in the shame of it, and you buried it. This is how the story of Christine Caine began. Today she is the highly sought-after international speaker and a faith giant in our time. She is pastor, an evangelist and international speaker. In 2008, she and her husband Nick Caine founded The A21 Campaign organization that fights human trafficking. They now have 10 offices in 9 countries, 5 victims aftercare programs and they have reached over a million people through their awareness campaign.
Caine, 48, was adopted at birth, and was raised by her Greek Orthodox immigrant parents in public commission housing in Sydney, Australia. In an interview with Allison J. Allthoff from todayschristianwoman.com, Caine reveals her journey:
I was young, I cried out to God in my naivete and innocence, and in my desperation felt he wasn't stopping anything. He wasn't helping me. That marred my image of God. A lot of my adult life has been a journey of learning to trust him. God is good and God does good, but bad things do happen to good people.
When you're first abused, you're filled with shame about what is happening to you. When it happens over a long period of time, you then begin to think it's happening because of who you are. So I grew up feeling a lot of rejection, shame, insecurity, fear, and anger. Over the years I've had to fight to renew my mind to a place where I understand at the core of my being that Jesus is trustworthy.
When you're abused, you shut down and think you're used goods. You think God could never really do anything with your life. You can hear a thousand sermons on destiny and purpose and God having a plan for your life—plans for good and not for evil—but if you come at that with a shame-based nature, then deep down you can never believe God could use you. It certainly has been the fight of my life to get to the place of trusting God to redeem the broken pieces of my past for his glory.
Her journey of healing and forgiveness was not always easy.  Talking to cbn.com she said, "I started to understand that even though my spirit was born again, my soul was scarred by the past," she says. Caine believes that in order to experience the abundant life God promised her, she would need to allow her wounded soul to be healed.
As hard as it was, Caine had to choose to press through the pain of her past every day in order to have freedom. Because trust had been violated through the abuse, Christine found herself having to live in a way that insured she was always in control. "A vital step in the healing process was admitting I couldn't control everything," says Christine. "I had to consciously allow God to start steering my life." She also had to forgive those who abused her. "It took all the courage I could muster," says Christine. Nothing in her wanted to forgive her abusers. "I didn't think they deserved it," says Christine. But deep down, she knew that unforgiveness would harden her heart and if left unresolved, would jeopardize her future. One night during a prayer counseling session, she fell to her knees sobbing and stayed there for hours. It was there on the floor that something broke in Christine. At that moment, her past no longer had power over her future. The instant she uttered, "I forgive them," Christine experienced a deep sense of release from the burden she carried for 20 years.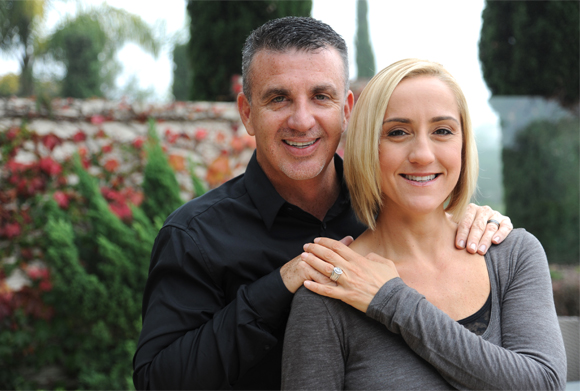 Christine and husband Nick Caine
We thank God for Chirstine Caine. We celebrate her testimony and we cherish her gifts. We definitely support her fight against human trafficking through A21 campaign. And to all the sisters who have an abusive past, we pray that you are able to rise from the ashes of the past, go through the healing process in Christ and claim your place in society. You have so much to offer the world and we continue to wait in anticipation for your gifts to shine.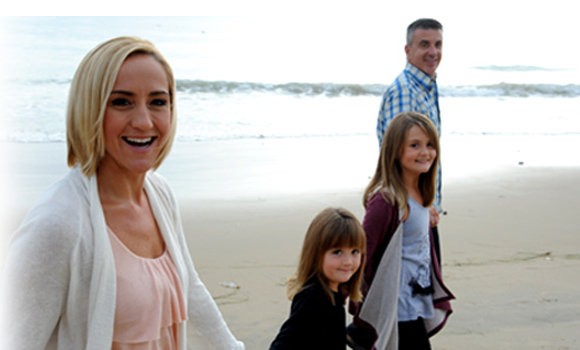 Christine Caine with Husband and daughters Catherine Bobbie and Sophia Joyce Grace
More about Christine Caine, her books & resources: christinecaine.com
More about fight against human trafficking:  thea21campaign.org
See her testimony in video youtube video
The compelling story of Christine Caine