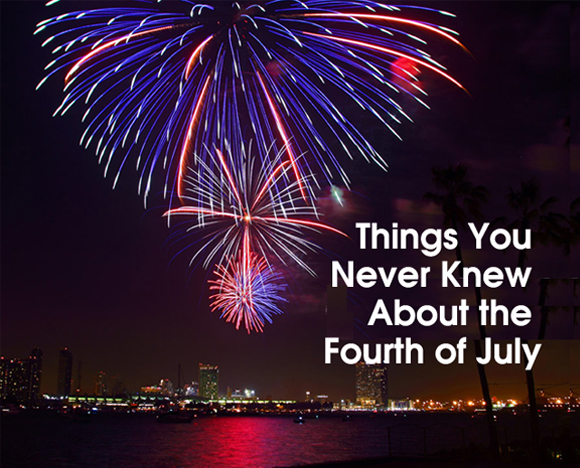 By AMY BINGHAM (abc news)
What do Malia Obama, Calvin Coolidge, Ann Landers and Neil Simon have in common? Apart from being recognizable figures in American popular culture and history, they share a birthday with our country: all were born in the Fourth of July.
If the Fourth of July had a greatest hits reel, this would be it.
1870: Congress Makes It Official
It took nearly 100 years for Congress to make the Fourth of July an official holiday, despite the widespread celebrations that had been ringing in America's birthday since the Declaration of Independence was signed in 1776.
Boston was ahead of the national curve, becoming the first city to designate the Fourth a city-wide holiday in 1783. That's the same year Gov. Alexander Martin issued a state order making North Carolina the first state to officially celebrate U.S. independence on July 4.
1776: Pomp and Parade, Two Day Late
America's second president John Adams is notorious for his love of Independence Day. But if you ask Adams, the country has gotten the date wrong for the past 239 years.
Adams wrote that July 2, the date the Second Continental Congress voted to declare independence from Britain, not July 4, the date Congress' president John Hancock signed the Declaration of Independence, should be "the great anniversary Festival."
"The Second Day of July 1776, will be the most memorable Epocha, in the History of America," Adams wrote on July 3, 1776. "It ought to be solemnized with Pomp and Parade, with Shews, Games, Sports, Guns, Bells, Bonfires and Illuminations from one End of this Continent to the other from this Time forward forever more."
At least he got the pomp and parade part right.
1826 and 1831: The Death of a President (or Three)
For America's first five presidents, the Fourth of July was not only a celebration of their great achievement, but it was also, apparently, a prime day to die. Three of America's first five presidents died on Independence Day.
John Adams, the second president, and Thomas Jefferson, the third president, were bitter rivals throughout their political careers, but nearly twins in their deaths. They died hours apart on July 4, 1826, Adams at age 90 in Massachusetts and Jefferson at age 83 in Virginia.
James Monroe, the fifth president, also died on July 4, five years after Adams and Jefferson in 1831. The 30th president, Calvin Coolidge, was born on the Fourth of July in 1872.
1863: Vicksburg Victory
After one month, 15 miles of trenches, countless battles, near-constant bombing, Confederate Gen. John Pemberton surrendered to Union forces at Vicksburg, Miss. That surrender, on July 4, 1863 would mark a turning point in the Civil War, when the scales tipped in the North's favor.
The South did not surrender for another two years. The town of Vicksburg refused to celebrate the Fourth of July for the next 81 years.
1998: A Presidential Premonition?
The current president's first-born daughter, Malia, was born on the Fourth of July 14 years ago. For the past three years she has celebrated her birthday with hundreds of military families at a picnic on the White House lawn.
Also in 1998, Congress passed a bill declaring the 21 days between Flag Day and Independence Day as "Honor America Days," encouraging Americans to celebrate their country for nearly a solid month. No more feeling guilty about throwing a barbeque and lighting sparklers every night in June.
1884: A French Birthday Present, Size XXL
The United States got what may be the country's largest physical birthday present on July 4, 1884, when the French presented it with the Statue of Liberty. It took four months to assemble the 151-foot-tall statue, which was shipped from Paris in hundreds of pieces.
While the statue was intended to commemorate America's centennial, it was not formally dedicated until 10 years after the fact, when President Grover Cleveland held a Statue of Liberty ceremony on October 28, 1886.
In other 1884 news, miners in Swan City, Colo., blew up their local post office on Independence Day because the town did not supply them with fireworks.
2011: 21st Century Problems
Three presidents have already died on Independence Day and last year hackers tried to trick Twitter users into thinking President Obama had become the fourth.
Hackers broke into Fox News' Twitter account and fired off six tweets declaring Obama had been shot and killed in Iowa. In reality, the president was barbequing at the White House.
The Secret Service investigated the tweets and Fox, after regaining control of its Twitter password, promptly declared them "malicious" and "false."
See more at abcnews.com
7 Things You May Have Not Known About The 4th of July