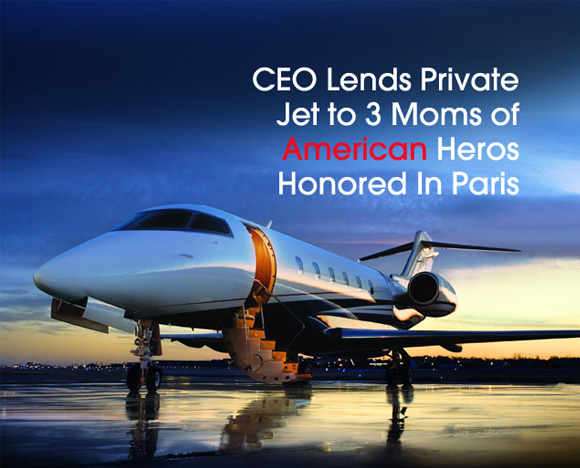 Three American heroes were scheduled to receive the Legion of Honor, , France's highest award, last Monday. Their moms were invited to the ceremony, but had no way to get to Paris on time.
When a corporate pilot heard about the women's plight, he called his boss and asked to borrow the company plane.
The heroes, Spencer Stone, Alek Skarlatos, and Anthony Sadler, along with two other men, took down a heavily armed gunman on a high-speed train in France on August 21.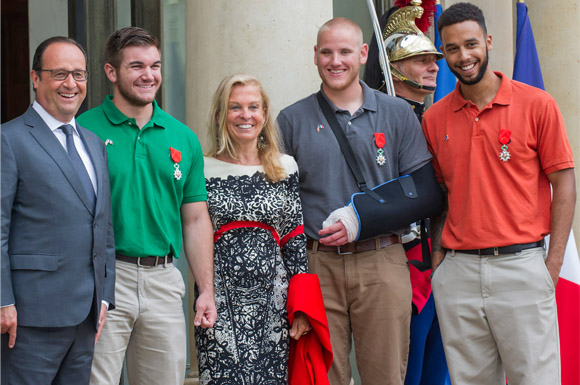 Three American Hero's with French President Francois Hollande and American Ambassador Jane Hartley
Pilot Doug Perrill called Tim Boyle, CEO of Columbia Sportswear, to see if they could give the mothers a lift.
"These guys who were so brave as to do what they did, I just felt they deserved to have their moms present," Boyle told the Oregonian.
The favors didn't stop there; Perrill contacted the State Department and got expedited passports for two of the women who didn't have any, and cleared a complicated international flight plan.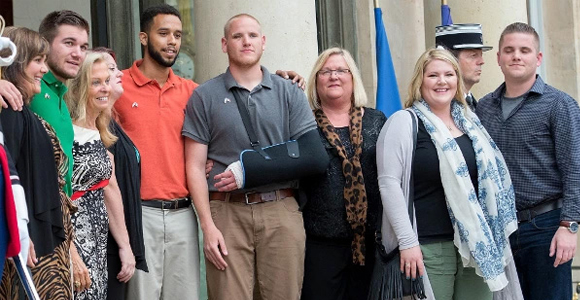 Hero's with their mothers
Boyle and his wife also showed up at the airport to see the women off as they boarded the 11-passenger private jet. Sadler, a college student going to school in Portland near the Columbia Sportswear headquarters, returned with the women aboard the private jet on Tuesday. The other two young men are serving in the military and National Guard overseas.
CEO Tim Boyle grew up with a lot of respect for mothers. His own mom, Gert Boyle, took over Columbia Sportswear when her husband died in 1970. She's still the company chairman at 91 and has been featured in Columbia's "One Tough Mother" advertising campaign. In the ads, Gert often uses her CEO son as a test test dummy to show how tough their clothing line is.
First reported on goodnewsnetworknetwork.org
CEO Lends Jet To 3 Moms for American Heros Trip to Paris