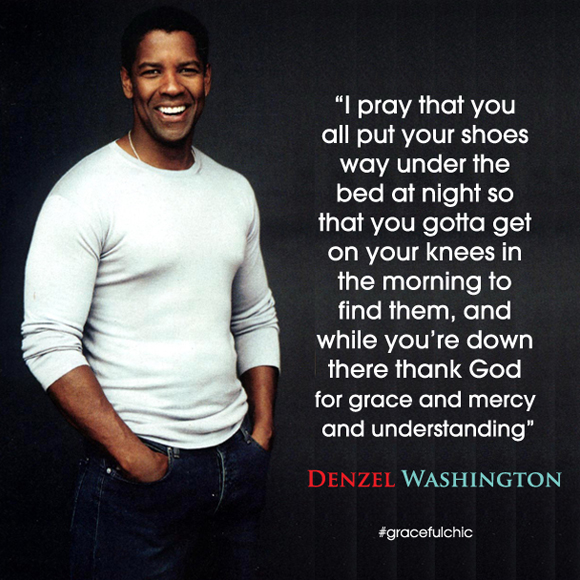 Our favorite celebrity quote this week come from none other than the Academy winning Actor Denzel Washington
"I pray that you all put your shoes way under the bed at night so that you gotta get on your knees in the morning to find them,..And while you're down there thank God for grace and mercy and understanding. We all fall short of the glory, we all got plenty."
Speaking to a group of young actors in a theatre, he motivated to them to press on to reach their God-given dreams.He shared his secret to success: setting goals, consistency, discipline, and never forgetting to thank God. He went on to say:
"So the desire you have, that itch that you have to be whatever it is you want to be … that itch, that desire for good is God's proof to you sent already to indicate that it's yours. You already have it. Claim it."
You can view the moving 3 minutes speech on this youtube video
More fun facts about Washington
1. He was born in Mount Vernon, near New York city. He currently lives in Beverly Hills, CA
2. The 59 year old is a prolific actor who has appeared in over 40 movies. He is also a producer and a director
3. He has received two Academy Awards, a Tony Award and two Golden Globe awards
4. He married Pauletta Pearson in June 1983 (30 years ago). They have 4 children
5. He is a Christian. He regularly attends Church of God in Christ in Los Angeles.
Denzel Washington's Inspiring words on Christian Faith and Hard Work