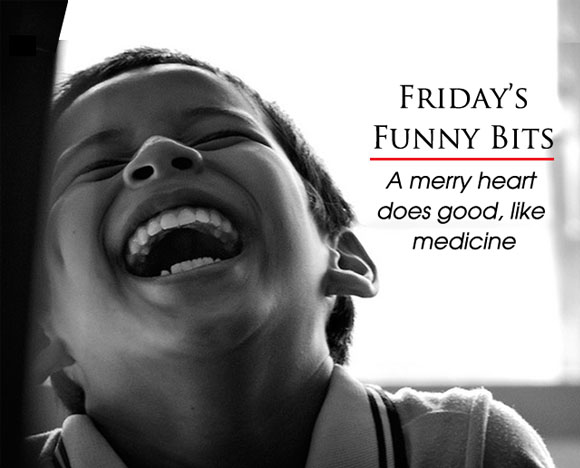 Bill Cosby once said, "There's hope for the future because God has a sense of humor and we are funny to God."  Its Friday, and its time for some laughter!  As the bible says "A merry heart does good, like medicine"
Here are some funny quotes to start your weekend!
"Like almost everyone who uses e-mail, I receive a ton of spam everyday. Much of it offers to help me get out of debt or get rich quickly. It would be funny if it weren't so exciting." – Bill Gates
"Gentiles are people who eat mayonnaise for no reason." – Robin Williams
"Sometimes the road less travelled is less travelled for a reason." – Jerry Seinfeld
"The way taxes are, you might as well marry for love" – Joe E Lewis
"I don't have a bank account because I don't know my mothers maiden name" – Paula Poundstone
"My mother was against me being an actress, until I introduced her to Frank Sinatra." – Angie Dickinson
"When I was born I was owed twelve dollars." – George Kaufman
"Reality continues to ruin my life" – Bill Watterson
"Always remember your kids name. Always remember where you put your kid. Don't let the drive until the feet reach the pedals. Use the right size of diapers… for yourself. And when in doubt, make funny faces" _ Amy Poehler
"Before I refuse to take your questions, I have an opening statement." _ Ronald Reagan
"I used to jog but ice cubes kept falling out of my glass" – David Lee Roth
Have a great weekend everyone. For more wholesome entertainment, be sure to like us on Facebook and follow us on Twitter and Instagram!
See Last Friday funny-roast here
Friday Funny Roast 2