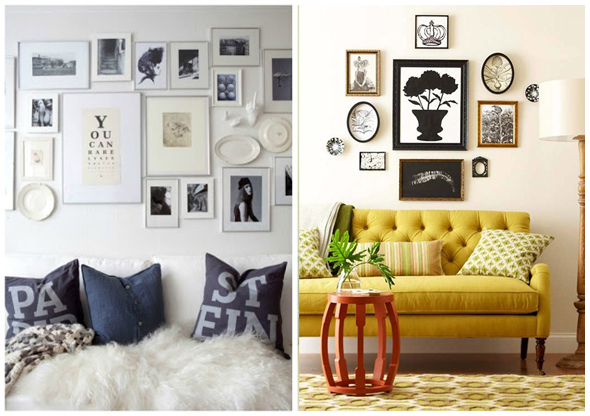 By Yen Shing
Who doesn't love the Gallery Wall? When done right, it can be the perfect answer to that big empty wall in your living space. It's also a great way to showcase your favorite moments, adventures, art collection and creative talents. Here's our step-by-step guide to help you get started.
Step 1:
Choose the pieces you love – it can be a mix of photos, artwork, unframed memorabilia, hats, dried flowers and everything in between. Use frames of similar or complementary colors and style to tie things together, or mix and match unique frames (especially vintage and distressed frames) for an eclectic look.
Step 2:
Make life-size paper templates for all your frames (label them to avoid getting mixed up!). Measure how much the hanging wire will stretch up when the frame is hung, then mark on the paper template the exact spot where you would place a nail.
Step 3:
Plan your layout. Arrange all items on the floor adjacent to the gallery wall and get creative with the composition. It can be helpful to establish your focal point with a piece (or up to four pieces) that's special to you – it does not have to be attention-grabbing or be the biggest piece, but it does need some size to act as an anchor. If you are going for a balanced look, expand outward from the anchor piece by evenly distributing pieces of different sizes and visual weight without being perfectly symmetrical. Spacing between frames need not be exact, but do leave a couple inches to avoid over-crowding. Also remember that the left side of any composition can hold more visual weight (like stronger design or colors) as it feels more comfortable to the eye.
Step 4:
Hanging time. When you're happy with the layout, nail your paper templates onto the wall in the same composition, preferably keeping the center of your entire composition at eye level. Tear off the paper, hang the actual stuff, and you're done!
Tip 1: To make the frames look straight, use a level and hang with 2 nails instead of 1.
Tip 2: Have fun and be bold… don't over-think it!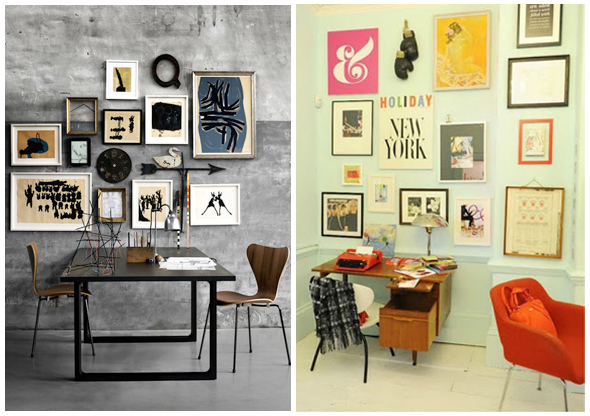 Gallery Wall