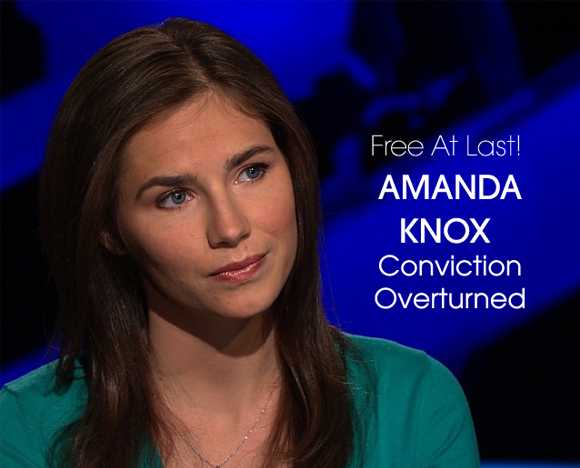 By Associated Press
Italy's highest court has overturned the murder conviction against Amanda Knox and her ex-boyfriend, bringing to a definitive end the high-profile case.
The decision by Italy's Court of Cassation is the final ruling in the case, ending the years-long legal battle waged by Knox and co-defendant Raffaele Sollecito. Both Knox, who was awaiting the verdict in her hometown of Seattle, and Sollecito have long maintained their innocence.
The Court of Cassation overturned last year's convictions by a Florence appeals court and declined to order another trial. The decision means the judges, after thoroughly examining the case, concluded that a conviction could not be supported by the evidence. Their reasoning will be released within 90 days.
Despite the murder case hanging over her head, Knox tried to lead a normal life for the more than three years since she was freed from an Italian prison; she recently got engaged and has started writing theater reviews and other articles for a weekly paper in her hometown.
An appeals court in 2011 cleared Knox in the 2007 slaying of British roommate Meredith Kercher and ordered her release after she had spent four years in prison. But her acquittal was overturned and Knox's case has slowly wound its way through the country's judicial system. She was convicted in absentia in 2014. On Friday, Italy's highest court overturned that murder conviction, finally closing Knox's long legal saga.
Mostly left alone by the media in Seattle since her return from Italy, the 27-year-old former exchange student completed her studies at the University of Washington and spends time with family and friends.
Knox graduated from the University of Washington last year with a degree in creative writing. She recently started working as a freelance reporter for the West Seattle Herald.
Ken Robinson, the managing editor for the Herald, told The Associated Press that Knox has completed pieces on local theater productions and "the occasional feature story."
"She's very good. She's knowledgeable about her subjects she writes well and she gets stuff on deadline," Robinson said. "She's a local person. We knew that she was interested in writing."
Her articles have included a review of a production of the David Henry Hwang play "Chinglish" and a story about a kidney disease survivor to mark National Kidney Month.
Knox also wrote a memoir about her life and her experiences in Italy, which was published in 2013. She was paid a reported $4 million.
She plans to marry Colin Sutherland, a musician who recently moved to Seattle from New York.
It Is Finally Over: Amanda Knox Conviction Overturned