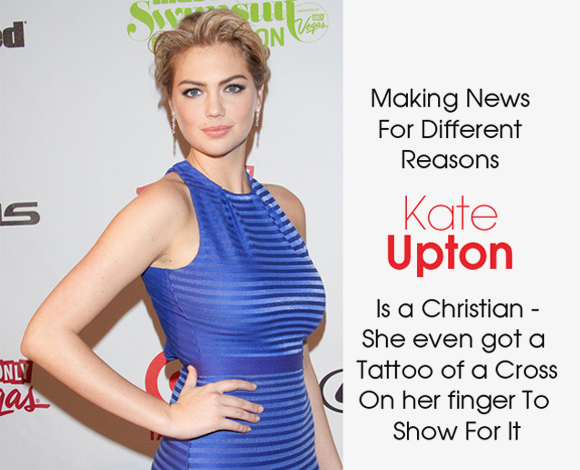 Model Kate Upton is most popular for her bikini modeling. But lately she is on the news for a different reason – she is proud to be Christian, she even had a cross tattooed on her finger so that she could always show her devotion to God.
According to the New York Daily News, Upton revealed during her recent interview with Elle magazine that "I was at a photo shoot, and I was wearing a cross necklace that my mom bought me, and somebody made a joke like "Why are you wearing a cross?" And then they took (my necklace) away. I was really affected by that. The whole thing made me realize that I do want (a cross) with me, at all times." The interview is set to appear in Elle's September issue, which will be available at newsstands from August 20.
It's true that many find her half-dressed modeling career less than modest, but it's also refreshing to know that Upton is a Christian who is not ashamed to share her faith with the world. It takes courage to be open about matters of faith at work and in our everyday lives, so it's always encouraging to see celebrities like Upton take a stand.
On another note, we have a question for the ladies. Do you think it's possible for Christian women to stay true to their faith while pursuing a modeling career at the same time?
Yes – Modeling should be viewed as a profession where Christian women could get involved and be a testimony in the industry, or
No – It is better for Christian women to pursue other career paths because there are too many temptations in this profession.
Let us know your thoughts.
For more edifying editorials, check out our 2013 Summer Issue Preview
Written by Tula