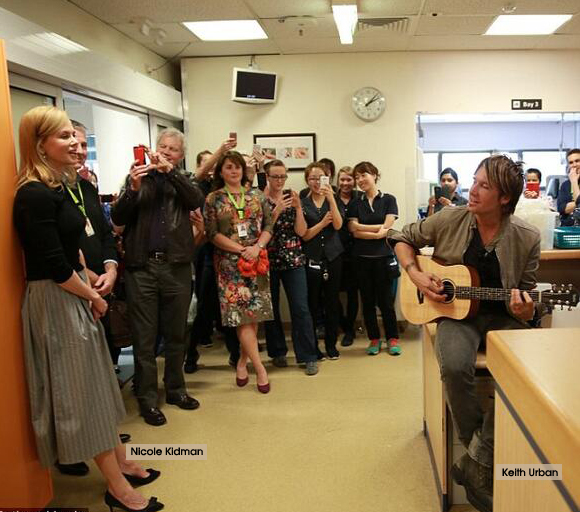 "Amazing Grace how sweet the sound." And sweet it was as Keith Urban sang "Amazing Grace" to a crowd of patients and staff at Monash Children's Hospital in Victoria, Australia, last Friday. Keith Urban and his wife, Nicole Kidman stopped by the hospital to visit patients and to cheer up spirits.
The video posted by the hospital shows Urban playing the guitar as the star struck crowd sang along and filmed the mini concert. At one point, the camera panned over to show Kidman who piped in for a little solo.
Kidman and Urban are very involved in charity work. It's one of the many reasons we love this couple. "It's one of the most important things I do. I have been doing it since I became well-known in the movie industry," Kidman says of her philanthropic work.  "Even if it is just listening and hugging and showing support, then it's worth it."
Check out the youtube video to see the famous duo sing the gospel classic.
Keith Urban and Nicole Kidman Sing Amazing Grace