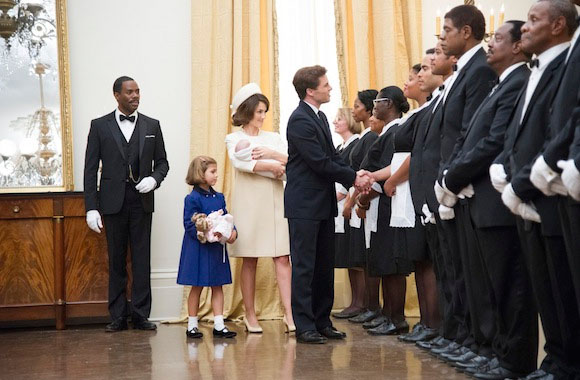 By Joe Neumaier
For News York Daily News
'The Butler' does it: A blend of powerful history and compelling personal story, with Forest Whitaker, Oprah Winfrey, James Marsden and Minka Kelly
Though it is a panorama that tilts more toward predictability than turbulence, "Lee Daniels' the Butler" melds two views of civil rights battles: one watchful, the other protest-filled.
Yet it results in a singularly full-hearted and moving film.
That's surprising, since the director whose name is in the title is not known for subtlety. Lee Daniels' work ("Shadowboxer," "Precious," "The Paperboy") has been flavorful, sometimes to a fault. But "The Butler," inspired by a true story, raises Daniels up. And it's anchored by deep, dexterous performances from Forest Whitaker and, in her first major role in 15 years, Oprah Winfrey.
Whitaker is Cecil Gaines, first seen approaching 90 years old. In a flashback to his boyhood on a cotton plantation in the 1920s, young Cecil's mother (Mariah Carey in a cameo) and father are brutalized. Out of pity, the plantation matriarch (Vanessa Redgrave) moves Cecil into the house to teach him how to be a servant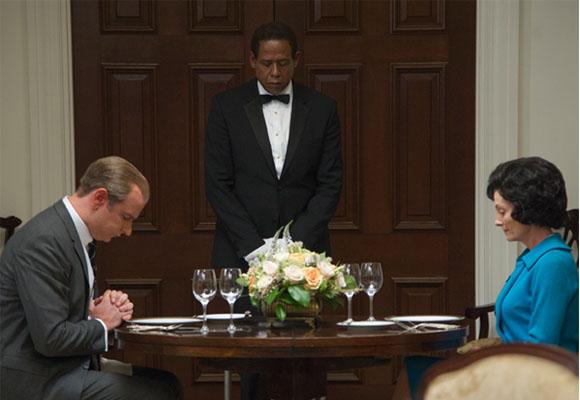 As a teen, Cecil apprentices under a hotel butler (Clarence Williams III), acquiring skills that get him a job as a waiter in a patrician D.C., club. In 1957, Cecil's knowledge of drinks and — most crucial in this era — ability to sidestep questions about race from imbibing lawmakers get him noticed by a White House official. Soon Cecil is offered a job on the White House butler staff.
Read more: http://www.nydailynews.com/entertainment/tv-movies/lee-daniels-butler-movie-review-article-1.1425658#ixzz2c4H060vI
At 1600 Pennsylvania Ave., Cecil watches as President Eisenhower (Robin Williams) wrestles with the violence in Little Rock. Cecil later meets John F. Kennedy (James Marsden) and Jacqueline Kennedy (Minka Kelly) and sees the face of change; notices LBJ (Liev Schreiber) try to craft an uneven New Society; catches Nixon (John Cusack) asking the black staff about their lives, and hears Reagan (Alan Rickman) veto sanctions against South Africa.
At home, Cecil and his wife, Gloria (Winfrey), have a full life with friends and Cecil's co-workers (including Cuba Gooding Jr. and Terrence Howard). In the '60s, though, their grown son Louis (David Oyelowo) rejects his parents' passivity. Louis joins the Woolworth's lunch counter sit-in in Greensboro, N.C.; signs up to be a freedom rider, and joins the Black Panthers. His activism disturbs them, yet Cecil knows little is being done in the seat of power.
"The Butler" is based on the life of the late Eugene Allen, who rose to the position of White House maitre d' and lived long enough to be invited to Barack Obama's inauguration in 2009. The film concludes with the Obama election, and rarely has a film used recent events for such dramatic impact.
Daniels does a beautiful job with the understated poetry in the screenplay by Danny Strong ("Recount," "Game Change"), never trivializing how the bigger stories of this country's civil rights struggles are seen in Cecil's eyes. Here, they are one and the same.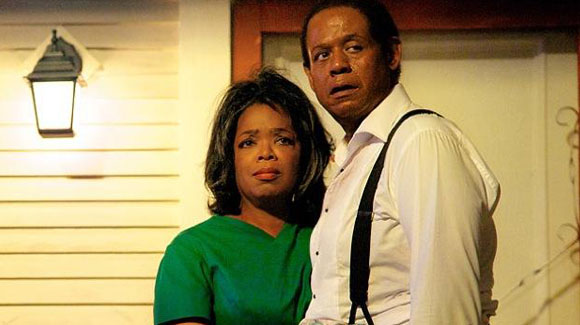 Playing the soul behind those eyes, Whitaker is, as ever, remarkable. He makes Cecil proud and strong even when his position demands he be recessive, an unseen conscience to the people he serves. And Winfrey shines as an everywoman edgily content with her life — one dictated by mid-20th century norms — but knowing things must change. Oyelowo counters them with a fiery intensity and urgency.
In the presidential parade, Williams' task is toughest: he has to basically prep the audience for the coming Oval Office impersonations. His Ike makeup may distract, but it's a solid cameo. Marsden and Rickman fare best, and Jane Fonda makes a winning Nancy Reagan. Cusack and Schreiber, alas, do "SNL" imitations at best, (As for Ford and Carter, running time dictates they simply appear in a time-lapse montage.)
The power of "The Butler," though, doesn't rest with them. It's in the way it personalizes a struggle younger viewers may only know from textbooks. The fight for equality, the film shows, was a daily challenge, with deafening change sometimes happening in the quietest moments.
Read more: http://www.nydailynews.com/entertainment/tv-movies/lee-daniels-butler-movie-review-article-1.1425658#ixzz2c4HIyzOm
Catch "Joe Neumaier's Movie Minute" throughout the day Thurs.-Sun. on New York's WOR 710-AM and at wor710.com.
Lee Daniels' Butler – Movie Review