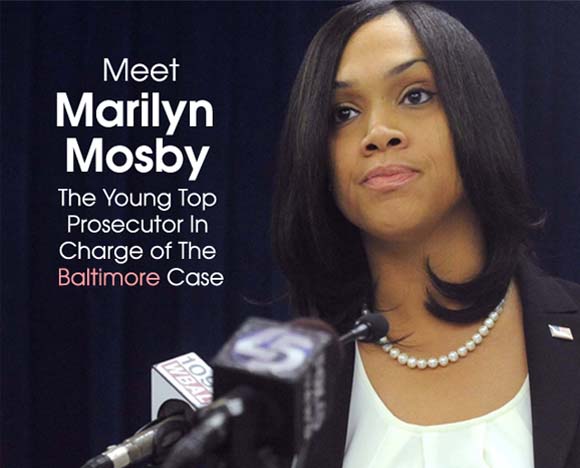 Meet the 35 year old mother of two in charge of Freddie Grays investigation and prosecution. Baltimore's state's attorney probably did not expect to be thrust into the national spotlight during her fourth month on the job. And yet Marilyn Mosby — the youngest top prosecutor of any major city in America — now finds herself playing a key role in a local drama that has gripped the country.
The 35-year-old is tasked with determining whether charges are warranted in the controversial death of Freddie Gray, the 25-year-old black man who died after suffering a spinal cord injury in police custody. Gray's death has inspired protest in Baltimore and nationwide.
On Thursday, the Baltimore police commissioner announced the department had handed confidential information on how Gray died over to prosecutors. The Justice Department is working on its own independent investigation.
Mosby did not return a call from NBC News requesting comment, but her office confirmed it had received the police department's investigative file.
"However, the results of their investigation is not new to us," the office said in a statement. " We have been briefed regularly throughout their process while simultaneously conducting our own independent investigation into the death of Freddie Gray. … We ask for the public to remain patient and peaceful and to trust the process of the justice system."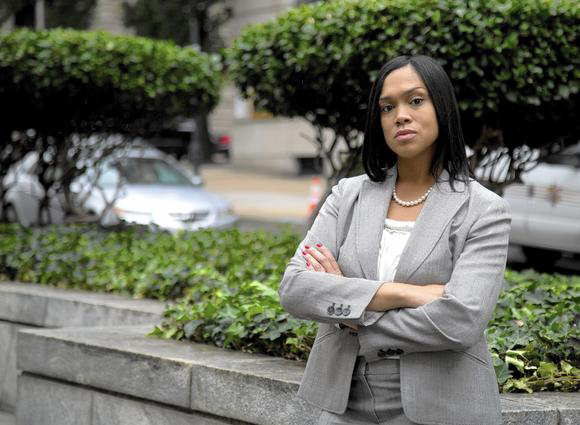 Mosby is a Democrat who comes from a long line of police officers — but she has been vocal about holding cops accountable in the past.
"She has a natural affinity for police officers and law enforcement types, and at the same time, she is aware of the incredible number of complaints against the Baltimore City police department," said Richard Woods, a Baltimore-based attorney whose practice is primarily criminal defense work.
Woods has known Mosby for years and supported her in her campaign for state's attorney. "It was important to have somebody who was willing to look at it from both sides, and Marilyn Mosby fit the bill."
Her interest in the justice system stemmed from tragedy: When she was growing up in inner-city Boston, her 17-year-old cousin was mistaken for a drug dealer and killed outside her home by another 17-year-old. The former insurance company attorney is leading an independent investigation of the officers involved in Gray's death on April 19.
She has not said when she might decide if she will pursue charges. She has spoken out against police officers numerous times. During her campaign for state's attorney, in response to a Baltimore Sun investigation of allegations of police beatings, she said: "Police brutality is completely inexcusable. I'm going to apply justice fairly, even to those who wear a badge."
Mosby is a mother of two daughters who met her future husband while she was studying political science at the historically black Tuskegee University in Alabama. She was the first in her family to graduate from college, was raised by a single mother, and has law enforcement in her blood.
"My grandfather, my uncles, my mother, my father — I have five generations of police officers. I know that the majority of police officers are really hard-working officers who are risking their lives day in and day out, but those really bad ones who go rogue do a disservice to the officers who are risking their lives and taking time away from their families," she told Baltimore Magazine in January, when she started her tenure as state's attorney.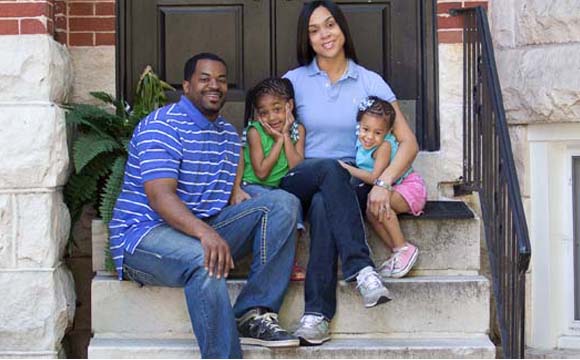 Mosby, her husband, Nick and two daughters
Her surprise win last November is her first stint as an elected official. She bested incumbent Gregg Bernstein by portraying herself as a crime crusader, determined to keep repeat offenders off the streets.
"People who have zero regard for human life do not deserve to live among the residents of the greatest city in the world," she said in a primary victory speech.
Mosby's first stint in the Baltimore City State's Attorney's Office came after she graduated from Boston College Law School. She served first as assistant state's attorney and then prosecuted some of the worst felonies in Maryland in the general trial division.
She left to go work as field counsel for Liberty Mutual Insurance for three years. In 2013 and 2014, she was named as one of the Baltimore Sun's 50 Women to Watch.
Her husband, Nick Mosby, is a Baltimore city councilman.
When she was sworn in in January, Mosby promised to fix the justice system. "As a black woman who understands just how much the criminal justice system disproportionately affects communities of color, I will seek justice on your behalf," she said.
It hasn't all been praise for Mosby. She's been criticized for being too inexperienced for the role she was elected to, but Woods, the Baltimore attorney, said her accomplishments far outweigh her young age. "I think she's a superb person. And when a defense lawyer says that about a prosecutor, you can believe it."
First posted at nbcnews.com
Marilyn Mosby: The Top Prosecutor In Freddie Gray Case