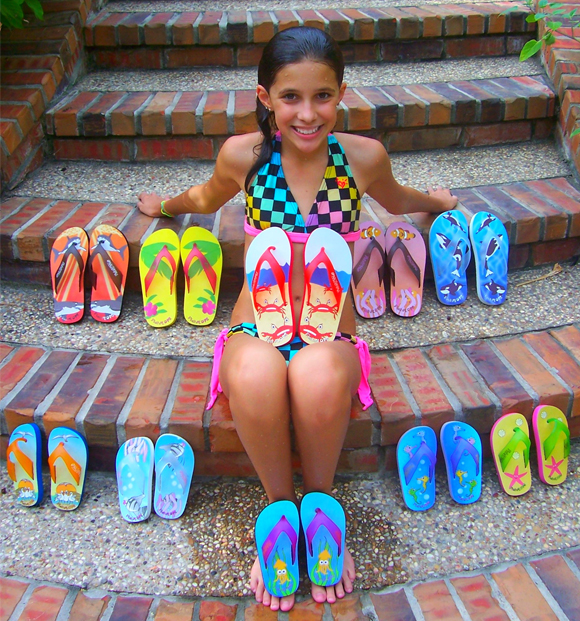 By Dailymail.co.uk
At the age of 15, most girls are just learning about fashion. But Madison Robinson or "Maddie," as she prefers to be called, is already on track to becoming a millionaire thanks to an ingenious design for light-up flip-flops for kids.
The teenager, from Galveston Island, Texas, came up with the idea for Fish Flops at the age of just eight.
With the help of her father, Dan, and some 'friends and family financing' she was able to turn her drawings into product samples and sell the idea to retailers at trade fairs.
And it seems retailers themselves can't get enough of the brightly-colored footwear. Already more than 30 stores have placed orders including national powerhouses Nordstrom and Macy's.
She told My Fox Houston: 'It's exciting. I didn't think [Fish Flops] would come all the way this far. I thought they would just stay in boutiques, but now they're in Nordstrom.'
She reveals that she made the initial approach to the retailer herself by letter, and created a series of custom designs that could be sold in stores across the U.S.
Now she is doing the same for Macy's, after buyers asked her to make a line for adult women.
The shoes sell for around $25 a pair, and, just two years since the company's official launch, over 60,000 pairs have sold, making for retail sales of at least $1.2 million.
Read more at dailymail.co.uk
Meet Maddie – Another Million Dollar Teenage Entrepreneur