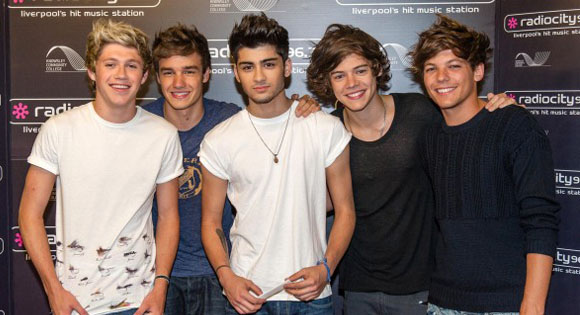 Movie review by pluggedin.com
If you're not familiar with One Direction, well, you're probably not a teenage girl.
As has been the case with Justin Bieber and the Jonas Brothers (not to mention 'N Sync, Backstreet Boys and New Kids on the Block a decade or two before), this group of five guys from Britain and Ireland has captivated the imagination of myriad teens and tweens with that now-patented combination of boy-next-door charm (plus those accents!) and songs genetically engineered to make young female fans scream and swoon. Talking about her favorite member of the band, a young woman sitting next to me at the screening I attended put it this way: "His face is scientifically perfect—they've tested it." Squeals of delight from all over the theater once the movie began suggested she was hardly the only one who felt that way.
The same passion—even more so—was evident as fans voiced their sentiments onscreen. "They make me feel so happy," one said. "When I'm sad, they're here for me," gushed another. And earnestly capturing the exuberant infatuation of the 1D faithful, still another added, "I know they love me … even though they don't know me."
This Was One Direction
The concert film, directed by Morgan Spurlock (of Super Size Me and Where in the World Is Osama Bin Laden? documentary fame), wastes no time doing the two things that every film of this kind must do: plunging us straight into One Direction mania at concert venues around the world while interweaving the group's backstory. No doubt that history was already a familiar one for most in the audience I was sitting with. Even so, the girls seemed no less enthralled to see that narrative play out on the big screen in front of them.
The five guys in One Direction, we learn through video flashbacks and interviews, had one inglorious bit of common ground when they met in 2010: All five failed to make the finals of the British singing competition The X-Factor. But in a moment of serendipitous pop genius, judge Simon Cowell wondered what might happen if he teamed Harry Styles, Niall Horan, Zayn Malik, Louis Tomlinso and Liam Payne together as a boy band.
At first it didn't seem as if Cowell's brainchild was going to succeed. One Direction placed a disappointing third when the votes were tallied at the end of that season, and it wasn't immediately clear whether these lyrical lads had a future together.
But then something like Beatlemania 8.3 began to ripple spontaneously around the world as fans practically willed the group to superstardom. That wave of support propelled One Direction's first two albums—both released in 2012—to No. 1 debuts in America (as well as topping the charts in dozens of other countries). The group toured nonstop to support those releases, and it's those 130-plus concerts that provide the musical footage, backdrops and candid moments of One Direction: This Is Us.
Just Another Silly Love Song
In 1976, Paul McCartney sagely observed, "You'd think that people would have had enough of silly love songs/But I look around me and I see it isn't so."
One Direction is still driving that point home nearly four decades later. And much of these guys' appeal—as is true of Bieber today and was, yes, even true of The Beatles back in the day—hangs on the fantasy-inducing combination of their good looks, their seemingly accessible "normalness" and the romantic songs they sing to fans eager to buy fully into the dream they're offering.
Accordingly, we watch as the band performs some relatively innocent scream-and-cry tunes (and we watch plenty of audience members at concerts do both) such as "One Thing." "Something's gotta give now/'Cause I'm dying just to know your name/And I need you here with me now/'Cause you've got that one thing," these youthful idols sing. "So get out, get out, get out of my head/And fall into my arms instead."
Another crowd-pleaser is "Little Things," which the band sings from a swing-like platform that moves out over the manic audience. The song reassures an insecure girlfriend who's fixated on her faults that those imperfections make her who she is, and that her boy loves her just that way: "I know you've never loved/The crinkles by your eyes/When you smile/You've never loved/Your stomach or your thighs/The dimples in your back at the bottom of your spine/But I'll love them endlessly/ … Oh, it's you they add up to/I'm in love with you/And all these little things."
As that song progresses, though, things get more suggestive—hinting that the relationship also involves sleeping together: "You can't go to bed without a cup of tea/And maybe that's the reason that you talk in your sleep/And all those conversations are the secrets that I keep/Though it makes no sense to me."
Allusions to physical intimacy like those hardly qualify as raunchy in 2013. Still, it's clear when listening carefully to these songs that romance and sex comingle on the same continuum for One Direction—clean-cut, innocent boy-next-door shtick notwithstanding. "Kiss You," for example, ponders skipping the romance part altogether and just going straight to that physical connection: "Touch/You get this kind of rush/Baby, say yeah, yeah, yeah, yeah, yeah, yeah/If you don't wanna take it slow/And you just wanna take me home/Baby, say yeah, yeah, yeah, yeah, yeah." Meanwhile, "She's Not Afraid" adds, "She likes the way we kiss in the dark."
Which Direction Did You Say We're Going?
Spurlock, of course, doesn't want audiences to spend too much time thinking about how the lads might be sexually capitalizing on their preternaturally godlike influence. Instead, he takes us to their hometowns and delves even further into their backstories.
We meet parents and grandparents, all of whom are equal parts incredulous about and proud of their progeny's remarkable success. We see the bedrooms the boys grew up in. We watch as Harry points toward a wooded area near a secluded river where he says he had his first kiss ("It was pretty steamy," he confesses).
Toward the end of the film, we get to go along with the guys on their camping trip; we hear them ponder how long their good fortune might last and whether they'll still be friends when it's all said and done. Later, one of them calls his mom back in England just as she and his sisters move into a huge house he's purchased for them.
It's pretty sweet (sappy, if you must) stuff, really. Then again, it's also calculated to convince viewers that Harry, Niall, Zayn, Louis and Liam are just normal, wonderful boys who've been magically swept into an extraordinary life—and their normalcy subtly reinforces the film's fantasy that they're somehow attainable for adoring fans.
But like all modern-era pop idols, there's also an inescapable element of edginess crouching under One Direction's appeal. Spurlock deftly reinforces that throughout the film, never in ways that feel overwhelming or absolutely inappropriate, but just enough to inject a bit of PG peril into the proceedings, lest the band come off seeming too sanitized.
There are loads of dressing room shots of the guys without shirts, for instance, scenes that always elicited excited shrieking verbal approval from my audience mates. Onstage at one concert, the lads "depants" Harry, revealing his boxers. And when a woman in a vehicle travelling in front of the group's motorcade pops out of a sunroof sans top (we glimpse her bare back), one of the guys quips sarcastically, "Little rebel, that one."
Underscoring that edginess is a bit of profanity (which the MPAA says is the reason the movie got a PG rating), including "bloody," at least three uses of "a‑‑," one of "p‑‑‑," five or six misuses of God's name and one of Jesus', and a song that repeatedly includes the phrase "give a d‑‑n."
Taking the Lads Home
There's a fair bit of irony involved in Morgan Spurlock directing One Direction: This Is Us, of course. Spurlock began his career with a sensational takedown of the fast-food business in Super Size Me, becoming a fast-food marketer's worst nightmare.
But even documentary directors obsessed with the follies of food have to eat, it would seem, and Spurlock has now assumed the very marketing role he once so thoroughly eviscerated. His job in this film? To make a band that so many girls have already fully embraced seem even more lovable and worthy of affection—a job he accomplishes here with panache and aplomb. Indeed, even if you hate boy bands and disdain the way One Direction was manufactured out of reality TV thin air by Simon Cowell, it's hard not to like these five fun-loving guys from across the pond by the time the film's antics-filled credits roll.
Still, if Spurlock's job is to make this group look as good as possible, ours is to look even more closely at the messages being delivered in this seeminglyharmless, feel-good package. And as winsome as these five "normal" guys are here, the worldview that's being peddled is one that parents might want to think more than once about before inviting their kids to take it home. Because just as we've seen with Justin and Miley, the direction these affable young stars are heading may not be the path you want your family to travel.