By Yen Shing
Samsung unveiled its much-anticipated Galaxy Gear smartwatch on Wednesday. It's big – with a 1.63-inch AMOLED display (320 x 320 resolution), and armed with an 800 MHz processor, 512 MB of RAM and 4 GB of internal storage, a 1.9-megapixel camera and speaker built into the wrist strap, and a microphone that connects via Bluetooth to your Samsung Galaxy smartphone for making calls.
Let's start with the pros. The Gear will inform you of incoming calls and text messages, and you can make calls, dictate text messages, set alarms and create calendar entries through the S Voice virtual assistant (like iPhone's Siri), all without touching your phone. In case of emergencies, a "safety assistance" feature can be activated to send your location info to a saved contact. The smartwatch comes pre-loaded with more than 60 apps (some of which you'll probably never use), including a remote music playback app, a stopwatch, and a bundled pedometer. But due to its limited 4 GB storage, you can only load up to 10 additional third-party apps.
As for the cons, the most glaring one is that the Gear will only work with Samsung's Galaxy Note 3 and the upcoming Galaxy Note 10.1 smartphones. Future Android 4.3 updates might allow the Gear to pair with other Galaxy smartphones and tablets, but Samsung is unlikely to develop pairing capabilities with non-Samsung devices. The battery life is also poor with only a day's worth of 'regular' use, and it can only be recharged via the included micro-USB-equipped charging dock.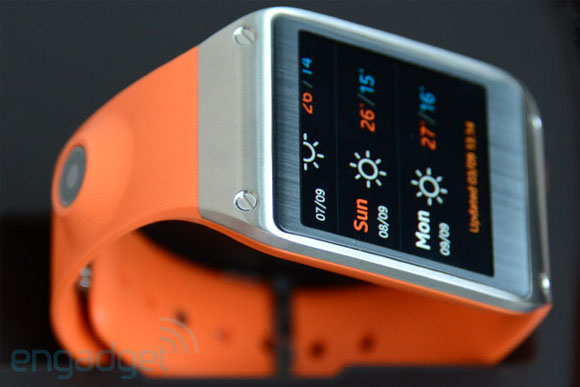 Reviews have been mixed, but the general consensus is that the Gear is a first-generation device with many shortcomings – a fun new toy for tech enthusiasts but not much else. Engadget reports that "The Gear feels awfully sluggish, whether you're launching an app such as Evernote or Path, or swiping down from the home screen to activate the camera" and that "The interface also feels a bit clunky and unpolished at times". Frankly, it looks like a shrunken smartphone strapped to your wrist with sporty-looking straps, probably OK for exercising but not terribly chic or appropriate for business attire.
Galaxy Gear will start shipping on September 25 for $299, although customers in the U.S. and Japan will have to wait until October. It's current and future competitors include the Pebble ($150), Sony's Smartwatch and upcoming Smartwatch 2 ($130 and $250 respectively), Qualcomm's Toq ($300 pre-order), Neptune Pine ($335/$395 set to ship in December), Sonostar Smartwatch ($180 pre-order), Geak Watch ($330 pre-order), and the rumored Apple iWatch and Google/Motorola Smartwatch.