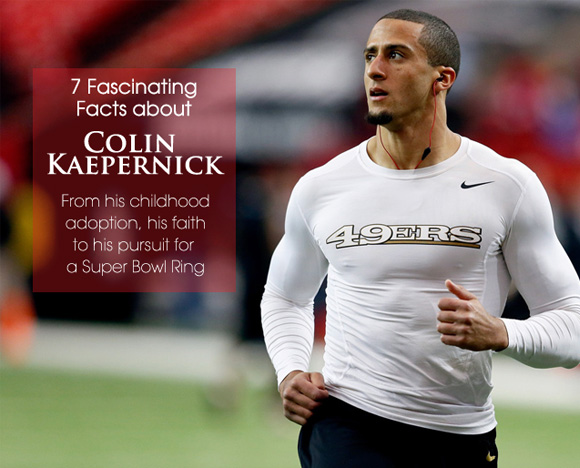 You have heard all about Tim Tebow, now meet Colin Kaepernick, another one of  a few openly Christian athletes in the NFL.  The San Francisco 49ers quarterback is pursuing the second Super Bowl Championship birth in as many years.  Here are seven interesting facts about him:
1. He was born in Milwaukee Wisconsin, Nov 3 1987 (age 26)
2.  He was drafted to NFL in 2011. He is 6 ft 4 and weighs 230 lb
3. On his Christian devotion he is quoted saying "My faith is the basis from where my game comes from. I've been very blessed to have the talent to play the game that I do and be successful at it. I think God guides me through every day and helps me take the right steps and has helped me to get to where I'm at. When I step on the field, I always say a prayer, say I am thankful to be able to wake up that morning and go out there and try to glorify the Lord with what I do on the field. I think if you go out and try to do that, no matter what you do on the field, you can be happy about what you did."
4.  He was placed for adoption by a 19 year old single mother when he was 6 weeks  old.  After interviewing three couples, the young mother selected Rick and Teresa Kaepernick as the adoptive parents
Kaepernick with his parents
5. On his racial difference he says:  "I can remember my mom, she tells me this story: when I was little, I was looking at her and I was like, 'why isn't my skin the same color as yours?' She was like, 'oh, you're adopted, but I wish I had pretty brown skin like you.'  They made me feel like even though it wasn't necessarily my birth family, that's my family. Everything they did, they tried to make it uplifting. They tried to make it special. They tried to make it a positive environment. Looking back, I think that was the biggest thing. Just the love and affection that they showed was what made everything so smooth for me. "
6. His birth mother is Heidi Russo. She was 19 when she had him. Nearly broke and unmarried, she decided to give him up for adoption. Both Russo and father are 6-ft-2 tall. Except the fact that the father is African American, we don't know much about him. Ms Russo wouldn't reveal his identity because 'he never acknowledge his son'. Despite several attempts by Russo, Kaepernick is not ready to meet his biological mother.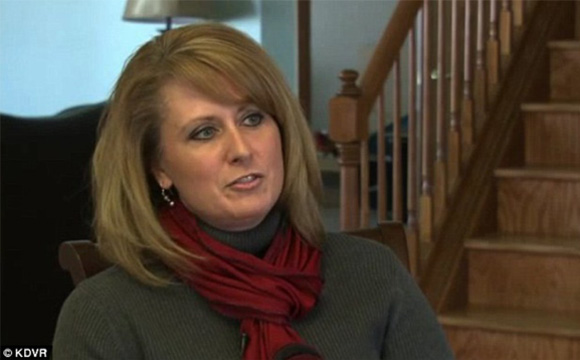 His birth mother Heidi Russo
7.  Despite many critics, Kaepernick prefers to express his faith with tattoos on his body. His right arm features a scroll with the Bible verse Psalm 18:39 written on it. The verse reads "You armed me with strength for battle; you made my adversaries bow at my feet." Other tattoos include the word "Faith"; the praying hands;  "To God The Glory"; "God Will Guide Me" text laid over a prominent cross and the Psalms 27:3 quote.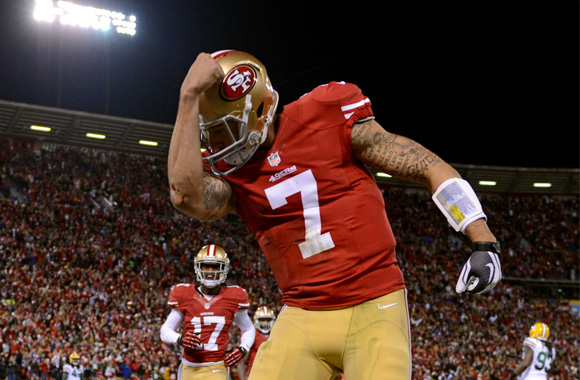 The rookie quarterback signature touchdown celebration – kissing his bicep. They have named it "Kaepernicking"
Seven Fascinating Facts About Colin Kaepernick