What's on your bake-list? We're sharing some of our favorite fall dessert recipes.
By Yen Shing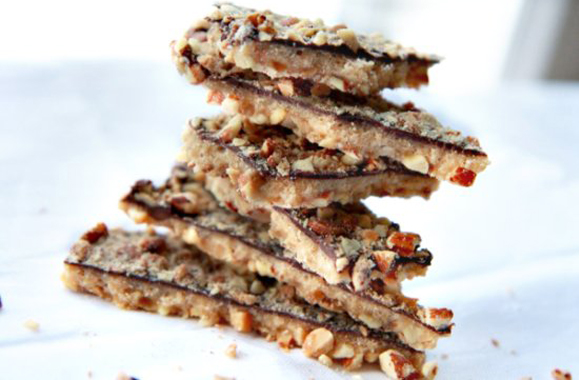 Butter-crunch Toffee from JoyofBaking
Makes one pound (450 grams). Preparation time 30 minutes.
Ingredients:
2 cups (170 grams) sliced or slivered almonds, toasted
1 ¼ cups (270 grams) firmly packed light brown sugar
2 tablespoons water
½ cup (113 grams) unsalted butter
1 tablespoon light corn syrup
1 teaspoon (4 grams) pure vanilla extract
¼ teaspoon baking soda
6 ounces (170 grams) bittersweet or semisweet chocolate, coarsely chopped
1. Preheat oven to 350 degrees F (177 degrees C). Place almonds on a baking sheet and bake for 8-10 minutes, or until golden brown and fragrant. Set aside to cool.
2. Once the nuts have cooled to room temperature, place in a food processor, fitted with a metal blade, and pulse the almonds until they are finely chopped. Sprinkle half of the nuts in an 8 by 10 inch (20 x 25 cm) rectangle on a buttered or oiled baking sheet. Place the baking sheet on a cooling rack.
3. In a medium-sized, heavy bottomed saucepan (10 cup) (2.4 liter) combine the brown sugar, water, butter, and corn syrup. Have the baking soda and vanilla extract ready. Bring the sugar mixture to a boil, stirring to dissolve the sugar. Then cover the pan with a lid for about one minute to allow the sides of the pan to wash themselves down and dissolve any sugar crystals.
4. Remove lid after one minute. Then clamp a candy thermometer to the side of the pan, making sure it does not touch the bottom of the pan, and cook, without stirring, until the mixture reaches 285 degrees F (140 degrees C) (soft-crack stage) on a candy thermometer. Immediately remove the saucepan from the heat as the temperature will continue to rise to 290 degrees F (145 degrees C). Add the baking soda and vanilla extract and stir to combine.
5. Immediately pour this mixture evenly over the nuts on your baking sheet. Then place the chopped chocolate over the hot toffee. After a few minutes the chocolate will be soft enough to spread with an offset spatula (or back of a spoon) in an even layer over the toffee. Sprinkle the remaining chopped almonds over the melted chocolate. Place the pan in the refrigerator until chocolate is firm. Then cut the toffee into pieces using a sharp knife.
You can store the toffee, in an airtight container at room temperature, or in the refrigerator, for about 10 days.
Pumpkin Pecan Cheesecake from Epicurious
Twelve servings
Ingredients:
For praline
½ cup (packed) golden brown sugar
3 tablespoons unsalted butter
¾ cup coarsely chopped pecans
For crust
2 cups gingersnap cookie crumbs (about 9 ounces)
1 teaspoon ground cinnamon
¼ cup (½ stick) unsalted butter, melted
For filling
4 8-ounce packages cream cheese, room temperature
1 ½ cups sugar
3 tablespoons all purpose flour
1 ½ teaspoons ground cinnamon
1 teaspoon ground ginger
4 large eggs
1 15-ounce can solid pack pumpkin
3 tablespoons bourbon
2 teaspoons vanilla extract
1. Make praline:
Preheat oven to 325°F. Line baking sheet with foil. Stir sugar and butter in heavy medium saucepan over medium heat until sugar melts and mixture comes to boil; boil 1 minute without stirring. Mix in pecans. Spread mixture on prepared baking sheet. Bake until sugar syrup bubbles vigorously, about 8 minutes. Cool praline completely. Break into pieces. (Can be made 1 day ahead. Store airtight.)
2. Make crust:
Preheat oven to 325°F. Stir cookie crumbs and cinnamon in medium bowl to blend. Add butter; stir until crumbs are moistened. Press onto bottom and 1 inch up sides of 9-inch-diameter springform pan with 2 ¾-inch-high sides. Bake crust until set, about 8 minutes. Cool. Double-wrap outside of pan with heavy-duty foil. Place in large roasting pan.
3. Make filling:
Using electric mixer, beat cream cheese and sugar in large bowl until smooth. Beat in flour and spices. Beat in eggs 1 at a time. Beat in pumpkin, bourbon and vanilla. Transfer to crust.
Pour enough hot water into roasting pan to reach 1 inch up sides of springform pan. Bake cake in water bath until center is just set, adding more water to roasting pan as needed, about 1 hour 45 minutes. Remove cheesecake from water. Cool in pan on rack. Remove foil. Run small sharp knife between cake and pan sides. Chill until cold; then cover and chill overnight.
Release pan sides. Place cake on platter. Sprinkle praline over, leaving 1-inch plain border at edge. Cut cake into wedges.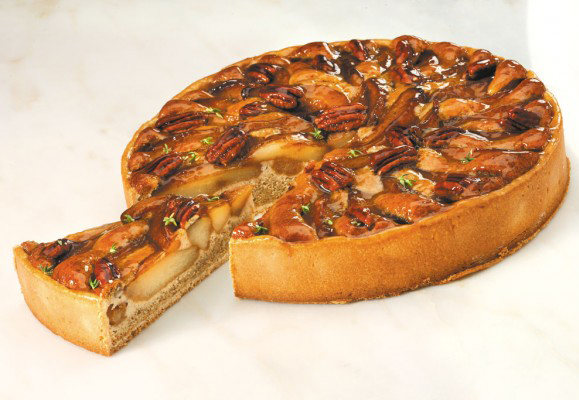 French Almond-and-Pear Tart from David Lebovitz
Eight servings
If your almond paste isn't very fragrant with the smell of almonds, add a drop or two of pure almond extract to the filling. You don't want to dump a spoonful in, which would overwhelm the pears, but a tiny bit highlights the almond flavors.
You can use canned pear halves packed in light syrup, and drain them well, in place of the poached pears, if you wish.
Ingredients:
6 ounces (170 g) almond paste
2 teaspoons sugar
2 teaspoons flour
3 ounces (85 g) butter, salted or unsalted, cubed, at room temperature
1 large egg, plus one egg white, at room temperature
A few drops almond extract, optional
1 ½ teaspoons rum, Calvados, or kirsch
3 poached pears, cored, drained and blotted dry, then cut into ½-inch (2 cm) slices
One pre-baked 9-inch (23 cm) tart shell, at room temperature
1. Preheat the oven to 375F (180C). Set the pre-baked tart shell on a baking sheet.
2. In a stand mixer, or by hand, beat the almond paste with the sugar and flour, until smooth. Some almond pastes may be drier than others. If yours is dry, just mix until the almond paste is finely-broken up.
3. Gradually beat in the butter, until smooth, then beat in the egg and the egg white, the almond extract, and the liquor.
4. Spread the almond filling evenly over the tart shell
5. Fan the pears out evenly over the almond filling, then press them in slightly.
6. Bake the tart for about 40 to 45 minutes, or until the almond filling between the pears has browned.
7. Cool slightly before serving, or serve at room temperature. Glaze, as desired.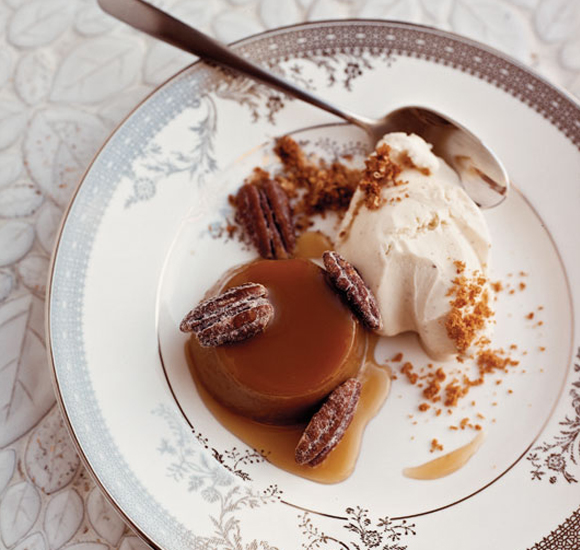 Maple Custards with Sugared Pecans Recipe from Food&Wine
Twelve Servings. Preparation time 1.5 hours + 6 hours chilling.
Ingredients:
3 ¼ cups pure maple syrup
16 large egg yolks
4 large whole eggs
4 tablespoons unsalted butter
2 cups pecan halves (1/2 pound)
¼ cup sugar
Salt
Boiling water
Whipped cream, for serving
1. Preheat the oven to 325°. Spoon 1 teaspoon of maple syrup into each of twelve ½-cup ramekins, swirling to coat the bottoms. Arrange the ramekins in a large roasting pan.
2. In a large stainless steel bowl, whisk the yolks with the whole eggs until blended. Whisk in the remaining 3 cups of maple syrup. Pour the mixture into the ramekins. Carefully pour enough very hot water into the roasting pan to reach halfway up the sides of the ramekins. Cover the pan with foil and bake for about 55 minutes, or until the custards are just set.
3. Using tongs, immediately remove the ramekins from the hot water and let cool to room temperature. Refrigerate the custards for at least 6 hours or overnight.
4. Meanwhile, in a large skillet, melt the butter. Add the pecans and stir to coat with the butter. Cook over moderate heat until lightly browned, about 5 minutes. Put the sugar in a large bowl. With a slotted spoon, transfer the pecans to the bowl with the sugar and toss to coat. Transfer the nuts to a baking sheet, shaking off any excess sugar. Sprinkle lightly with salt. Let cool.
5. Carefully run a thin knife around each custard. Dip each ramekin in a bowl of boiling water, then quickly invert the custard onto a plate. Spoon whipped cream over the custards, garnish with the sugared pecans and serve.
MAKE AHEAD The custards can be refrigerated for up to 2 days. The sugared pecans can be stored overnight in an airtight container.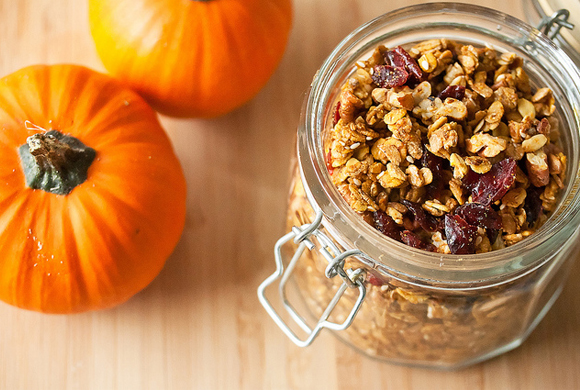 Pumpkin-Spice Granola, adapted by Crumbblog from The Sprouted Kitchen Cookbook
Sixteen servings. Preparation time 50 minutes.
Ingredients:
2½ tbsp olive oil
½ tsp sea salt
¾ tsp pumpkin pie spice
⅓ cup Grade B maple syrup
⅓ cup pumpkin puree
2 cups old-fashioned rolled oats
½ cup roughly chopped raw pecans
3 tbsp sesame seeds
½ cup dried cranberries
1. Preheat the oven to 325°F.
2. In a large mixing bowl, whisk together olive oil, salt, pumpkin pie spice, maple syrup, and pumpkin puree until smooth. Add in the oats, pecans, and sesame seeds and stir until well-coated.
3. Spread the granola evenly onto a large rimmed baking sheet, trying to keep as many granola clusters intact as possible. Bake in preheated oven for 35-45 minutes or until the granola is dry and golden-brown in color, stirring every 10 minutes or so by scooping the granola on the edges back into the centre and then spreading back out into an even layer.
4. Let the granola cool for a few minutes, then stir in the dried cranberries. Allow to cool completely on baking sheets before transferring to an airtight container for storage. Finished granola will keep for about a week, assuming you don't eat it all long before then.